Nzeki, Raphael Simon Ndingi Mwana
COLLECTED MEMORY: The following text belongs to our collection of eyewitness and fragmentary accounts that includes eulogies, obituaries, and primary materials. It may lack sources and proper academic verification for accuracy.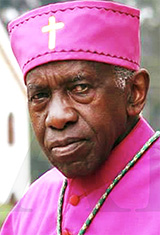 Emeritus Archbishop Raphael Simon Ndingi Mwana 'a Nzeki was born in Myanyani village, Mwala location, Machakos County on December 25, 1931. He was the last child of Maria Muthoki and Joseph Nzeki Ngila. In 1961, Ndingi became the first Kamba person to be ordained to the Roman Catholic priesthood. He was appointed bishop of the Diocese of Machakos in 1969, and he served as Archbishop of Nairobi from 1996-2007.
This brochure contains the order of the funeral service, a eulogy describing Ndingi's life, tributes from family and friends, and many photographs.