The following text belongs to our collection of eyewitness and fragmentary accounts,that includes eulogies, obituaries, and primary materials. It may lack sources and proper academic verification for accuracy.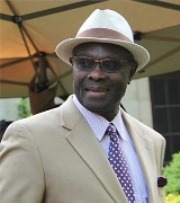 Lamin Sanneh died unexpectedly on January 6, 2019. Born in 1942 into a Muslim family in the Gambia, Sanneh converted to Christianity as a teenage and later became a devout Roman Catholic. He studied in universities in the United States and in Great Britain. He taught at the University of Ghana, the University of Aberdeen in Scotland, Harvard Divinity School and, since 1989, Yale Divinity School. He was a naturalized United States citizen. He considered his latest book, Beyond Jihad: The Pacifist Tradition in West African Islam (2016) to be his magnum opus, according to Jonathan Bonk.
A recognized pioneer in the exploding interdisciplinary field of World Christianity, Lamin was a rare scholar who combined rhetorical eloquence with scholarly erudition, and religious conviction with child-like curiosity. Arguing, for example, that the missionary movement's greatest gift to the peoples of the world was Bible translation, he sought to free us from our presuppositions and hubris, saying, "It is not so much that the West transmitted the gospel to world but that the cultures of the world discovered the gospel when they heard the Bible in their mother tongues." This profound insight from a convert from Islam into the intrinsic and infinite translatability of the gospel still has not been understood or heeded by much of the Western theological academy. (…) In the past thirty years, there is hardly a dissertation in the fields of Missiology, World Christianity, Missional Theology, or Intercultural Theology that fails to reference Sanneh's work.
-From the Overseas Ministries Study Center website
Below are tributes received from DACB readers and associates.
Oh no! What a loss to the global church and the global church community. Three years ago, I spent the most beautiful time with Prof Sanneh at a workshop organised by Calvin College's the Nagel Institute in Kenya.
Once every 50 years a theologian comes along whose contribution is so profound that the course of a discipline is changed. Sanneh was one such a scholar. Few scholars have highlighted African agency and Africa's contribution to world Christianity as incisively and insightfully as Lamin Sanneh.
Tinyiko Maluleke
(Source: email dated 1/8/2019)
May his soul rest in peace and rise in glory.
(Source: email dated 1/9/2019)
What a sad news! The death of an exceptional person leaves a terrible void but also a considerable moral legacy. We are carriers of this flame that Prof. Lamin Sanneh lit in our hearts … We are custodians of his memory. We will never forget him and he will live forever. May the Lord comfort his family, institutions, and friends. May his soul rest in peace. Best Regards, Priscille
Rev. Prof. Priscille Djomhoué
Professeur de Nouveau Testament Faculté Universitaire de Théologie Protestante Rue des Bollandistes 40, B-1040 Bruxelles
(Source: email dated 1/9/2019)
Oh Lord have mercy. I just made reference to him this afternoon. Very shocked at the news. May his soul rest in peace. My deepest condolences to his family.
Korku Laryea
(Source: email dated 1/9/2019)
It is with deep sadness that Prof. Lamin Sanneh has transited prematurelly. His Sterling contribution in the development and growth of the Dictionary of African Biography will remain as a monument in the llife and work of DACB. My sincere condolences to DACB and to his family. Silas
Very Rev. Prof. Silas Ncozana Chuluchosema Pastor P.O. Box 5115 Limbe Tel. No. 0888377732 Malawi
(Source: email dated 1/9/2019)
To: The Family and Friends of Late Prof. Lamin Sanneh
Re: TRIBUTE TO LATE PROFESSOR LAMIN SANNEH
The news of the demise of Prof. Lamin Sanneh came to me as a rude shock. We are missing a member of the intelligesia, Prof. Lamin Sanneh was a legend and a humble researcher full of love, strength and encouragement. We shall never forget your contributions to the theological community. May your gentle soul rest in perfect peace, and may God grant us all the fortitude to bear this great loss.
His Holiness, The Most Revd. Dr. Rufus Okikiola OSITELU (PhD Computer Science; PhD Religious Studies); Aladura Patriarch & Primate of The Church of the Lord (Prayer Fellowship) Worldwide [TCLPFW] a.k.a TCLAW; P. O. Box 71, Shagamu;10/12 Primate Ositelu Street; Ogere-Remo; Ogun State, Nigeria, West Africa; Tel.: +234-803-7263902; +234-803-0850226; +234-816-588-5990; [email protected]; [email protected]; [email protected]; www.aladura.net / www.tclpfw.org / www.tclaw.org / www.the-church-of-the-lord-aladura-worldwide.org
(Source: email dated 1/9/2019)
The Demise of Prof. Lamin Sanneh:
What a sad news to begin the new year with! With the demise of Prof. Sanneh, Africa has lost one of his most committed scholars and theologians of interreligious and intercultural dialogue. In all his writings, lectures and inter-personal and communal encounters, Prof. Sanneh always brought with him his magnanimous spirit. This is most apparent in all his works and writings from an African perspective on the North-South dialogue. You just need to take up and read his ,"Whose Religion is Christianity", or his magnus opus, "Translating the Message", and above all his master-piece author-biography, "Summoned from the Margin: Homecoming of An African."
Prof. Sanneh has been a great source of inspiration and model to many young African theologians. My consolation here is that through my suggestion, some of my students had written their dissertations, even up to doctorate on the thoughts of Lamin Sanneh, especially on the subjects of intercultural encounters and translating the message. Furthermore, the life experience, his religious and conversion journey of Prof. Sanneh, from Islam to Christianity, and from one Christian denomination to another singled him out as a unique figure and man of faith.
My condolences to his wife and children, and also to his academic family at the Yale University, and numerous students, friends and acquaintances.
With the demise of Lamin Sanneh, Africa has lost one of his greatest scholars and theologians of the 20th and 21st centuries. May God receive his good soul and strengthen his family he has left. Anekwe Oborji
Fr. Francis Anekwe Oborji (Professor Ordinarius of contextual theology, Pontifical Urbaniana University, Rome)
(Source: email dated 1/9/2019)
This is indeed a sad news to hear. We have indeed lost an academic giant. I was fortunate to get one of his famous books "Translating the Message," through your inspiration. I will keep him in my prayers as well as his family and well-wishers he left behind. Thank you for this information as usual. May God continue to bless you with more wisdom and good health. Have a wonderful new year! Fr. Fred.
FR. CHIMA FREDRICK MBIERE, BA, PH.D. Resurrection Parish 410 Anne Street PO Box 47 Illiopolis, IL 62539-0047, USA
(Source: email dated 1/9/2019)
It is sad to learn of the death of Prof.Sanneh. His contributions to this monumental task of DACB will live to pay him greater tribute. May the good Lord reward him with eternal life.
Paul Nchoji Nkwi, DACB Advisory Council
(Source: email dated 1/9/2019)
I am sorry for the loss of Lamim Sanneh. May God receive him in His glory and support his family.
Bishop Pierre-Claver Ngezahayo Eglise Wesleyenne du Burundi
(Source: email dated 1/10/2019)
We pray for you all to be comforted of the Lord in this loss. May his soul rest in peace.
With Regards, From Africa Brotherhood Church
(Source: email dated 1/10/2019)
Thank you for sending me this sad news. I remember several presentations made of the significance of Christ to Muslims. His death is a great loss to us. I hope I will be back from church in time to hear part of his funeral service.
Yours sincerely, Russell Staples
(Source: email dated 1/10/2019)
Dear Prof. O., I just finished reading your mail announcing to me the demise of an African academic giant, Prof. Lamin Sanneh. Thanks for the information. It's really sad that we (Africa) and indeed the world has lost such a special gift to humanity. I thank you immensely for directing me to the world of the thoughts of Prof. Lamin Sanneh for both my Licentiate and Doctorate. His works are naturally revolutionary and compelling in character. His boldness and clarity of thought are disarming and endearing. May God grant him eternal rest and console his immediate family in particular and his academic family in general.
Ferdinand Ndubuisi Okoli Christ the King Parish Amata Mgbowo, Enugu, Nigeria.
(Source: email dated 1/11/2019)
Tribute to Professor Lamin Sanneh
My first introduction to Professor Lamin Sanneh was at New College, Edinburgh in 1991. Professor Andrew Walls had invited Lamin Sanneh for a series of lectures geared towards a small group of us involved in the Study of Christianity in the Non-Western World. Lamin skillfully opened blinders that limited my vision of God's Great Kingdom in the world. And then in 2006, during Lila's and my six month stint at OMSC, we had occasion to fraternise with Lamin a number of times. What impressed me about this "giant of a scholar" was his humility, his probing questions, his boisterous laughter, and his disarming manner of pricking the balloons of western missionaries who had a penchant for taking ourselves too seriously. Lamin Sanneh, together with Andrew Walls, played a significant role in steering my doctoral research towards the history and rich narratives of hundreds of indigenous evangelists who valiantly proclaimed the Jesus story in southern Ethiopia.
E. Paul Balisky (PhD)
(Source: email dated 1/12/2019)
Allow me to give my heart felt condolences. Human days are like a burning candle, at one moment in time the candle will burn out. It was with great sadness that news of the demise of the son of Africa reached us. Surely like writing in the sand our lives are just as brief memory which fades with time. From my understanding, death is not the end. I thank God for the many writings Lamin has inspired many, we give tribute for the work and life despite the challenges of life , with all its turns and twist I thank God that This great Son of Africa has influenced and touched us. The demise indeed is a great loss especially to his family and wiring fraternity. For those who knew Lamin personally, forever in your hearts fond memories with great love will never be erased. RIP Yours, Kabīrū Fredrick
(Source: email dated 1/14/2019
I was saddened to hear about the sudden death of Professor Lamin Sanneh a very distinguished son of Africa. We shall all miss him but we thank God for the phenomenal contribution he made to the history of Christianity in Africa and beyond and we pray that his should should rest in peace and that God should grant him a crown of glory. Our prayers go to his family and relatives.
James Amanze, DACB Advisory Council
(Source: email dated 1/14/2019)
The late Prof Sanneh, will be dearly missed. He has however left an important legacy for us all. My wish is that his family and all his loved ones will find God's grace sufficient to carry them/us during this taxing moment.
Madipoane Masenya, DACB Advisory Council
(Source: email dated 1/15/2019)
We thank God for the life and service of Laminah Sanneh. May God encourage and comfort his family.
Edison Kalengyo, DACB Advisory Council
(Source: email dated 1/15/2019)