These research centers and institutional affiliates partner in the work of the DACB. Research centers have similar research goals as the DACB and can serve as resources to researchers. Institutional affiliates include all universities, seminaries, or other religious organizations that have contributed historical content to the DACB. Their faculty, students, and staff research and write the stories of the important figures in African Christianity.
Research Centers

A new African ecumenism is coming to life. Christian believers are increasingly ready to hear the uniting voices from classical African Christianity. A spiritual and intellectual vacuum is being filled by the work of The Center for Early African Christianity (CEAC): with digital and print publishing, new research, digitization of archival work, development of theoretical foundations, sharing new narratives, and through the development of African scholars and the empowerment of African religious communities.
Physical location: Oden House, 616 Prospect St. New Haven, CT
Director: Dr. Michael Glerup
Links:
CEAC website

---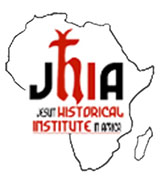 The Jesuit Historical Institute in Africa (JHIA)
The Jesuit Historical Institute in Africa (JHIA), located in Nairobi, Kenya, is an institute dedicated to preserving memory and promoting knowledge in Africa and its adjacent islands. JHIA started in 2010 as an idea of the Jesuit General, Adolfo Nicholás, S.J., to encourage the study of his Order's largely unexplored involvement in the evangelization of Africa. Further deliberations pointed to the need for such a study to be carried out within a broader social, political, cultural and religious context. The JHIA's vision was thus expanded to that of offering a cost-effective environment for ground-breaking research on the religious histories, cultures and traditions of the people of Africa and Madagascar.
Director: Dr. Jean-Luc Enyegue, SJ
Links:
JHIA website
JHIA 2022 Report

---

The Center for the Study of Global Christianity at Gordon-Conwell Seminary is an academic research center that monitors worldwide demographic trends in Christianity, including outreach and mission. We provide a comprehensive collection of information on the past, present, and future of Christianity in every country of the world. Our data and publications help churches, mission agencies, and non-governmental organizations (NGOs) to be more strategic, thoughtful, and sensitive to local contexts.
Co-Director: Dr. Todd Johnson
Co-Director: Dr. Gina Zurlo
Links:
Mission of the CSGC
---




Mzuni Press / Luviri Press and the Kachere Series, based in Mzuzu, Malawi are hosted at African Books Collective. Our remit is to "to publish books on religion, culture and society from Malawi." To view our books, go to:

Mzuni Press
Luviri Press
Kachere Series.


Editor-Director: Dr. Klaus Fiedler



---
All Affiliated Educational Institutions
Institution
Number of Biographies