The Journal of African Christian Biography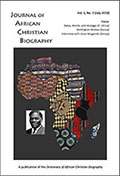 The Journal of African Christian Biography is a publication of the Dictionary of African Christian Biography, appearing in quarterly fascicles, starting in 2017. The purpose of the JACB is to showcase, interpret, and make more readily accessible biographical and historical resources in the field of African Christianity. These resources are intended for use in the classroom and in the church to foster a deeper understanding of the history of African Christianity at a local, regional, national, and continental level. The JACB will thus provide tools to undergird the development of contextual African theologies.
The journal is made available in several formats: as an e-journal for direct reading, and in several booklet formats (A4 and 8.5 x 11) for local printing and distribution.