DACB News
Jonathan Bonk Steps Down as Director of the DACB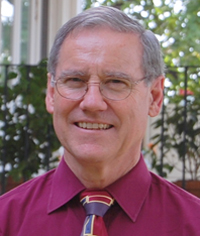 The October 2020 issue of the Journal of African Christian Biography (JACB) is dedicated to JACB and DACB Founder Professor Jonathan Bonk on the occasion of his retirement. Both these publications (JACB and DACB) are unique, specializing in the collection and preservation of biographies of African Christians—accompanied by scholarly reflection—from the full spectrum of Christianity across the continent of Africa. Contributors are Christian scholars familiar with the dioceses, parishes, and congregations of the people featured. The collection also includes manuscripts authored by the people featured as well as photographs and other digital resources.
Professor Bonk, born of Canadian Mennonite missionaries and brought up in Ethiopia, is currently Research Professor of Mission Studies at Boston University, Massachusetts. He is the author of Missions and Money: Affluence as a Missionary Problem, which remains one of the most challenging books in this field of research. He also served as Executive Director of the Overseas Ministries Study Center (OMSC) in New Haven, Connecticut where he mentored visiting scholars in addition to his role as administrator and editor of the International Bulletin of Missionary Research (IBMR).
My acquaintance with Professor Bonk dates from his first exploratory visit to Nairobi in 1999 when he introduced us to the DACB Project. Since then we have learned much from him – and continue to learn – even during his retirement. He is an exemplary mentor and a visionary leader.
Professor Jesse Mugambi, from the Introduction to the October 2020 Journal issue
To read older posts visit our
news archive
The DACB publishes an occasional electronic newsletter, the DACB News Link. Subscribers who sign up to receive the free quarterly Journal of African Christian Biography will also receive the DACB News Link. Visit our sign up page.
For those who prefer the DACB newsletter in PDF form, it will be available for download from this page. Each electronic newsletter will contain a link to the PDF version of the current newsletter.
Download the latest newsletter here: November 2016 DACB News Link
To view previous issues of the DACB News Link click the links below: (PDF file - Adobe Acrobat Reader needed)
Received May 4, 2021
The Lord shall continually strengthen you and make His word have free course with you by giving us great access to our Christian Heritage.
Much More Grace.
Keep Growing in His Grace.
from Blessing A.
---
Received January 10, 2021 from Mr. Martin Malacela
Dear sir
I have read several time of my grand father Missionary Yohana maula Malecela. My name is Martin stephano Malecela, am fourth generation from Yohana Malecela and I am looking forward to start Church here at Dar Es salaam Tanzania. Am happy because the seeds of gospel is moving in our family we are serving God and his biography it is strengthen me to go ahead to speedy the gospel of our Lord Jesus Christ.
Thanks.
Martin Malecela
+255784477776
Email [email protected]
---
Received August 14, 2018 from Mr. Vernon Taylor
Dear sirs,
I found your publication after searching for a name almost on a whim; it is odd how random things pop into the head of a person. I attended a village school near Newark in the English county of Nottinghamshire until I was ten years old. In 1960, or thereabouts, when I was seven our school was visited by a trainee missionary from the nearby Kelham Monastery. I was home sick in bed on the day of the visit but later I heard how a very tall and very black Zulu had visited the school and talked to the class.The following week the school made a return visit to the monastery and enjoyed a guided tour, unfortunately the tall Zulu had left for his "posting" a few days before and I never had the chance to meet him. The entire class was instructed to write a letter of thanks to our missionary friend and he did reply to every letter.
I still have his reply to me somewhere. The last time I saw it the paper was delicate and worn but still quite legible.I still sometimes wonder about him and how he has fared in the almost sixty years since I was a small boy. The man's name was Isaac Dlamini. His address was simply: Dam Site, Pongola Port, Zululand.If he is still alive I am sure he would be at least 80 years old.I include the following link in case you are interested in learning a little about the Kelham Hall Monastery
Sincerely,
Vernon Taylor
---
Received February 12, 2018, from T. P. Masimba
Heavenly regards.
I'm a young man aged 25. I'm a Minister of the Gospel. I work as a local Missionary in Zimbabwe under a Christian Organisation called African Enterprise founded by Dr Michael Cassidy in 1962. I come from Chivhu in Zimbabwe which was formerly called Charter District during the Rhodesian era. I graduated in Church Foundational Theology (a course which includes some basics in Meaningful Church Services, Building Young Disciples, Homiletics & Building A Growing Church). However, I was interested in an article written about the Johane Masowe Movement by Robert Reese a former Missionary to Zimbabwe & a consultant with World Missions Associates in Lancaster, Pennsylvania.Firstly it's really interesting & inspiring. Also I request to know if there are any articles related to the Masowe Theology, the Meaning of their so-called "Momnage Language", the meaning of their esoteric language & Prophecy. If Dr R. Reese had supplied these in his article, he would have made a best-written record about this Johane Masowe Christian Faith.
If your organisation was to rewrite history & make a story of a lifetime, perhaps a million dollar story, then I implore you to visit this man for recording, documentation & insight. His Ministry confirms many features of our Bible Theologies of which I find it very stunning as a young Bible Scholar. By visiting him, you'll relive the Days when our Lord Jesus Christ walked this earth during His earthly Ministry Days.This young Prophet with an esoteric name pronounced as "Edbone" has been used by God to do remarkable Supernatural Things by God's Power. Three visits to his Holy Ground will enrich your Theology in so many ways. This man is ushering in a New Dispensation in the Johane Masowe Christian Faith.
Thank you for your articles & Gospel Missions around the world. God Richly Bless you.
Yours in the same Gospel Vineyard,
T. P. Masimba<
---
Received February 20, 2014, from Sophie Imasiku (Zambia):
I was born and grew up here in Zambia at a place called Mambilima in the Luapula province of Zambia. This morning, I took an internet search for our former missionaries who opened up our area for Christianity known as the Open Brethren (Christian Missions in Many Lands). I came across our well-known missionary there by the name of William Lammond (1876 to 1968). The entire fraternity there knew him by the name of "Bwana Lamya" because he brought "electricity" to the area which is still there until this day. We are lucky that our place is on the banks of the Luapula river and particularly that the "Mambilima" is the local name for the rapids, meaning " the jumping of the waters. It was formerly called, as you may be aware, "Johnstone Falls" for a number of years from about the early 1920s until my country Zambia attained independence on 24th October 1964. We are actually celebrating 50 years of our independence this year.
My late father--May his Soul rest in peace--was a teacher at the same place and we all grew up and got educated in the same CMML faith.
As a young girl, I knew a lot about Bwana Lammond,especially his 3rd wife Betty Shepherd and her sister who worked as teachers there at Johnston Falls primary School. Most of the people who were and some who are still in the present government here were educated there at the famous Johnstone Falls primary School run by the CMML brethren. they did a lot to develop the area and they built a big hospital which has now modern facilities like a theatre and mortunary, a school for the blind, the area is known for blind children and also a school for the handicapped children. I give great credit to these pioneers for bringing not only Christianity but enormous literacy to that impoverished area.
I am now a grown up woman with three grown up children. I work here at the Zambian Open University as Administrative Assistant to the Bursar, here in the capital city of Lusaka.
My sincere thanks to D.A.C.B for their remarkable input,
SOPHIE CHIBALE IMASIKU (MS)
Read the story of William Lammond HERE.
---
Received January 27, 2011, from Uwagbaokwu Chukwudi O Joachim (Nigeria):
DEAR AFRICAN BIOGRAPHER,
May the Peace and Love of Christ be with you today and for all Eternity! Amen. I browsed your website searching for some Uganda Martyrs by Name MUGAGGA LUBOWA. I love your work and wish to write for me to be receiving some of your newletters through my address used above. thanks for your kind co-operation.Remain Blessed!
Your Faithfully,
UWAGBAOKWU CHUKWUDI O JOACHIM
---
Received January 24, 2011 from Saba Tesfay (Ethiopia):
May the Lord bless u.
It's so amazing story about Apostle Daka I read, I don know him personally but I know his son yohanes and Bely and am so happy when I found the article about him ya he was the man of God.
You can read the story of Seri Daka HERE.