COLLECTED MEMORY: The following text belongs to our collection of eyewitness and fragmentary accounts that includes eulogies, obituaries, and primary materials. It may lack sources and proper academic verification for accuracy.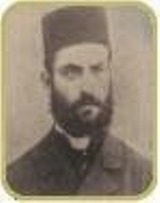 In 1905, Father Emmanuel El-Fadle was sent from Kharatha-Elzawye, Lebanon to South Africa to serve as a priest for the Lebanese community. Having studied in both Rome and Paris, he served the community as a spiritual leader and a social facilitator. In Johannesburg, he converted a building into a church and residence for himself, but he left a short four years later to return to Lebanon. Unfortunately, he did not make it back to Lebanon, as the ship he was on sank at Okeanos off the coast of East London, resulting in the death of all on board.
Grace Ramey
Source: https://www.maronitechurch.co.za/history-maronite/ —
This article, received in 2020, was written by Grace Ramey, an undergraduate research assistant from the Boston University Undergraduate Research Opportunities Program or UROP. She completed her work under the supervision of Dr. Michele Sigg, Executive Director of the DACB.