Kelly, Kathleen Colombiere
COLLECTED MEMORY: The following text belongs to our collection of eyewitness and fragmentary accounts that includes eulogies, obituaries, and primary materials. It may lack sources and proper academic verification for accuracy.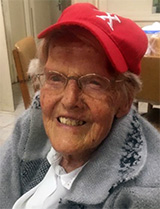 Sr. Kathleen Colombiere Kelly, IBVM, was a teacher and leader at the Loreto Limuru School, a school for girls located outside Nairobi, Kenya. Born on June 21, 1919, in Bonnetstown, Kilkenny, Ireland, Sr. Colombiere first became a member of the Institute of the Blessed Virgin Mary (IBVM), more frequently known as the Loreto Sisters, in September 1937. About three years after making her perpetual profession to the order in June 1945, she set sail for Kenya, where she remained for the rest of her life. The school was given an award by the Kenyan government in 2013 in recognition of its achievements in girls education. Over the course of her time at the Loreto Limuru School, Sr. Colombiere taught many girls who became significant leaders themselves. Among these are Wangari Maathai, winner of the Nobel Peace Prize for her environmental work in establishing the Green Belt Movement, Sr. Ephigenia Gachiri, who promoted the policy of "zero tolerance for FGM," Sr. Gachambi, the foundress of the Assumption Sisters of Nairobi, and Sr. Edel Bahati, one of the first Africans in Kenya to join the then Our Lady of Charity (O.L.C).
---
Source: Funeral brochure sent by Prof. Philomena Mwaura, member of the DACB advisory board.