COLLECTED MEMORY: The following text belongs to our collection of eyewitness and fragmentary accounts that includes eulogies, obituaries, and primary materials. It may lack sources and proper academic verification for accuracy.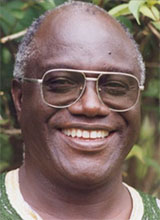 Referred to by many as the "Billy Graham of Africa," he is credited with bringing thousands to faith.
Stephen Lungu was born in born in Salisbury, Rhodesia (now Harare, Zimbabwe) to an eighteen-year-old Zambian mother and a fifty-year-old Malawian father who beat his mother daily. The family broke up and Stephen was abandoned in the streets at age seven. He suffered abuse in the orphanage and later at the hands of relatives. After the age of ten, he joined a violent gang, the Black Shadows, and lived on the streets.
As a youth, he was filled with hatred against white people and against their god - Jesus. One night, as he waiting to attack an evangelistic event in a tent, he heard a testimony and a message that transformed his life forever. He bought a Bible and became an independent evangelist. He eventually received support from a white missionary and theological training.
He worked as a evangelist with Dorothea Mission. He joined African Enterprise in 1982 as their team leader in Malawi where he served for decades. He became AE's international leader from 2007 to 2013, succeeding Michael Cassidy.
Lungu died on January 18, 2021 in a hospital in Malawi of complications from Covid-19.
Sources:
"Tribute" by African Enterprise Australia. Posted January 18, 2021.
Photo credit: from African Enterprise Australia Facebook page.
"Street kid to African Leader - The powerful testimony of the late Stephen Lungu". African Enterprise Australia site, posted January 20, 2021.
Jeremy Weber, "Stephen Lungu, Africa's Enterprising Evangelist, Dies of Covid-19", Christianity Today (January 20, 2021).