COLLECTED MEMORY: The following text belongs to our collection of eyewitness and fragmentary accounts that includes eulogies, obituaries, and primary materials. It may lack sources and proper academic verification for accuracy.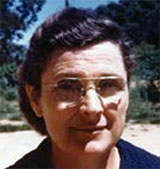 Lois Nees Murphree was a missionary and hymnist in Zimbabwe (Southern Rhodesia as it was then) as well as a Boston University alumna. Her most famous hymn, Mu Zunde Renyu Baba Mune Basa rekuita (In Your Field, Oh Father, there is work to be done) is still sung throughout churches in Zimbabwe and has been recorded by one of Zimbabwe's most famous and popular musicians, Oliver Mtukudzi. Unfortunately, in the archive materials of the Methodist church, there is almost no record of her or her work. Her son, Marshall W. Murphree, also became a missionary in Zimbabwe.
Sam (Samantha) Roebuck
---
Source:
Sam Roebuck's family archives. Text from April 2016 DACB Newslink, pages 2 and 3.
---
Sam Roebuck is the great granddaughter of Lois Murphree. She worked as DACB research assistant at Boston University School of Theology (CGCM) from 2014 to 2016.