COLLECTED MEMORY: The following text belongs to our collection of eyewitness and fragmentary accounts that includes eulogies, obituaries, and primary materials. It may lack sources and proper academic verification for accuracy.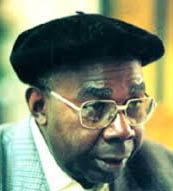 Fr. Engelbert Mveng SJ (born May 9, 1930) was a Cameroonian Jesuit priest, artist and scholar, who researched and published in theology, history and anthropology. His scholarly ideas found aesthetic expression in his numerous paintings. Arising from the heart of Africa's traditional aesthetics, Mveng's art pieces found their way to different parts of the world and became a real patrimony to humanity. For example, his Stations of the Cross and Resurrection adorn the chapel of Hekima College in Nairobi (Kenya), his Our Lady of Africa is found in the Basilica of the Annunciation in Nazareth (Israel), and his mural depicting angelic activity through history is in the Holy Angels Church in Chicago (USA). Thus, in a manner that was hitherto unprecedented, Mveng used art to express Africa's deepest spiritual insights into universal Christian phenomena. This great artist-scholar was brutally murdered by an unknown assailant in the night of April 22, 1995 in Yaounde, Cameroon.
---
Source:
Excerpt from the Jesuit Historical Institute in Africa website.