COLLECTED MEMORY: The following text belongs to our collection of eyewitness and fragmentary accounts that includes eulogies, obituaries, and primary materials. It may lack sources and proper academic verification for accuracy.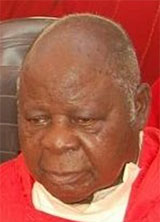 Rt. Rev. Msgr. Nathaniel C. Obiagba (1935-2020) was the first priest civil lawyer in West Africa. Born in 1935, he was ordained in 1965 in the Archdiocese of Onitsha. He defended his doctoral thesis "Ideological Foundations of the 1979 Presidential Constitution of Nigeria" in 1982. He combined his work in his Law Chamber with his teaching apostolate at All Hallows Seminary Onitsha. He died on September 14, 2020.
---
Source: Msgr. Nathaniel C. Obiagba, First Priest Civil Lawyer in West Africa-A Tribute, written by Fr. Francis Anekwe Oborji and used with permission.