COLLECTED MEMORY: The following text belongs to our collection of eyewitness and fragmentary accounts that includes eulogies, obituaries, and primary materials. It may lack sources and proper academic verification for accuracy.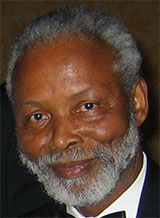 Born in Sasstown, Liberia, on Sept. 4, 1938, Patrick Lawrence Nimene Seyon lost his parents at a young age. His stepparents sent him to a Catholic school run by the Society of African Missions. There the teachers made him feel more welcome than at home and helped him to develop a deep faith.
He received a bachelor's degree from the University of Liberia and taught for several years in Monrovia. He went on to get a master's from Kansas State Teachers College, and a second master's and a doctorate in higher education administration at Stanford University.
In 1981, while serving as a vice-president at the University of Liberia, he was jailed on false accusations of plotting to overthrow the government of Samuel Doe. In prison, he was severely beaten and tortured twice a day, leaving him with lasting scars. However, he did not harbor any anger or bitterness against his two jailers from that experience but remained a compassionate and generous man.
He moved to Boston, Massachusetts, where he taught for a few years, in particular as a lecturer and scholar at Harvard University.
After Doe was ousted Seyon returned to Liberia where he became president of the University of Liberia. He believed that "Universities worldwide have a collective responsibility to humanity in providing knowledge and skills for human survival and preservation of the environment" (Boston Globe, 10/25/2020). When he finally returned to Boston, he worked at Boston University and Northeastern University, and later became a professor and administrator at Roxbury Community College.
According to his second wife, Barbara Green Seyon, students loved him and were inspired by him. He had three children from his first marriage.
Patrick Seyon died on October 13, 2020 in Arlington, Massachusetts.
Michele Miller Sigg
---
Source:
For the full story, please see: Boston Globe article
---
Michele Sigg, PhD, is Executive Director of the DACB.