Stamp, Phyllis Philippine
COLLECTED MEMORY: The following text belongs to our collection of eyewitness and fragmentary accounts that includes eulogies, obituaries, and primary materials. It may lack sources and proper academic verification for accuracy.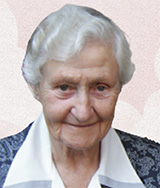 Sr. Philippine Stamp was born in Enniscorthy, County Wexford in Ireland on July 19, 1920. She joined the Loreto Sisters (also known as the Institute of the Blessed Virgin Mary) as a postulant in 1941, and she took her final vows in 1948. One year before she took these final vows, she headed via boat to Mombasa, Kenya, in response to the need for more teachers there in the years following World War II. After arriving in Kenya, Sr. Philippine served as a teacher in several Loreto girls' schools, and she was a leader of several Loreto communities in the Eastern Africa Province. After she retired, she joined the House of Prayer at Msongari. Among the many women she influenced are two other Loreto sisters, the late Sr. Angeline Khayeka and Sr. Dr. Teresia Wamuyu.
The attached funeral brochure contains several tributes and testimonies from those influenced by Sr. Philippine.
---
Source: Funeral brochure sent by Prof. Philomena Mwaura, member of the DACB advisory board.