Kuvaluka, Abías Secretários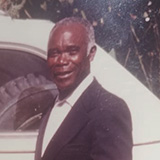 Abías Secretários Kuvaluka, son of Kuvaluka Kamuenho and Sussu Fundanga, was born in the village of Sesse, near Mbave mountain and the Keve river, in the town of Balundo, in Huambo province, Angola, on February 15, 1917. He was an Angolan, an evangelical Christian, and a member of the Evangelical Synodal Church of Angola (Igreja Evangélica Sinodal de Angola, IESA). Kuvaluka was an Angolan of the Ovimbundo tribe of the central plateau, and he spoke Portuguese and Umbundo fluently.
Kuvaluka was given the name "Secretary" because, when he was a baby, he was visited by the head of the local government post. The Portuguese official came to his house while conducting a census and met the mother and baby, and she put the baby in his arms. He was so moved that he said the baby must not be named "Epalanga," which was the name the parents had given the baby. Instead, the baby must be given the same name as the official and become his namesake. But no one knew the official's name or dared to ask this "ocindele" (white person) what his name was. So, the baby became known by the official's title, and the he began to be called "Secretary."
He graduated as a professor from the Currie Institute of the Evangelical Mission of Dondi (Instituto Currie da Missão Evangélica do Dondi), Huambo, which was part of the Evangelical Congregational Church of Angola (Igreja Evangélica Congregacional de Angola, IECA) denomination. His biblical training was at the Kaluquembe Evangelical Mission (Missão Evangélica de Kaluquembe) in Huila province, through the IESA denomination. He married Adélia Namoco in 1940. She was from Sassomo, in Bailundo town, Huambo province. She studied at the Instituto Currie in Dondi. They had eleven children.
Kuvaluka was baptized in the IECA, where he was a member during the first years of his Christian life. His first teaching post was at the Currie Institute in 1938. He was transferred to Kaluquembe in 1946, along with his wife and the first three of their children. His transfer was at the request of Dr. Rodolfo Brechett, a Swedish missionary who worked with Missão Fila Africana, who was trying to address the need for professors at the mission.
In Kaluquembe, he was called by God to pastoral ministry. He decided to abandon his teaching profession in 1951 and enter the Kaluquembe Bible School. He was officially consecrated for pastoral ministry in 1955.
He served as pastor of various IESA congregations. After his consecration, he was appointed to the Evangelical Center of Vionga (Centro Evangélico de Vionga), in a village in Kaluquembe district, Huila province. He served there from 1956-1960 among the Ovimbundo people. He was well-known as a preacher of the holistic gospel. He taught the worship of the true God (YAVE), and he taught agriculture as well. He planted citrus trees and coffee trees, and his trees are still producing fruit until today. It should be noted that the Vionga people came to know about coffee trees through Kuvaluka's work, as previously they had not seen this kind of plant, as these people themselves testify.
He was transferred in 1960 to the Katala Leprosarium in Quilengues, Huila province, where he led three local churches (known as "centers") and their respective branches. He served there in pastoral ministry with the Ovacilenge people of the Ovanyaneka ethnolinguistic group until 1972. He helped in starting the hospital of Kapupa, which greatly assisted the people of the area. He surveyed new areas for evangelism, including the Serra das Neves and Munda yo Vaimbo, where there is a church today among the Ovakuisi and Ovacilengue peoples.
From 1973 to 1987, he worked in the local church of Kukala in the Missão Evangélica de Kaluquembe from 1973-1987, the time of his retirement. There he exercised his pastoral work, taking care of the Lord's flock, among the Ovimbundu people, in the midst of a war.
In addition to serving as a local pastor, he presided over some general commissions of the IESA.
His decision to leave his employment as a teacher and become a pastor, in the middle of the colonial system which did not recognize the evangelical church or the role of pastor, was an example of courage that is still a beacon to the evangelical church today. His son also became a pastor, voluntarily leaving his own professional status as a government-salaried professor to accept the call of God. Today, he serves as a pastor in one of the largest churches in the city of Lubango.
Even in the middle of war, he was involved in planting churches in difficult areas from an isolated mission station of Swiss missionaries. He was one of the few Angolans willing to accept the challenge of being an evangelical pastor in a country with a Catholic majority.
His legacy is his contributions to the community he served as a pastor. He is remembered as a great hero of the faith. As an intellectual and an "assimilado" (an Angolan who was allowed some of the colonial privileges), he gave up his government job in wartime during the persecution of evangelical Christians. That decision is remembered as a great feat, which endears him to us even though so many years have passed.
In his later years, Kuvaluka lived in the city of Lubango, the capital of Huambo province. He died of an illness on February 12, 2006, at eighty-nine years of age. He was buried in the city cemetery of Lubango. He left eleven children, including one who is an evangelical pastor.
Serafim do Nascimento Tchalonda Tchiloia
---
Sources:
Abias, José Evaristo. Interview with author, March, 27, 2020, Lubango.
Gabriel, Elias. Interview with author, March 30, 2020.
Diu, Domingos. Interview with author, March 28, 2020.
Tchilupela, Chico. Interview with author, March 30, 2020, Quipuno.
Manico. Interview with author, April 4, 2020, Kaluquembe.
Candeeiro. Interview with author, April 4, 2020, Kaluquembe.
---
This biography, received in 2020, was written by Serafim do Nascimento Tchalonda Tchiloia, a master's degree candidate at the Higher Institute of Evangelical Theology in Lubango (Instituto Superior de Teologia Evangélica no Lubango, ISTEL). He holds a bachelor's degree in theology from this institution. For four years, he has been a local church pastor in the city of Lubango, Huila province, Angola, in the Evangelical Synodal Church of Angola (Igreja Evangélica Sinodal de Angola, IESA). This biography was written under the supervision of Sindia Foster, instructor at ISTEL and missionary to Mozambique with Serving in Mission (SIM).