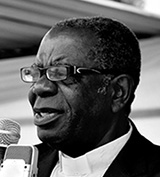 Pedro Manuel, son of Manuel Simba and Elisa Rosa, was born on February 16, 1943, in Chinde village, in Quelo, in the Soyo district, Zaire province of Angola. He was of the Bakongo people. He married Maria José Manuel, and they had six children. He completed catechism school, where he learned to read and write, and began primary school at the Evangelical Mission of Quimpondo as a boarding school student in 1954. He completed his studies and served as a school monitor until 1962.
Manuel graduated from the prestigious Liceu Nacional de São Salvador secondary school in Cabinda after completing a general administration and commerce degree at the Silvério Marques Commercial and Industrial School.
In 1980, Manuel graduated from the Medium Course of Evangelical Theology at the Instituto de Kinkonzi in the Republic of Zaire (now the Democratic Republic of Congo, DRC) and completed the Superior Course of Theology at the Evangelical Theology University in Boma, Congo, affiliated with the National University. He was fluent in Kikongo, Portuguese, and French.
Manuel received an honorary doctorate from McMaster University in Hamilton, Canada, in 1994. He was also a militia sergeant in the colonial Portuguese army. He held several important government positions, including administrator of the Miconje government post and vice-administrator of the Belize locality in Cabinda province. For the province of Zaire, Angola, he was in charge of accounting and rural planning, was the head of the district secretariat, and was a central government representative. He later served as judge for the Peace Court at Moconje and law clerk for the municipal court at Belize.
After he received Jesus as his Lord and Savior and was baptized, Manuel became an evangelist in 1976 in the Igreja Evangélica de Angola (Evangelical Church of Angola, IEA) and ministered in many evangelization campaigns, Bible camps, and youth ministry. He was ordained to holy mnistry as a pastor in 1985 and served in many congregations, including Simulambico in Cabinda province; Tari, Nkungu Yengele, and Mangue Grande in Soyo; S. Paulo, Mateus Zacarias Stóber, Nova Vida, and Nove Bela Vista in Nzeto; and Sambizanga, Samba, Petrangol Ossos, Cacuaco, Boa Esperança, and Viana in Luanda. He served as regional pastor of Luanda for three years, regional pastor of Soyo for ten years, regional pastor of Nzeto for six years, general secretary of the IEA for ten years, and vice-president and president of the executive committee and the general assembly for terms of four years. He was also vice president of the Conselho das Igrejas Cristãs em Angola (Council of Christian Churches in Angola, CICA), professor of the IEA Bible Institute, and director of two intensive courses to train IEA pastors.
From 1991 to 1993, he was a member of the first council of the Republic of Angola. He spoke at many national and international conferences on topics such as theology, peace, reconciliation, and community development.
During his retirement from pastoral ministry, Manuel wrote The 113 Year Journey of the IEA, which was published in Luanda in 2015 by Projecto Gráfico. He died on May 8, 2017, after a long illness. He was a leader who left a positive legacy in the IEA. May his soul rest in peace.
Pedro Claver Mamponde
---
Sources:
Juliano, André. Interview, March 18, 2020, Soyo, Zaire province, Angola.
Manuel, Pedro. A Caminhada da IEA em 113 Anos 1898 – 2011. Luanda: Projecto Gráfico, Editora Gráfico, 2015.
---
This biography, received in 2020, was written by Pedro Claver Maponde, a pastor in the Evangelical Church of Angola (Igreja Evangélical de Angola, IEA) and a master's degree candidate at the Higher Institute of Evangelical Theology in Lubango (Instituto Superior de Teologia Evangélica no Lubango, ISTEL) in Angola. This biography was written under the supervision of Sindia Foster, instructor at ISTEL and missionary to Mozambique with Serving in Mission (SIM).
Photo Gallery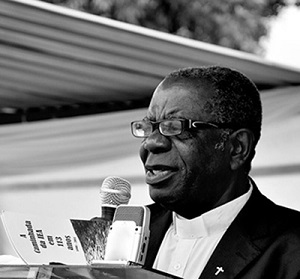 Pedro Manuel with his book, A Caminhada da IEA em 113 Anos 1898-2011.
---