Classic DACB Collection
All articles created or submitted in the first twenty years of the project, from 1995 to 2015.
McDowell, Henry Curtis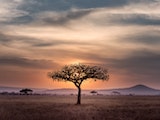 Henry Curtis McDowell was an African American pioneer of a black Congregational mission in Angola. He was born in Epes, Alabama, and was educated at Talladega College in Alabama (B.A., 1915; B.D., 1917; D.D., 1937). He was chosen by the Colored Congregational Churches of Raleigh, North Carolina, to establish a station staffed by African Americans, in cooperation with the American Board of Commissioners for Foreign Missions (ABCFM). McDowell and his bride, Bessie Farnsville, were sent to Angola in 1919, and in 1923 they settled in the unevangelized area of Galangue. They were joined by Samuel Coles, an ABCFM agricultural-industrial missionary, and a thriving program of schools, churches, and agricultural work developed. Medical services were expanded in 1931 with the arrival of Dr. Aaron M. McMillan, who attracted many European patients as well as Africans and built a hospital and an outstanding training program for nurses and physician's assistants. In 1937 McDowell became principal of Lincoln Academy at King's Mountain, North Carolina, and in 1944 he became the pastor of the historic Dixwell Avenue Congregational Church in New Haven, Connecticut. In 1947 he returned to Angola with his second wife, Ruth, Betsy having died in 1942. Retiring from the ABCFM in 1959, he briefly occupied the Africa chair at the Kennedy School of Missions in Hartford, Connecticut, then served as founding pastor of the Church of the Open Door in Miami, Florida, until 1967.
David M. Stowe
---
Bibliography
Samuel B. Coles, Preacher with a Plow (1966).
Lawrence W. Henderson, Galangue (1986) and The Church in Angola (1992), pp. 79-80.
ABCFM Calendar of Prayer, Annual Reports, and Missionary Herald describe his years of service. McDowell's papers are held at the library of the United Church Board of World Ministries.
---
This article is reproduced, with permission, from Biographical Dictionary of Christian Missions, copyright © 1998, by Gerald H. Anderson, W. B. Eerdmans Publishing Company, Grand Rapids, Michigan. All rights reserved.