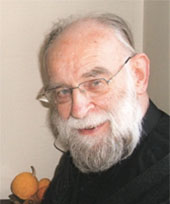 Father Alan John Butler was one of the founders of the Botswana Christian Council and he contributed tremendously towards its development between 1967 to 1970. He was born in Poole, England in 1930 and died on 13th January 2011. He was the eldest of two boys. His father was William Carey Butler and his mother was Mrs. Gladys Edna Butler. He was educated at Poole Grammar School. After that he worked for his father who had a decorating business. He served in the national service from 1949-1951 after which he went to attend Kelham Theological College in Nottinghamshire. He was ordained to the diaconate in 1956. He then attended a short language course at SOAS, University of London, after which he was sent to South Africa in 1957. He was priested in Bloomfontain Cathedral, South Africa in December 1957. In 1961, he was appointed Rector of Kuruman in South Africa where he served until January 1965. It was there that he met his wife Hilda Church and married her in 1964 in the same church where Dr. David Livingstone was married in 1844.
In 1965, Butler was appointed Rector of Gaborone. At that time, Gaborone was under the Diocese of Kimberley and Kuruman. Proposals for a united church scheme in Gaborone were already in the cards. Butler was appointed Anglican Rector of Gaborone to implement the Gaborone United Church scheme that was being negotiated. The Rev. Derek Jones of the London Missionary Society was appointed during the same period. The two worked hand in hand to launch the Gaborone United Church scheme along ecumenical lines. In this venture, they were supported by the Methodist and Presbyterian Churches as well as the Anglican congregations. Butler worked very hard to build the Anglican Church in Gaborone. While the capital was being built and Trinity Church was erected, the joint ministry developed in a number of ways. The church was built and paid for within five years. As a new town a number of missionaries felt that Gaborone was full of opportunities and challenges. The missionaries felt that this was also an opportunity for the church because it was a new beginning. In this new start, they were coming together into a united church that did not display the centuries-long differences of the churches that came in from Europe and America. Interestingly, many other people did not share this view and still entertained their old differences. The church was only another home away from home for a time of spiritual reflection and so church members retained their tribal outlook within the churches operating in the city.
Consequently, the Gaborone United Church scheme fell apart because of many factors. In the first place, it was only in theory that it was a united church while in actual fact it was only the home of different churches that met there to pray at different times. In addition, it appears that the idea was not expansive enough and those in charge failed to implement the scheme to its logical conclusion of a solid united scheme. Over and above this, many people on all sides opposed the establishment of a united church for fear of losing their identity. On the Anglican side, it seems that Mrs. Lena Mogwe and Lady Ruth Khama were not in favor at all and consequently the scheme became unworkable. According to Butler, there was a general fear among the people. Everybody was afraid of schemes that could cost money while many accepted schemes that could fill their coffers with money. Many people also did not believe that different churches could work together. The missionaries felt that this was not only possible but also exciting. Although the scheme failed, people learned many lessons from it. Butler was responsible for the inscription on the inside wall of the church of a text from St. John's gospel, chapter 13: 34-35 on the theme of love (" I give you a new commandment, that you love one another. Just as I have loved you, you also should love one another. By this everyone will know that you are my disciples, if you have love for one another."). Butler explained that the text was intended to urge Christians to love one another in unity as the Lord Jesus Christ loved and died for everyone without discrimination. Trinity Church itself was pregnant with theological symbolism. The tower in the middle shed light into the church, which meant that people who came for the Holy Communion would come under the God of light in love who wills his people to be one under the banner of Christ.
Apart from his church activities as Rector of Gaborone, Butler served as chairman of Gaborone Cooperative Store, the Bible Society of Botswana, and Maru-a-pula Secondary School. Like Rev. Derek Jones, Butler served in the first Town Council of Gaborone and was Deputy Mayor to the first two African Mayors, namely Mrs. Grace Dumbe and Mr. Weli Sebone. When the Botswana Christian Council was formed in 1966, Butler became the Vice-Chairman. Butler was able to contribute meaningfully to the ecumenical movement because he was fully convinced that the Anglican Church is a church of unity because it tolerates within itself people of different persuasions. According to Butler, the church was meant to be an institution characterized by unity in diversity. Butler was fully convinced that the authentic nature of the church is unity and he worked tirelessly to achieve such a unity. His efforts and longing for a united church found support in the voice of the Sir Seretse Khama, the first President of the Republic of Botswana and of the Botswana Democratic Party. He challenged the church leaders in Botswana to unite the churches that were, at this time, polarized along tribal lines in Botswana.
In 1970, Butler resigned as Rector of Gaborone in favor of Fr. Theo Naledi (now Bishop) who had come to take over from him. He then returned to England and served for eight years as Vicar of St. James Coventry. In 1979, the Bishop of Kimberley and Kuruman asked him to return to his diocese and served as Archdeacon of Kuruman and Director of the Ecumenical Kuruman Moffat Mission Trust. He retired in 1995 and returned to United Kingdom where he settled until the time of his death. He was attached as an honorary curate to the historic Wimborne Minster in Dorset.
James Amanze
---
Source:
Personal communication with Father Alan John Butler, Gabane, June 2002.
---
This biography, received in 2018, was written by Dr. James Amanze, General Secretary of the Association of Theological Institutions in Southern and Central Africa (ATISCA), Professor in the Department of Theology and Religious Studies at the University of Botswana (Gaborone), and DACB Advisory Council member. These stories were written as part of a collection documenting the history of the ecumenical movement in Botswana, an unpublished manuscript entitled "Heroes and Heroines of the Ecumenical Movement in Botswana: Celebrating Great Lives, Celebrating Past Leadership."