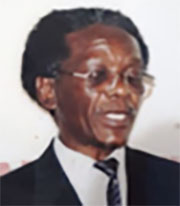 Jacob Thibile Liphoko played a significant role in the ecumenical movement in Botswana. Until his death, he was an active member of the Botswana Christian Council. He was also the coordinator of the Urban Industrial Mission in Selebi-Phikwe.
Liphoko was born on the 21st October 1944 at Maokeng in Kroonstad, South Africa, and died on 20th March 2002. He was the son of Samuel Lenka and Mmamoleele Selina. He was the third son in a family of seven sons and three daughters. He did his primary education at Maokeng Primary School from 1951 to 1958. He then proceeded to Kroonstad High School from 1959 to 1963. Afterwards, he went to Strydom Teacher Training College from 1964 to 1965. Feeling he was not called to be a schoolteacher, he decided to go to the Federal Theological Seminary, Alice, to train as a minister of religion from 1968-1970.
Liphoko was placed at Lobatse, Botswana, in 1966, the year of Botswana's independence, as a probationer minister for a term of two years. Thereafter, he was stationed at Herchel in 1971 where he was ordained into the full ministry of the Word and Sacrament and served as chaplain at Bensonvale. He was then moved to the Thaba-Nchu circuit where he served as a circuit minister and as district supervisor of studies in the church. From there, he was transferred to serve the Lord in Quthing, Lesotho, from 1974 to 1975. His eagerness to see churches working together as one body became clear in Lesotho where he was treasurer of the Lesotho Council of Churches. After that, he worked in Bloemfontein as a circuit minister and as district convenor of the Christian Citizenship Department from 1976 to 1977.
In 1978, he moved to Botswana and was based in Gaborone at what was then known as the Botswana Theological Training Program (now Kgolagano College) as a tutor. His work took him as far as Selebi-Phikwe, Palapye, Serowe, Jwaneng, Kang, Philikwe, Lobatse and Gantsi where he fulfilled his duties with diligence, love, and humour for ten years.
He was elected in 1982 to serve as chairman of the Botswana Christian Council where he was responsible for drafting the constitution for the units of Social Concerns and Communications. He was also a board member of the Refugee Educational Resource Center and served for a period as part-time chaplain to the Refugee Settlement at Dukwi. In 1988, he returned to circuit work in Francistown where he served until 1992. In 1994, he was seconded to the Botswana Christian Council and worked as the coordinator of the Urban Industrial Mission at Selebi-Phikwe. His role was to oversee the work of primary schools, a carpentry training center, and a commercial school that had been set up to help young people who had missed out on educational opportunities earlier in their lives. He was working in this role until his untimely death.
His obituary described him as a translator, a writer, and a historian-author of the books: Lest we forget (Challenging Addresses), Ke tla dira morafe o mogolo ka wena (Culture and Traditions of Israel), Book 2. Some of his other books are Doing Theology in Botswana and Pastoral Counselling. He was also a marriage officer. Liphoko faithfully served the church for 31 years and will be remembered as a true pastor by the many people he ministered to over the years. He was a man of many and varied talents, who enjoyed working with his hands as much as with his mind and intellect. His mind was always full of future plans both for his work and his home life and he was able to translate those plans from his imagination onto paper. He was an accomplished woodworker producing both furniture and more artistic pieces. Wherever he stayed, he developed a garden—always with trees and flowers and often with fruits and vegetables also. At one point, he served as a beekeeper. He was also an accomplished cook, producing traditional Setswana and European dishes and experimenting with new menus.
James Amanze
---
Source:
Personal Communication with Rev. Jacob Thibile Liphoko in Selebi –Phikwe, November 1994. Obituary of Jacob Thibile Liphoko.
Photo source: Botswana Council of Churches
---
This biography, received in 2018, was written by Dr. James Amanze, General Secretary of the Association of Theological Institutions in Southern and Central Africa (ATISCA), Professor in the Department of Theology and Religious Studies at the University of Botswana (Gaborone), and DACB Advisory Council member. These stories were written as part of a collection documenting the history of the ecumenical movement in Botswana, an unpublished manuscript entitled "Heroes and Heroines of the Ecumenical Movement in Botswana: Celebrating Great Lives, Celebrating Past Leadership."