Murphy, Urban Charles Joseph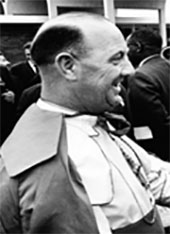 Urban Charles Joseph Murphy was born in July 1919 in Dublin, the capital city of Ireland, and died on 27th February 1981. He was the oldest son in a family of six children. He went to a school run by the Irish Christian Brothers. This was a very important thing for him in his later ministry. He is reported to have said jokingly "They left more marks in me, more than one."
Shortly after finishing his Secondary School education in 1938, he joined the religious order of the Passionist Congregation. He did normal studies there and was ordained a priest in 1946. His main work was preaching. He is remembered as a good preacher. He preached in Ireland and in Scotland. He liked preaching very much.
He was among the first group of Catholic priests who came to Botswana in 1952. He did not come on his own but was appointed by the Vatican. There were eight missionaries altogether—four priests and four sisters. They arrived in Botswana on 7th February 1952. Two of his colleagues, namely Fr. Theodore and Fr. Norbert, took over the running of St. Joseph's College. Fr. Carthage went to Ramotswa Mission. Murphy went to Francistown to open a new frontier in missionary work. He was the first Catholic missionary to plant the Catholic Church in Francistown. At that time, there was no diocese and no resident bishop in Botswana. The southern part of the country came under the bishopric of Kimberley while the northern part was under the bishopric of Bulawayo. The western part of the country was under the bishopric of Windhoek in South West Africa (now Namibia).
According to Fr. Demort O'Caroll, Murphy was a man full of energy. Within a year, he had gathered together several priests and sisters to assist him in his missionary venture. He succeeded in building a church and a school in Francistown. The policy of the Church was always to have a school as a means of establishing contacts with young people. Murphy was essentially a pastor who visited his people regularly, particularly the sick. He always liked to be with people. Because of his love for people, he was nicknamed "Morata batho" meaning "he who loves people." He worked in Francistown for more than ten years where he laid a strong foundation for the future development of the Catholic Church in that part of the country. Later, he came down to continue missionary work in Gaborone. In 1959, Bechuanaland was raised to the status of a Prefecture by Pope John XXIII and Murphy was appointed the first Apostolic Prefect. In 1966, the Prefecture was raised to the status of a diocese and Murphy became the first bishop of the new diocese.
His vision for the Catholic Church in Botswana was fueled by a burning zeal to spread the gospel everywhere in the country. However, he wanted to do this by cooperating with—not competing with—other churches, especially in the latter years of his life. His vision consisted of preaching the Word of God in the widest sense. He was not just a preacher, he was also a visionary. He encouraged local vocations. He founded local congregations of religious orders. For example, in 1967, a local order of nuns, the Sisters of Calvary, was founded in Lobatse, later to take their permanent home in Moreneng at Kgale. Murphy also encouraged young men to go for training to become priests. Central to his vision was his determination to establish local leaders for the church. This desire led to the appointment of Bishop Setlalekgosi soon after Murphy's death.
Murphy had a good working relationships with his clergy. He was dynamic, both spiritually and socially. He was approachable by everybody. He frequented the hospital every day, visiting the sick in the community and imparting to them faith and a sense of hope. He strove to make the local church self-supporting but he did this gradually and not forcefully because this was a nascent church that needed a lot of care and nurturing. Those who knew him well have described him as very informal in his relationships with people. He was not pompous. He was relaxed and had a great sense of humor.
Murphy was a divine gift to the ecumenical movement in Botswana. Interviewees for this article described Murphy as having a strong ecumenical spirit. He was popular with all the churches and got along well with them. He was good at raising funds for social development. The Second Vatican Council convinced him and the other clergy to embrace the ecumenical spirit. There was no dissent among the clergy when he proposed that the church should join the Botswana Christian Council. There was no resistance among the laity either. Roman Catholic Christians took it very well. This may be because Batswana are, by nature, ecumenical. This can be seen in their cooperation during funerals, weddings, and other religious and social events. The feeling of antagonism towards other churches was not very pronounced among Batswana Catholics and they went along with Murphy's move to embrace ecumenism. The antagonism came mainly from the old generation of missionaries.
In 1971, Murphy became chairman of the Christian Service Committee of the Botswana Christian Council, a position he held for many years until the time of his death. As a result of his strong ecumenical zeal, he brought the Roman Catholic Church into the fold of the ecumenical movement thus giving the movement in Botswana a unique inter-denominational spirit.
In the country as a whole, Murphy contributed greatly towards the social development of the Batswana, mainly in the area of education and in the provision of health services. He brought into the country a number of well-qualified medical and nursing personnel who worked at many health centers such as Ramotswa and Kgale. In this way, he enhanced the health of the people in the country. As part of his social program, he started the Commercial School in Gaborone and enabled St. Joseph's College at Kgale to grow from strength to strength.
Murphy was not a controversial figure when it came to matters of church and state. He maintained good relationships with various people in government. He was a great friend of Sir Seretse Khama and worked cordially with the government. He was not a confrontational man. He wanted to dialogue with people quietly in the background. He never made public statements and many issues affecting the life of the church were resolved through pastoral letters. In the spirit of a true ecumenist, he was very much a reconciler and did not like controversy.
Murphy was very diplomatic towards local chiefs and government officials. He was also respectful of the local culture. He was open-minded towards local cultures without condemning them. This enabled him to go along with the process of contextualization by grounding the gospel in the cultures of the local people. This process led to changes in worship such as the use of Setswana in the liturgy and the use of local tunes in church music. What was even more significant is that he did not look down on African Independent Churches. Rather, he was amused at the kind of life they led and at the teachings in the New Religious Movements. Murphy was active up to the time of his death at the age of 62.
James Amanze
---
Sources:
(Personal communication with Fr. Demort O'caroll, St. Joseph's Kgale, Gaborone, 2003).
Photo source: Mmegi, 2016.
---
This biography, received in 2018, was written by Dr. James Amanze, General Secretary of the Association of Theological Institutions in Southern and Central Africa (ATISCA), Professor in the Department of Theology and Religious Studies at the University of Botswana (Gaborone), and DACB Advisory Council member. These stories were written as part of a collection documenting the history of the ecumenical movement in Botswana, an unpublished manuscript entitled "Heroes and Heroines of the Ecumenical Movement in Botswana: Celebrating Great Lives, Celebrating Past Leadership."