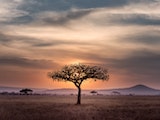 Roger Price was a London Missionary Society (LMS) missionary in southern Africa. Price was born in Merthyr Cynog, Brecknockshire, Wales, to a Welsh-speaking farming family. He trained for the Independent (ie., Congregational) ministry at Western College, Plymouth, and offered for service with the LMS. He and several others were accepted for the Kololo and Ndebele missions proposed by David Livingstone following his first great journey, and in 1858 Price sailed with his bride, Isabella (Slater). It took the party nearly six months to get from Cape Town to Robert Moffat's base at Kuruman, from where the Prices, with a more experienced missionary, Holloway Helmore and his family, and several Kuruman Africans, set off to the Kololo, then at Dinyanti in the Zambesi basin.
The journey was harsh in the extreme; a child was born to Isabella Price en route; Livingstone (who had by now broken with the LMS) was not at Dinyanti; and the Kololo did not want the mission. Then, between March 7 and April 21, 1860, eight of the party, including Helmore, his wife, and the Price's child, all died-probably from malaria, though poison was suspected at the time. Hostility to the Prices continued, and they at last turned back. Isabella died in July, in September, John Mackenzie rescued an exhausted Price and the Helmore children. Thereafter Price was always lame and subject to recurrent malarial attacks.
Price worked from 1862 to 1866 at the Ngwato capital Shoshong, where he got to know and value the young Khama, and married Elizabeth (Bessie), a daughter of Robert Moffat. From 1865 to 1875 they were at Molepolole, the new capital of the Kwena king Sechele, who had become a Christian through Livingstone.
In 1876, while on furlough in England, Price was appointed to survey the route for a new LMS mission, funded by Robert Arthington, to be established at Ujiji on Lake Tanganyika. East African travel then depended on human carriers, and Price wanted to introduce South African-style wagons. He got wagons to Mpapwa, but the next year when he took the first LMS missionary party (including E. C. Hore) to Lake Tanganyika, the oxen died, presumably of tsetse. Price returned to Molepolole in 1879, continuing there until 1885, when he became principal of the Moffat Institution, the educational complex at Kuruman, with superintendence of the church of the district. The institution was overambitious and understaffed-Price called it a white elephant. It closed in 1897, Price proposing another institution with higher standards (later realized by W. C. Willoughby in the Tiger Kloof Institution). The Prices were still at Kuruman when the Boers occupied it during the Anglo-Boer War. Price died there soon afterward.
Price spoke Sechuana well and was much involved in Bible and other translation work. His farm background showed in his agricultural and mechanical skills. His long service spanned the extension of white rule into the interior; in political matters he was less ready than many colleagues to protest against government actions. Bessie Price, whose voluminous correspondence illuminates their work, raised their large family. She retired to the Cape Town area, adopting exceedingly liberal theological views in her later years, and lived until 1919.
Andrew E. Walls
---
Bibliography
J. C. Harris, Roger Price (1927); London Missionary Society, Report of the Rev. R. Price of His Visit to Zanzibar and the Coast of Eastern Africa (1876).
Una Long, ed., The Journals of Elizabeth Lees Price, Written is Bechuanaland, Southern Africa (1956).
J. Sibree, London Missionary Society: A Register of Missionaries, Deputations, etc. (1925), no. 541.
A. Sillery, Sechele: The Story of an African Chief (1951).
E. W. Smith, Great Lion of Rechwanaland: The Life and Times of Roger Price, Missionary (1957).
---
This article is reproduced, with permission, from Biographical Dictionary of Christian Missions, copyright © 1998, by Gerald H. Anderson, W. B. Eerdmans Publishing Company, Grand Rapids, Michigan. All rights reserved.