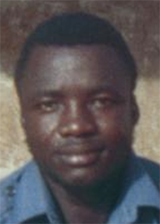 Tiéba Traoré, evangelist and church leader, was born in 1958 in Kotoura, Kénédougou Province in western Burkina Faso. His father, Kunandi, was the chief of the village of Kotoura. Kunandi had two wives and 14 children. Tiéba was the sixth of 10 children of the chief's second wife. Tiéba was born into a family of mixed religions. His father was a Muslim, and his mother was an animist.
There were no Protestant Christians in the area and only a small number of Catholics. In 1982, two missionaries from the Africa Inter-Mennonite Mission (AIMM), Anne Garber and Gail Wiebe, arrived in Kotoura. As the village chief, Tiéba's father offered the women hospitality and assigned Tiéba, who had attended school until the third grade, to accompany the women and serve as their Senoufo-French interpreter. Soon after the missionaries arrived, Tiéba, curious about God, happily heard the good news of salvation. On October 15, 1983, after months of reflection on matters of faith, the missionaries invited him to an evangelization campaign in Orodara. When Tiéba heard an evangelist from neighboring Ivory Coast give his testimony of conversion from Islam, he was the first to go forward and commit his life to Jesus. Back in his village, Tiéba told his two wives that he had become a Christian. His first wife, Mariam, decided to convert as well. But his second wife refused. Rumors had spread within the village that those who converted to Christianity did not honor the dead. So his second wife said that she would not convert so that she could participate in the funeral of her parents. On May 19, 1985, Tiéba and four others were the first Christians to be baptized among the Senoufo people.
Following his baptism, Tiéba lived a godly life and proclaimed the Word of God. One day, a thief came to steal his millet. When Tiéba learned this, he gave more millet to this thief instead of hurting him. This act deeply moved the thief, and his testimony spread throughout the village.
Tiéba was a motivator and a rallying force. He organized the youth of the village into groups who contracted for work in the fields. During their fieldwork, he preached the good news of salvation to his friends. He also initiated many church activities. As a pioneer, he visited all the believers in their homes to encourage them in their faith walk.
In 1985-1986, when the AIMM missionaries returned to North America for home leave, Tiéba and his companions were persecuted in the village. It prevented them from holding meetings, and two recently converted men, Mamadou and Seriba, were banished from their families. But even during this discouraging time, Tiéba continued to keep the church alive. A newly converted blind man by the name of Babali permitted the Christians to meet at his home.
Eager to undertake evangelization initiatives in surrounding villages such as Kankala and Sayaga, Tiéba asked the missionaries for help by showing the Jesus film. The missionaries, however, did not agree with this idea. But when a Christian prefect was assigned to the village, he decided to help Tiéba bring in an evangelization team who presented the Jesus film. Even though few conversions resulted from this campaign, Tiéba was not discouraged because he believed this was what Kotoura and other villages needed. Over time, hundreds of people saw the Jesus film.
In 1986, missionary Gail Wiebe married and returned to the United States. Anne Garber met the Bible translator and Apostolic Church pastor Daniel Kompaoré and later married him. Concerned about the church's future following the missionaries' departure, Tiéba asked the AIMM to send new missionaries to continue the work in Kotoura, but none could be found. But in 1993, Joël Traoré, a Christian from Kagala, Ivory Coast, arrived in Burkina Faso. The same year, another Christian man, Larito, also returned from the Ivory Coast to his village in Sayaga. Larito quickly began to mentor the new believers in Sayaga. Tiéba felt encouraged by the arrival of these two brothers. As a result, the Christians of the three villages—Kotoura, Kangala, and Sayaga—joined in evangelizing in the neighboring village of Sokouraba. Tiéba and Joel regularly visited the new Sokouraba converts.
In March 1993, when the Assemblies of God planted a church in Koloko, Tiéba and his companions realized that it was necessary to collaborate with other denominations to win the Senoufo area for the Lord. Thus, they participated in the organization of evangelization campaigns in places like Sokouraba and Maon.
Tiéba continued with his projects of strengthening souls and winning new souls for the Lord. In December 1993, Tiéba and his companions confronted a great challenge following the death and burial of Babali. Tiéba conducted the funeral. At around the same time, he organized an evangelization campaign with the support of Youth With a Mission. To feed the guests, Tiéba slaughtered a sheep. During the same week, however, he became sick while teaching and went to the hospital. Tiéba, the hero of the faith of the Senoufo area, passed away on 22 February 1994 at the age of 36.
Local non-Christians said that since Tiéba had not offered a sheep sacrifice to his father at the time of his death, his father had drawn Tiéba's soul into the realm of the dead. The Christians, who did not believe in this, deeply mourned the loss of their role model in the faith. The medical staff said that Tiéba died of meningitis.
The faith of the Christians cooled in the area after Tiéba's death. Some even abandoned their faith. But God watched over the church so that it would not die. As a result, the church in Kotoura continued to grow, first under the leadership of elders and then of pastors Mamadou Traoré and Daouda Traoré. As one of the first congregations of the Evangelical Mennonite Church in Burkina Faso, it is a legacy to Tiéba Traoré's life and witness.
Josué Coulibaly
---
Sources :
Kompaoré, Anne Garber. Personal emails. (2021).
Traoré Abibata, eldest daughter of Tieba Traoré. Interview by author. Samogohiri, Kénédougou, Burkina Faso (29 April 2021).
Traoré Mariam, first wife of Tieba Traoré. Interview by author. Kotoura, Kénédougou, Burkina Faso (29 April 2021).
Traoré Moussa, Tieba Traoré's younger brother. Interview by author. Kotoura, Kénédougou, Burkina Faso (29 April 2021).
Traoré Seydou (Ariel), friend of Tieba Traoré. Interview by author. Kotoura, Kénédougou, Burkina Faso (29 April 2021).
Traoré, Siaka. "Unis par grâce depuis 40 ans: Église Évangélique mennonite du Burkina Faso." Courier/Correo/Courrier (October 2019): 13-14.
---
This article, received in 2021, is the product of research by Josué Coulibaly, an undergraduate student at the Université chrétienne LOGOS in Ouagadougou, Burkina Faso, under the supervision of Dr. Anicka Fast.
---
Photo Gallery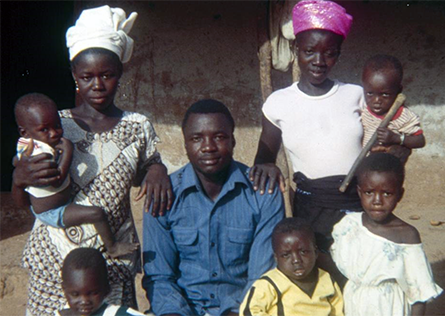 Tiéba Traoré, surrounded by his family, ca. 1985 (at or shortly before his baptism), in Kotoura. From left to right: Karidja (Traoré's second wife) with her sons Emmanuel (held) and Arouna (standing in front), Tiéba Traoré (seated), Mariam (Traoré's first wife) with her children Daniel (held), son Amidou (yellow shirt) and daughter Abibata. Photographer: Anne Garber Kompaoré. Used with permission.