Classic DACB Collection
All articles created or submitted in the first twenty years of the project, from 1995 to 2015.
De Barros, Luciano Gomes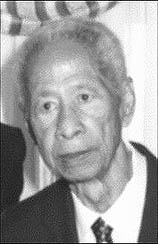 Rev. Luciano Gomes de Barros is the son of General Augusto Figueiredo de Barros who became governor of Cape Verde Islands. Luciano was born at Trindade on the island of São Tiago. Once a government employee himself, he was an excellent professional photographer in Praia, São Tiago, the capital of Cape Verde. He found the Lord there in Praia. He was tall, well-educated, quiet and soft spoken. His first wife, Mrs. Maria Augusta (Silva) Barros (?-1937), passed away at the birth of their third child. They had loved each other very much and this loss was very hard on him.
One day in 1938 as he passed the mission home he heard someone singing "My Ivory Palace Home." The music attracted him and he understood the English words. The crowd pressing around the windows told him that it was a Protestant mass. At the next service he was one of the first to enter the house dressed in a suit of deep mourning. He unburdened his heart to the workers and, finding comfort, became a regular visitor. In the weeks following he claimed rest in Christ and was entirely sanctified in 1940.
When he first invited the Protestant Nazarenes into his home to hold a service, his Catholic mother fled out the back door with his baby. It was many years before she too found the Lord and the rift was healed. Soon God called him to the ministry. He had to pray much for God to take away his fear of speaking in public. He gave up his photography business that brought an income four times that of a pastor. He began pastoring on Brava in 1943.
He married a dedicated Christian girl, Ricardina (1920-). They had eight sons and five daughters. A bell, hung in an inside porch, was rung twice a day to call everyone to family prayer. This pastor's prevailing prayers have brought many revivals, divine healings, deliverances from demonic possession and other miracles. For years he carried a piece of leather in his pocket on which to kneel for prayer at an isolated spot near the town.[1]
When they first arrived on Fogo in 1946 they were "quarantined" for a period in the customs house. There was no food or water there and it was a mile from town. They prayed and were eventually allowed into the city. They saw sixty conversions during their first month there in São Filipe.
One dark night between 1946 and 1951 on the north side of Fogo his mule stumbled and he dropped his briefcase. It was on a dangerous cliff path with a drop-off to rocks and the ocean below. He could not find it and it was too dangerous to search further in the dark. Luciano Barros cried out for help and a man named Jesuino Monteiro (The Little Religious Man), from the nearby village of Bombardeiro, came to his aid. He was a believer. Arriving at the Monteiro's home Barros told them that he had good news for the village. As he spoke they listened with great interest for hours. He needed his Bible in the briefcase so the next morning he and a boy went out and found it.
Upon their return the whole village had gathered. The father and children had gone from house to house inviting everyone to come. The people listened until near noon. Then before praying the pastor asked everyone who was willing to confess his sins to God and take Jesus as Saviour to take one step forward. They all did. Thinking they had not understood he explained again. Again they all stepped forward. Then the man who had rescued him spoke up and said, "Sir, you are the one who does not understand. We all wish to pray with you." That day Christ came to the entire village. They all prayed and acknowledged Christ as Saviour. Later during the bitter famine that swept over the islands, that little village escaped. They reported that not one person starved to death.[2]
Fogo is one of the largest active volcanoes in the world. Its cone is nearly 3,000 metres high. Wisps of smoke often rise from it. Between lava flows in the fertile valleys, many people live and raise tropical crops such as sugarcane, coffee, oranges, castor beans and mangos. A terrible five-year drought had come. A third of the 25,000 people starved to death and many left the island. Luciano Barros (called the weeping Jeremiah of Cape Verde) was pastor at São Filipe at this time. Many times people had only one meal a day.
Hardest hit were those residing deep inside the crater, the Chã das Caldeiras (Place of the Kettle). Through the ministries of Ilídio Silva and Luciano Barros this had become a devoted Christian community. Every morning they would spend the hour from four to five in prayer. A crisis came in March 1946. The small, almost-inaccessible spring of water, far away outside the crater, dwindled. A resident, Mr. Semiano Montround, explained, "Unless God undertakes, we will all starve for lack of water and food." Every day the suffering grew worse. It was getting near the end for them.
One day Pastor Barros challenged these people to pray for rain. They fixed their faith on the words of Isaiah 41:17-18: "The poor and needy search for water, but there is none; their tongues are parched with thirst. But I the Lord will answer them; I, the God of Israel, will not forsake them. I will make rivers flow on barren heights, and springs within the valleys. I will turn the desert into pools of water and the parched ground into springs."
The group of Christians believed God's promise. One man expressed it like this, "Is this not a promise for us here in Chã? We are up in barren heights. We are seeking water. I am praying for rain." They all returned home determined to continue to pray and believe God's promise.[3]
Suddenly at dawn the settlement became alive. People were crying, shouting, singing and talking loudly. A spring of pure fresh water was gushing out of the crater wall above them at least nine hundred feet above sea level. A reservoir was quickly built but it soon overflowed. Fifty years later it was still flowing. Pastor Barros led the people in a prayer of thanksgiving, "God, Thou hast done it again! As in the days of Moses, Thy touch has caused water to flow from this rock."
In 1948 while pastoring at Santa Catarina in the interior of São Tiago an eighteen-year-old youth came to visit Barros. Some years before this a sickness had left Mr. Olvindo dos Reis (c.1930-) stone deaf. His friend Muchinho had been converted in Nazarene meetings and told Olvindo about it in sign language. Olvindo went with him to the pastor's home. He could not hear anything the pastor said so was not able to understand how to find salvation. There was a yearning in his heart but he could hear nothing as the pastor prayed for him. Pastor Barros prayed three long prayers and nothing happened.
Then in desperation he lifted his voice and prayed, "O God of all mercy," Olvindo repeated it with understanding dawning on his face. He was able to repeat the entire prayer after the pastor without error and was saved. The partial restoration of Olvindo's hearing continued. In 1958 it was reported that he could still hear sounds at close range.
Rev. Barros rode his mule on a regular weekly trip to a small chapel in Ribeira da Barca fifteen miles away from Santa Catarina. After visiting homes all afternoon and preaching in the evening he started homeward up the crooked mountain trail. As he rode along in the darkness he became increasingly concerned as no one had been converted that day. Dismounting from the mule he knelt down to pray. In a little while a stranger, José dos Santos, came by riding a donkey.
They rode on together and talked. Pastor Barros tells about it, "God put the right words in my mouth to say to him." Before long dos Santos asked to pray and he found the Lord right there along the road. Although it was late at night the man insisted that Pastor Barros come to his home. He aroused his wife and mother-in-law who were in bed, and the pastor read to them from his Bible and spoke to them for a short while. They too were converted that night.
Soon after that he visited missionary Earl Mosteller and returned to São Tiago by steamship. Pastor Barros wrote about this trip, "Two men were converted aboard my ship last night–one passenger from S. Vicente who was Africa-bound, and another who had embarked in Lisbon, Portugal, for Praia."
During their years in São Nicolau, Mrs. Ricardina Barros would clamber up the rocky mountain trails. She found a responsive group of people in the mountain village of Fajã. There she saw the conversion of complete families and a strong church was organized. In 1975 she was able to cut the ribbon for the dedication of a beautiful church building, the first Protestant one on the island. This was the last of the nine islands of the archipelago to be entered by the Church of the Nazarene.[4]
Speaking of Rev. Luciano de Barros, Missionary Everette said, "He is as good an orator as one would find anywhere…" In the Sunday morning services in Praia the house is packed with "some of the finest people of the city. There are government teachers, officials of the post office department, and practically every other government department."[5]
After retirement Rev. Luciano de Barros resided in Portugal. Two of his sons, Jorge and his wife Manuela and Daniel and his wife Maria Luisa, became pastors in Cape Verde. Rev. Jorge Barros later joined the Publishing Department in Kansas City, Missouri, U.S.A. Rev. Daniel became pastor of the Ponta Delgada church in the Azores and Superintendent of the Azores and Portugal South Districts.[6]
The volcano on Fogo erupted in 1951; then all was peaceful and calm until early in April of 1995. Around midnight the earth began to swell near the base of the cone. The mound then erupted, spraying rocks and sand over the area. This was followed by spouting fire and spilling lava. Toxic gases filled the air. The peaceful valley of Chã de Caldeiras soon became covered with fresh layers of lava. Houses, fields, gardens, and roads were all covered by the hot molten flowing rock. The people of the area awakened to the sound of the trembling earth as the volcano began its eruption. As rocks, sand, and ash began to fall on their houses and the ground around them, terror struck. They began to run for safety, carrying babies and small children. The elderly and sickly were helped. Miraculously, no lives were lost. It was estimated that about 2000 people were displaced.
The government rushed aid to them with tents, food and other provisions. Nazarene Compassionate Ministries, represented by the Liga Nazarene de Solidariedade and Liga president, Rev. Aderito Ferreira, quickly shipped available blankets and other needed items. Rev. Ferreira was pastor of the Tarrafal Church on Santiago. Nazarene Compassionate Ministries in collaboration with Bright Hope International made a contribution to the construction of homes for the victims of the eruption. The Liga continues to help. Nazarene lay Pastor Carlos Graça at Patim Church served on the committee that continued service to the displaced.
Paul S. Dayhoff
---
Donald Reed, J. Elton Wood, and Jeanine Van Beek, Upon This Rock: Nazarene Missions in the Middle East, Cape Verde, and Europe, (Kansas City, MO: Nazarene Publishing House, 1972), 66.

Everette Howard and Jorge de Barros, The Seed and the Wind, (Kansas City, MO: Nazarene Publishing House, 1982), 29-31.

Olive G. Tracy, The Nations and the Isles: A Study of Missionary Work of the Church of the Nazarene in the Nations - Israel, Jordan, Syria, Lebanon, Italy - and the Isles - the Cape Verde Islands, (Kansas City, MO: Nazarene Publishing House, 1958), 213-214; Lorraine Schultz, Because Somebody Prayed: Miracles in Nazarene Mission, (Kansas City, MO: Nazarene Publishing House, 1994), 36-40.

Rev. J. Elton Wood, letter (29 March 1996).

Basil Miller, Miracle in Cape Verde: The Story of Everette and Garnet Howard, (Kansas City, MO: Beacon Hill Press of Kansas City, 1950), 145.

Earl Mosteller, letter (21 April 1995); Dr. Jorge Barros, report (Kansas City, 28 July 1995); Luciano Barros to Rev. Earl Mosteller, letter (17 April 1995).
---
This article is reproduced, with permission, from Living Stones In Africa: Pioneers of the Church of the Nazarene copyright © 1999, by Paul S. Dayhoff. All rights reserved.