Classic DACB Collection
All articles created or submitted in the first twenty years of the project, from 1995 to 2015.
Correia, José Maria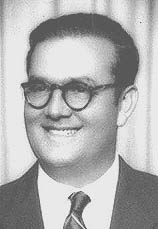 Rev. José Maria Correia was born in Rio de Janeiro, Brazil, and came to Cape Verde when very young. Later he was in charge of public works at Praia. He was a handsome young man and an excellent horseman. He would make fun of Angelina, his Nazarene girlfriend, and would ridicule the preachers. He fired most of the Nazarenes that worked in his department. Mr. João Branco's loss of employment was a great hardship for him and his family. The church began praying for José Correia.
Lina also prayed for him and arranged for a tract to fall into his hands telling of the conversion of a priest in Brazil. José first came to the door or window of the church and listened. Finally, after making his decision, he rode his horse to a cabin he had in the interior of the island. Here he knelt all alone and told the Lord he was going to be converted, but he did not know how to pray; so he rode back home. He told his family that he was going to be a Protestant. They grieved and wept but that evening in 1943 he attended church and found the Lord. He re-employed João Branco. Later José was fully sanctified and called to the ministry.[1]
José Correia testified:
I was educated in the religion of idolatry–Romanism. I prostrated myself before pagan gods. Unexpectedly there came to the city where I was residing two servants of God who proclaimed not only a living and true God, but also His Son, Jesus Christ… The preaching moved my heart… I prostrated myself at the feet of this God-Saviour to leave there my burden so heavy. It wasn't terror and despair that led me to this act, but, yes, it was to find a rest, a peace, and a satisfaction which I have been enjoying since that day. This Saviour won my heart for always. I was converted to this true and loving God. I knew His immense love, and I only want to live for Him and serve Him as long as I have life here. [2]
He married Maria Angelina Correia and they had two sons and one daughter. Angelina was a beautiful and talented girl. She was the daughter of a courageous nurse who was the first to open her home to the Howards when they arrived at Praia in 1939. The Correias began their ministry in Praia in 1944 and served in many churches on six of the islands.
A twenty-one-year-old youth once went to jail for a few days for stoning Correia and the missionary, Rev. Everette Howard. Pastor Correia befriended the young man and he was converted through the love shown by this man of God.
Rev. Earl Mosteller, who is from the state of South Dakota and who could recognize a good horseman, called José Correia "one of the neatest riders I have known."[3] God used Rev. and Mrs. Correia greatly. José's parents in Portugal practically disinherited him because of his faith. He is survived by Angelina.
Paul S. Dayhoff
---
Basil Miller, Miracle in Cape Verde: The Story of Everette and Garnet Howard, (Kansas City, MO: Beacon Hill Press of Kansas City, 1950), 154-155.

Alice Spangenberg, Jerusalem and Beyond : Christian Missions in the Cape Verde Islands and the Middle East, (Kansas City, MO: Nazarene Publishing House, 1950), 41-42.

António Leite, letter (29 May 1995).
---
This article is reproduced, with permission, from Living Stones In Africa: Pioneers of the Church of the Nazarene, revised edition, copyright © 1999, by Paul S. Dayhoff. All rights reserved.