Classic DACB Collection
All articles created or submitted in the first twenty years of the project, from 1995 to 2015.
Ferreira, Francisco Xavier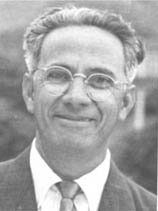 Rev. Francisco Xavier Ferreira is one of the pioneers. Born on São Vicente he was converted on Brava in 1934 through the ministry of João Dias. He reported how the stones whistled over their heads when the missionaries, Rev. Everette and Mrs. Garnet Howard, first arrived in 1936.[1] He worked in government administration but left it in 1931. He was converted in 1934 and entirely sanctified in 1942 and called to preach. His wife was Isaura de Azevedoa and they had two sons and one daughter. They pastored on five of the islands.[2]
When the mission workers first tried to enter Maio in 1940 the so-called "king" of the island, Mr. António Évora, wrote them a note saying, "If you try to land I will have you thrown into the ocean." He was a six foot, nine inch giant and the foremost and wealthiest person of the island. The workers left then but "the king" later came to them and found the Lord.
In 1949 Ferreira reported from Brava:
The Catholic church with the cooperation of some government officials has persecuted our church and our Sunday School. Some government teachers threaten our children with corporal punishments and with failure on examinations if they go to our Sunday School.
Ferreira helped to pioneer the church at Achada, São Tiago. They were often stoned as they walked up the hillside towards the village. Although they would run they were sometimes hit. As no home would receive them they held services in the street with their backs against the wall of Mr. Francisco da Veiga's house. One Sunday about the end of 1938 he came to the service. The next Sunday they were very tired from running the gauntlet of stoning and entered the house without waiting for an invitation. His daughter served them with water as was customary.
That day Francisco da Veiga knelt on his living room floor and found Christ as his Saviour. Senhor Chico, as he was known, was a dynamic and unbelievably fast worker. He was a good master carpenter, cabinet maker and builder and in 1952 was decorated by Admiral Américo Tomaz, President of the Portuguese Republic. When da Veiga passed away his widow and children continued helping in the church there at Achada.[3]
Once about 1946 Francisco Ferreira and Everette Howard were caught in a terrible storm around the southern tip of Fogo in a leaky twenty-foot sail boat. To keep from being washed overboard the missionary was tied to the mast, Ferreira to the pump and the captain to the helm. Without life jackets or lifeboat it was a terrifying experience. They were too frightened to be seasick and they prayed. By sunup all was smooth and they were coming into port at Praia.[4]
Missionary Paul Stroud wrote of him that he was lovingly called Senhor Chiquino (Frankie). Not only was he pastor but also lawyer and advisor to all who came night or day. Everette Howard reported that he had a head like an adding machine. Love and concern for his people radiated throughout his ministry. He was the finest example of a pastor-servant. Yet quietly he carried a terribly heavy load. At the birth of their third child his wife became mentally ill. Without a complaint through the years he cared for his ailing wife and the three children.[5]
Rev. Francisco Xavier Ferreira was appointed the first Cape Verdian district superintendent by General Superintendent Edward Lawlor in 1975. His son Gamaliel married Ilídio Silva's daughter, Lotty.[6] In 1979 he retired and they moved to the U.S.A. He died in Rhode Island following a battle with cancer.
On 13 August 1994 the Francisco Xavier Ferreira Memorial Church of the Nazarene in Tarrafal, Santiago, was dedicated. The church was built over a period of many months through the efforts of several Work and Witness teams from the US, Africa West Work and Witness coordinator, Rev. Paul Stroud, and the church pastor Rev. Adérito Ferreira. The church hosted the district assembly and conventions.
Paul S. Dayhoff
---
Francis Xavier Ferreira, "An Open Letter," The Other Sheep, (Kansas City, MO: Nazarene Publishing House, January 1952), 8-9.

Donald Reed, J. Elton Wood, and Jeanine Van Beek, Upon This Rock: Nazarene Missions in the Middle East, Cape Verde, and Europe, (Kansas City, MO: Nazarene Publishing House, 1972), 69.

Francisco X. Ferreira, "Report," World Mission, (Kansas City, MO: Nazarene Publishing House, March 1982), 9.

Everette Howard and Jorge de Barros, The Seed and the Wind, (Kansas City, MO: Nazarene Publishing House, 1982), 19ff; Earl Mosteller, letter (21 April 1995); "Xavier Ferreira Memorial Church Dedication," in Trans African, (Florida, Transvaal, South Africa: Africa Nazarene Publications, November-December 1994), 12.

Paul Stroud, letter (6 May 1992).

Howard and de Barros, 29-31.
---
This article is reproduced, with permission, from Living Stones In Africa: Pioneers of the Church of the Nazarene, revised edition, copyright © 1999, by Paul S. Dayhoff. All rights reserved.