Classic DACB Collection
All articles created or submitted in the first twenty years of the project, from 1995 to 2015.
Biayenda, Emile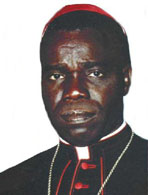 Emile Biayenda was a Congolese clergyman who rose to the rank of cardinal. He was famous for his radical social views, which he often expressed publicly and which ultimately cost him his life.
Emile Biayenda was a native of Mpangala, Vinza, in the northern part of the People's Republic of the Congo where he was born in 1927. He attended the Catholic Mission School at Kindamba from 1937 to 1942 and between then and 1944 studied at the Boundji mission. In late 1944 he entered the minor seminary of St. Paul in Mbamou, proceeding in 1950 to the major seminary of Brazzaville where he completed his studies in 1959. Six years later he was sent to Europe for further studies at the University of Lyons in France where he read and obtained the licentiate in theology and sociology in 1969.
After his ordination as a priest on 26 October 1958, he served as vicar of the parish of Santa Maria in Wenge from 1959 until March 1962, and then as parish priest of St. John Mary Viannery, parish priest in Muleke between 1962 and July 1965. In May 1959, he was made priest in the parish of the Holy Spirit of Mongali. On 18 February 1970, Biayenda was chosen by his confreres to be vicar with the rank of a bishop, responsible for coordinating the works of the apostolate and the various diocesan commissions. On 17 May 1970 he was consecrated titular archbishop of Garba and coadjutor with the right of succession to Brazzaville. Just over a year later, after the death of Archbishop Theophile Mbemba, he became the archbishop of Brazzaville on 14 July 1971, a post he held until his death. Biayenda participated in the 1971 synod of the episcopal conference and in 1972, together with all other bishops of the Congo, sent a pastoral letter on the theme of development and the role of Christians in the nation. He was made a cardinal by Pope Paul VI on 5 March 1973.
His views on various ecclesiastical and humanitarian issues were critical of his country's government. In the 1960s such opposition from clergymen led to tension in the relationship between the church and the state. Consequently, Catholic-backed organizations were dissolved on government orders while mission schools were taken over and some church leaders were jailed, exiled or forced to operate clandestinely. During this period and the period after the subsequent change of government, Biayenda continued to speak out against state injustices and persecution.
Cardinal Biayenda was abducted and killed on the night of 22 March 1977. The following day, Pope John Paul VI announced the cardinal's death at the Vatican, saying,
In making this most painful announcement to you, we ask you to join us to share all the sorrow resulting therefrom, and to pray God for the eternal repose of that elect soul of father and pastor, as well as the constructive pacification and concord of hearts and deeds in the nation so dear to us, and at present so much tormented.
The pope sent a telegram to the bishop of Fort Rousset and to the dean of the bishops of the Congo, Most Reverend George Singha, in which he expressed shock.
In this so grievous hour, ardently wishing that calm may return to your country, we ask God to welcome into his peace this zealous servant of the Gospel, to comfort his family, the members of the diocese of Brazzaville and the church of the PDR Congo, and we impart to you, in witness of our closeness in prayer and in trial, a special Apostolic Blessing.
---
Sources Consulted Include:
Africa Year Book and Who's Who (London: Africa Journal, 1977).

Africa Today, first edition, (Denver, CO : Africa Today Associates, 1981).

Africa Who's Who, first edition, 1981.

Africa Who's Who, second edition, 1991 (published by Africa Books Ltd., U.K).

Ralph Ewechue (ed.), Makers of Modern Africa, 2nd edition (London: Africa Books, 1991).

Daily Times of Nigeria (Lagos).

Nigeria Year Book, 1974, 1975, 1976-1978, 1979, 1980 (Lagos : Nigerian Printing & Publishing Co.).

S. Decalo, Historical Dictionary of Togo, 3rd ed., (London : Scarecrow Press, 1996).

Ralph Uweche, *Africa Who's Who, 1991 * (Lagos, Nigeria: Africa Book Ltd.).

J. C. Choate, The Voice of Truth International, 1991, Vol. 21 (U.S.A.)

E. EL Hadj-Omar, Who's Who In Africa Dictionary.

In the Land of the Pharaohs- An introduction to a 1968 case study by Khalil Mahmud, 2nd ed., (London : Cass, 1968).

L. H. Ofosu-Appiah, Dictionary of African Biography, volume on Ghana & Ethiopia, volume on Sierra Leone & Zaire, (New York : Reference Publications, 1977-).

Cyril P. Foray, Historical Dictionary of Sierra Leone (London : Scarecrow Press, 1977).

Gailey H. A., A History of Sierra Leone.

I. Geiss, The Pan-African Movement (London : Methuen, 1974).

L. C. Gwan, Great Nigerians.

E. Kay (ed.), *Dictionary of African Biography * (London : Melrose Press, 1971-1972).

Pan-Vegio Patriot Macdonald- H. Edward Wilmot

R. K. Rasmussen, Historical Dictionary of Rhodesia Zimbabwe (London : Scarecrow Press, 1979).

E. Rosenthal, Encyclopaedia of South Africa, 7th ed., (Cape Town : Juta, 1978).

S. Ramgoolam, Seychelles Government Annual Reports.

S. Taylor (ed.), *The New Africans * (London : Paul Hamlyn, 1967).

V. Thompson and R. Adlof, Historical Dictionary of Congo (London : Scarecrow Press, 1996).

Times Newspapers Ltd; Obituaries from the Times (Volume 1, 1961-1970; Vol.2, 1971- 1975)

P. J. Vatikiotis, The History of Egypt, 3rd ed., (London : Weidenfeld and Nicolson, 1985, c1969).

H. Zell and H. Silver (eds.), A Reader's Guide to African Literature (London : Heinemann, 1972).

H. Zell, C. H. Bundy and V. Coulon (eds.), A New Reader's Guide to African Literature, rev. ed., (London : Heinemann, 1983).
ARTICLES IN LEARNED JOURNALS
Journal of the Historical Society of Nigeria (Ibadan : Ibadan University Press): Vol. V Nos. 2 & 3, 1970, (Adeleye, R. A.).

Journal of the Historical Society of Nigeria (Ibadan : Ibadan University Press): Vol. VI Nos. 204, 1969, (Ekejiuba, F.).

Journal of the Historical Society of Nigeria, "A Biographical Sketch," (Omu Okwei), (Ibadan : Ibadan University Press): Vol. III No 4, 1967.

Journal of African History, (London : Cambridge University Press): Vol. V No 3, 194 (Hopkins A. G.).
PERIODICALS AND NEWSPAPERS CONSULTED
Africa (Tunis : Ministère des Affaires Culturelles et de l'Information, 1971 ff).
Africa Diary (Delhi : Africa Publications (India), 1961 ff).
Africa Research Bulletin (Africa Research Ltd), (Oxford : Blackwell, 1964 ff).
Ambassador International (Vol 211; 1985).
*Commonwealth Currents *(1978).
Guardian (London, s.n.).
Independent (London, s.n.).
The Times (London).
West Africa (London : West Africa Publishing, 1917).
---