Classic DACB Collection
All articles created or submitted in the first twenty years of the project, from 1995 to 2015.
Kimpa Vita (B)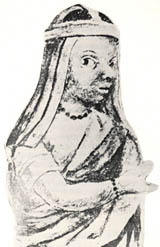 Known by her Christian name, Dona Beatrice, she emerged as a popular prophetic figure after a long period of political decline among the Kongo. She claimed to be the incarnation of the Portuguese Saint Anthony. For two years she preached a form of Christian anti-Catholicism which emphasized traditional Kongo symbolism and cultural roots. The Kongo king, Pedro IV, under pressure from missionaries at his court, had her burned at the stake as a heretic. Her Antonian church survived her passing and briefly provided a focus for the revitalization of the kingdom in the 18th century.
Mark R. Lipschutz and R. Kent Rasmussen
---
Bibliography
Jadin, Louis. "Le Congo et la secte des Antoniens. . . 1694-1718." Bulletin de l'institut historique belge de Rome (1961): 411-615.
Balandier, Georges. Daily Life in the Kingdom of the Kongo. Translated by H. Weaver. New York: Pantheon Books, 1968.
---
This article is reproduced, with permission, from Dictionary of African Historical Biography, 2nd edition, copyright © 1986, by Mark R. Lipschutz and R. Kent Rasmussen, University of California Press, Berkeley and Los Angeles, California. All rights reserved.