Classic DACB Collection
All articles created or submitted in the first twenty years of the project, from 1995 to 2015.
Mboungou, John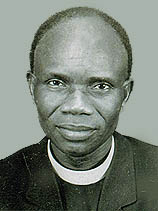 John Mboungou (Mayengue) was a pastor in the Evangelical Church of Congo (ECC) who was known, among other things, for his long prayers and sermons. The two incidents mentioned below will serve to show how this reputation was gained. The first took place in the parish of Bacongo in which the author was a member between 1982 and 1985, and where John Mboungou (then president of the ECC) preached one Sunday. He began his preaching with a very long introduction. When he started reading the Word of God to begin his sermon, some people protested noisily and went out, leaving the rest of the congregation in confusion and the senior pastor embarrassed. Mrs. Mariette Moukanou gives the following explanation for why Mboungou had long sermons: "Papa [1] John Mboungou had long sermons because he knew a lot and was willing to share his knowledge." [2]
The second incident happened during a mortuary vigil where the pastor was asked to pray. His prayer was so long that some people began to speak out loud, and did not pay attention to the end of his prayer, which showed their lack of respect for him. However, these two incidents do not in the least paint a complete portrait of John Mboungou.
John Mboungou was born on January 18, 1928 at Mbamba, a small village located between Lissafi and Madouma, in the sub-prefecture of Mossendjo, in the region of Niari, in the Republic of Congo. His father, Daniel Mayengue, from the clan of Mikali Mia Nzo a Kiba of the Tsangui tribe, was successively a cook, a merchant in Brazzaville, a carpenter in Indo, and an evangelist in Madouma. He was trained as an evangelist by Swedish missionaries in Madouma, and was then asked to work with them.
Daniel Mayengue's first wife (who was from the Batéké tribe), died. He then married a woman named Marie Moulongo, who came from the village of Malaha (currently Banda neighborhood in Mossendjo). John Mboungou's mother, Marie Moulongo, was from the Libamba La Nzo Boutanga clan, of the Tsangui tribe. Daniel Mayengue and Marie Moulongo were both Christians who provided John and his siblings with a Christian education.
John had a happy childhood, with parents who instructed him in the way of the Lord. Unfortunately, when he was nine or ten years old, he lost his mother, who died while pregnant. John was deeply affected by the loss, even though his father married Mariette Niongo, with whom he later had eight children. John was miserable and sad after his mother's death, and was acutely affected by the emptiness he felt because of the death of his mother and the little sibling he was eagerly awaiting. However, he was a polite, obedient, and well-educated child.
John Mboungou began his studies at the elementary school in Madouma. He was a gifted student who loved school very much, and he was often the best student in his class. He was part of the first wave of Madouma graduates, who graduated in 1944. After graduation, John went to further his studies at the Swedish missionary school in Ngouédi, where he took the first two levels of coursework for teachers. There too, he distinguished himself through excellent school work, as Levy Makany [3] notes: "When I was in sixth grade, John Mboungou was taking Teachers' courses. He was a very brilliant student."
In 1946, John graduated as a teacher and was sent to the missionary school in Madouma because there was a shortage of teachers in the area. He was very dynamic and worked diligently at his teaching. Since he liked to play soccer, he also coached his students in sports activities. Mariette Moukanou, one of his pupils in the third and fourth grades, remembers that her teacher was very active. He played soccer with them, and one day she was even appointed to play in the goal for their team. [4]
As a teacher, John Mbongou liked to sing a lot. He taught many beautiful songs to his students, and they sang them joyfully in his lively classes. His half-sister, Pauline Koyo, who was one of his sixth grade students, recalls that, "He was a good teacher. After we had sung well, he would hand out candy to the students." [5]
John Mboungou wrote songs, especially for the Paddy Festival [6] (a harvest celebration), and taught them to his students. Everybody acknowledged his musical talents. During the festivities, he always had his whistle with him to help keep order among the students because a big crowd came to greet them by the roadside.
During the competitions of the Paddy Festival, the students of the Protestant school in Madouma often won, as they had help from their teacher, John. The local population as well as the local authorities also liked them a lot. Below is one of John Mboungou's songs that some of his old students still remember.
On the occasion of Paddy Festival

Madouma's students are invited

To please

The Governor and other assistants

We notice many changes

That the Post Office [7] and the mission are united

It's for the advancement of the country

And to make everybody [happy]

We notice now that

Rice is our principal resource… [8]
John created a "musical instrument" using a hair comb and a sheet of paper, and he made music by blowing on it.
John was a hardworking and strict teacher. His austerity was intended to help his students achieve their best and succeed. Among all the teachers of the Protestant school of Madouma, which included Isaac Kende and Ruben Ngai, John was considered to be "the mastermind". He was one of the best teachers in the area, and his students were among the most intelligent and highly performing in the school.
When Mboungou went back to his village to serve as a teacher, he did not go to live with his parents, but stayed at the "Teachers House." During that period of time, he decided to look for a wife. His first proposal to a young lady failed, so he proposed to another one, but again he did not meet with success, as both families refused to allow their daughters to marry him. (At that time, marriage was a family-arranged business; the young bride and bridegroom to be had little say in the matter.) Two years after he started teaching, on September 12, 1947, John married Jacqueline Loumba, in Mossendjo.
Jacqueline's parents were named Nguellet and Mapaha. John did not know her, and in fact when he first saw her, John did not feel attracted to her for two main reasons. Physically, she was not his type; she was shorter and had an ebony dark skin complexion that he didn't like. And spiritually, she was not a Christian yet. But John's uncle, Alphonse Nzali, made him marry Jacqueline, insisting on the fact that she was well behaved, had an agreeable personality, and that there were ties between the two families that needed to be preserved.
Despite his inner resistance to this union, John submitted himself to his uncle's wishes and to tradition; he went ahead with the three necessary steps for Christian marriage in his country: customary, legal and religious. His religious wedding was performed by Pastor Burrell and Pastor Loukoula. [9]
Because of the strained nature of their relationship at the beginning, John and Jacqueline experienced difficulties in the first few months of their marriage. Then, Jacqueline's conversion softened things, and with the grace of God, the couple overcame some of their hurdles. They had eleven children in all.
After his wedding, John continued to excel as a teacher, and he was loved by his students and respected by his colleagues. However, he started to feel that he needed to do more for the Lord. He decided to share his thoughts with his father, who told him this: "When your mother was pregnant with you, I had a dream in which I was told 'Your wife will have a son and you will call him John for he will be my servant.'" [10] His father's words helped him to decide to follow God's calling. John served as a teacher in the Swedish Evangelical Mission schools from 1946 to 1955. [11]
At that time, teaching was a respectable profession that enabled teachers (who were almost all males) to become part of the budding middle class. John's decision to stop his brilliant career as a teacher and go to Ngouedi for pastoral training was a very bold move, but John resolutely decided to consecrate himself entirely to serving God. He went to the biblical institute in Ngouedi to complete his pastoral training.
While Mboungou was finishing up his pastoral training, he faced a huge temptation. Abbot Fulbert Youlou, elected prime minister of Congo, and later president of the [independent] Republic of Congo, was forming his national unity government and was looking for potential members for his cabinet from the various Congolese regions. During a meeting of some Batsangui intellectuals, John Mboungou's name was proposed by a certain Ngongo d'Outre Mer, [12] as someone who could become one of the state secretaries.
It was an honor for John to learn that a person of such caliber would propose his name for such a prestigious position. Nevertheless, his father, Daniel Mayengue, did not want John to have anything to do with politics. John himself declined the offer, saying that he preferred to defend the cause of God rather than the cause of men. Isaac Ibouanga was then proposed, and he became the Congolese Secretary of Information.
John graduated in 1958, completing a great academic journey. He was then sent to pastor in Mfouati, in the region of Ngouedi, from 1958 to 1959.
On July 3, 1960, John Mboungou was ordained pastor in the Evangelical Church of Congo (ECC). Because of his great academic performance in Ngouedi, John was awarded two scholarships for further studies; one from France and another from Sweden. John wanted to go to France because he understood and spoke the language, but at the same time, he did not want to miss following God's will for him. He was facing a dilemma: what was the right choice? One day, at the funeral vigil of a member of the church, he met prophetess Véronique Nsondé and asked her for advice. She invited him to pray, and she later told him that the Lord had shown her two flags in a vision: first the Swedish flag, then the French flag. God told her that John would go to Sweden first; after that, he would finish his studies in France. That is what happened: John Mboungou flew to Sweden in 1961 to further his theological training, and finished there in 1965. Then he went to France, where he graduated with a BA in theology in Montpellier, in 1967.
John then came back to Congo to serve, and his presence was an added asset to the intellectual elite of the ECC and of the country. He was asked to become the president of the Evangelical Church of Congo, but he declined the offer, saying that there were others more mature in the ministry. So, he became the pastor of Mayangui parish, in the region of Brazzaville. Nevertheless, in 1972, John Mboungou was elected vice-president of the ECC. He served in that position until 1975, when he became the president of the ECC, [13] serving as president of the Evangelical Church of Congo until his retirement. He is the only pastor until now (2010) who was reelected for three consecutive four year terms as president of the ECC, from 1975 to 1987.
John Mboungou was a righteous man who loved God. He enjoyed singing, listening to the Word of God and praying. He was a compassionate and conscientious pastor; he visited his parishioners and shared his knowledge of God's word with them through his preaching and advice. He led God's people with the same kind of love and austerity that he had shown to his students. Many pastors in the ECC saw him as a mentor who was a real support to them in their ministry. Pastor John Moukou summarizes those sentiments in these words: "John Mboungou was a father to the pastors; he knew how to help and educate them. When he would hear something [bad] about one of them, he would summon him to his house and would talk to him alone. He did not gossip, but worked toward building up the life of the church." [14]
John Mboungou's behavior was not different with his family; he was both firm and affectionate, and he did not tolerate bad behavior. Eliane Mboungou remembers that her father "loved and protected his children; but at the same time, he discipline them." [15]
Mboungou's ministry also reached the political leadership of the country. Leaders from different political groups consulted him at night, and some even invited him over. He listened to them, and sometimes he advised them and prayed for them.
Mboungou was a rigorous and courageous man who was attached to principles. He was not shy about defending what he believed in. Nonetheless, he faced many obstacles and much opposition in his ministry. Many groundless rumors were circulated against him in order to tarnish his name and to undermine his reputation and work, especially during election times when the church was voting for a new president. This was due, in part, to the prevalent ethnic conflicts in the ECC at that time. [16, 17]
Christians who were natives of regions other than Mboungou's (especially those from the Pool region), did not want him as head of the church, but wanted someone from their own region. Therefore, some individuals buried fetishes where John and his family lived, intending to harm them, but God protected them through the years. In spite of that, John Mboungou tried to cultivate good relationships with his opponents, showing that he was a man of undeniable moral caliber.
The wickedness and false rumors circulating on his account saddened John and disturbed him greatly. He was a sensitive man who felt the weight of his ministry and responsibilities heavily. The author can remember attending a Sunday service in Brazzaville, in the 1980s. During the service, Mboungou, who was so heavily laden by his responsibilities, made the people present repeat loudly "Ah Moses, ah Moses, ah Moses…" While saying these words, one felt that this man was carrying a weighty load on his shoulders, like the one Moses, God's servant, carried in the Old Testament.
Nonetheless, many Christians loved and respected Mboungou, and in fact, when he retired at the end of his third term as president of the ECC, the church was ready to introduce a clause allowing a person to be reelected even after the age of sixty, in order to reelect him for the fourth time. He declined the offer though, and was succeeded by Pastor Alphonse Mbama.
During his retirement, John was not idle. He kept on teaching and preaching in the region of Madouma, and in every place where he was invited. During the war, while the author and her family were refugees in Mossendjo, the author saw John Mboungou preach the Gospel of Jesus Christ. One day, one of the author's uncles, who was also John's neighbor, became seriously ill. A few hours before his death, John Mboungou talked to him about salvation in Christ and gladly led him to the Lord.
Towards the end of his life, John Mboungou had a lengthy stay in the home of his daughter Eliane's family, where he benefited from the peace of mind he needed to write a biblical guide for the church. Here are some of her memories of that time: "He liked to write, and he wrote in his journal almost every day. He did not drink wine, and did not smoke. [He] had a rich and varied diet that had preserved his life." [18]
On July 27, 2001, John Mboungou passed away, after giving final recommendations to his family and telling them that he had to go now, and that there was no need to cry.
Médine Moussounga Keener
---
Notes:
Papa (Tata) is a respectful word Congolese people use to refer to an adult male.

Phone interview with Mrs. Mariette Moukanou, May 28, 2009, Joliet, Ill. USA. Mariette Moukanou (wife of Makita) is the first woman teacher in Mossendjo. She was trained in Ngouedi where she graduated. She taught for years in the elementary schools, and then went to Marien Ngouabi University where she graduated as a pedagogical counselor. She is a deacon in the ECC, and a choir member of the Senior Choir of Mayangui Parish.

Telephone interview with Makany Levy, June 8, 2009. Mr. Makany Levy is former Rector of Marien Ngouabi University, former Minister of education under the President Alphonse Massemba-débat, former Secretary General of African universities. He presently lives in Brazzaville.

Interview with Mariette Moukanou.

Interview with Pauline Koyo, February 9, 2010. This interview was done by evangelist Eliser Moussounga, working in Mossendjo.

This was a regional festivity in which the General Governor was invited. During the celebration, the official schools (Catholic, Protestant and others) enter contests for sport activities, dances, and songs.

The main village was called the "Post Office."

The song was performed by Mariette Moukanou.

Interview with Pauline Koyo.

Interview with Eliane Mboungou May 30, and June 1, 2009.

Biographie des Pasteurs de l'Eglise Evangélique du Congo [Biographies of the Pastors of the Evangelical Church of Congo], p. 17.

Ngongo d'Outre mer was at that time one of the greatest Batsangui intellectuals. He distinguished himself from the others by the way he spoke French "like French people", for he had travelled a lot in Europe. He was a very well-informed man.

John Mboungou was the third Congolese pastor to be elected president of the Evangelical Church of Congo. He was preceded by Jaspard Kimpolo and Raymond Buana Kibongui, and succeeded by Alphonse Mbama.

Interview with Moukou John, retired pastor of the ECC, June 4, 2009.

Interview with Eliane Mboungou.

Interview with Daniel Tombet, former assistant professor at Marien Ngouabi University; deacon and counselor for the Community of the Evangelical Church of Congo in France, August 16, 2010.

Ethnic conflicts plague many continents, including Africa. There are several wars that have exploded in different African countries, based to a certain extent on ethnic grounds. In centuries past, churches and entire communities collapsed due to ethnic strife. The Bible engages us otherwise; it calls us to ethnic reconciliation and fraternal love. For more information, my husband and I wrote a small book called: Reconciliation for Africa: Resources for Ethnic Reconciliation, Craig Keener & Médine Moussounga Keener, African Christan Textbooks (ACTS), OASIS, 2006, Nigeria.

Interview with Eliane Mboungou.
---
Bibliography
This article is based on the telephone interviews we have carried out and on a booklet compiled and published by the Evangelical Church of Congo.
Evangelical Church of Congo, Biographie des pasteurs de l'Eglise Evangélique du Congo, Brazzaville: Editions Conférence Pastorale, 2009.
Mariette Moukanou. Interview by author, Thursday, May 28, 2009.
Eliane Mboungou. Interview by author, May 30, 2009, via email; June 1, 2009, by telephone.
Pastor John Mouko. Interview by author, June 4, 2009.
Serge Mboungou. Interview by author, June 6, 2009.
Levy Makany. Interview by author, June 8, 2009.
Sophie Boutanga. Interview by author, June 12, 2009, via email.
Pauline Koyo. Interview by Eliser Moussounga, February 9, 2010, Mossendjo.
Daniel Tombet. Interview by author, August 16, 2010.
---
This article, received in 2010, was researched and written by Dr. Médine Moussounga Keener, adjunct professor at Eastern University in Philadelphia, Pennsylvania, U.S.A.
Mboungou, John, Congo, Evangelical Church of Congo