Classic DACB Collection
All articles created or submitted in the first twenty years of the project, from 1995 to 2015.
Disengomoka, Emile Adolphe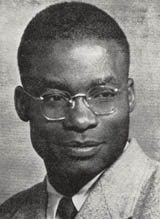 Emile Adolphe Disengomoka (March 31, 1915-March 15, 1965), educator, civic leader, and novelist, was the first Congolese to receive his Régent Littéraire which is equivalent to an M.A.
Born at Kingemba in the present Ntimansi collectivity of Lower Zaire, Disengomoka spent his early years at Kimpese, 65 km (40 mi) southwest of Thysville (now Mbanza-Ngungu), where his father earned a pastor's diploma at the Evangelical Training Institute in 1922, and at Ngombe Lutete, 40 km (25 mi) north of Mbanza-Ngungu, where his father was pastor of a Protestant church.
After completing primary school at Ngombe Lutete in 1928, Disengomoka was sent to the Ecole de Moniteurs of Madzia (a school preparing elementary teachers) in the French Congo to learn the French language. In 1931, he returned from Madzia to serve as director of the Protestant primary schools in the Ngombe Lutete region. With the exception of the three years from 1934 to 1937, when he enrolled at the Evangelical Pedagogical Institute (EPI) at Kimpese, Disengomoka continued in his administrative capacities until 1942. After another interlude of studies, from 1942 to 1944 at the Kimpese pastor's school, he worked as headmaster at the Thysville primary school.
In 1949, desiring further education, he went to Belgium where he studied at the École Normale Moyenne of Nivelles (Nivelles Teacher Training College) until 1951. Then he enrolled at the Nivelles École de Régence where he was supported through a scholarship awarded by the Baptist Missionary Society. On July 9, 1954, he received his Régent Littéraire diploma, a degree no Congolese had obtained till then.
On his return to the Congo in 1955, Disengomoka took a position as headteacher of the Ngombe Lutete Central School, the most important Baptist primary school in the Lower Zaire area.
In 1958, he left the rural countryside to settle in Léopoldville (now Kinshasa), where he taught French at the Athene of Nqiri Nqiri until 1961. In addition to his teaching, he also served for a year as director of discipline at Nqiri Nqiri and at the prestigious Athene de Kalina. From 1961 till his death on March 15, 1965, he was principal of the Institut Polytechnique Congolais.
Besides his teaching career, Disengomoka took an active interest in civic duties as a member of the territorial council of Thysville, the provincial council of Léopoldville (1955-58) and the Conseil du Gouvernement Général (Council of the Government General). Also, from 1963-64, he sat on the board of governors of l'Université Libre du Congo (Free University of the Congo). In 1964, he was a member of the Constitutional Commission of Luluabourg (now Kananga).
Disengomoka should also be remembered as a writer. He was also perhaps the first novelist in Zaire. In 1942 he published Ku ntwala ("The Future"), the translation into Kikongo of an American ethical work, Right Thinking and Right Living, by O.R. Winstedt. In 1943 he published Kwenkwenda ("Where Shall I Go?"), a novel which was to win a literary award, the Margaret Wrong prize, in 1948. In about 1948 he published a sociological work about family living conditions, entitled Luvuvamu mu nzo ("Peace in the House"). Besides these, he wrote several articles in La Voix du Congolais, published in Léopoldville. He also wrote some hymns, of which about 15 were published.
In all of his writings, Disengomoka expressed concern for the moral and cultural development of Congolese society. As an "evolué," his ideas reflected the deep attachment of the Congolese elite to education and improvement.
Sabakina Kivilu
---
Bibliography
E. A. Disengomoka, Ku ntwala *("The Future"), a Kikongo translation of O. R. Winstedt's *Right Thinking and Right Living, 1st ed., Kimpesi, 1942, 4th ed., Léopoldville, 1965, Kwenkwenda *("Where Shall I Go"), novel, 1st ed., Léopoldville, 1943, 4th ed., Kinshasa, 1965, "Les adeptes de Missions Etrangères au Congo Beige" ("Followers of Foreign Missions in the Belgian Congo"), *La Voix du Congolais, 1945, "Message de nouvel an," ("New Year's Message"), La Voix du Congolais, 1946, "La civi1isation au Congo" ("Civilization in the Congo"), La Voix du Congolais, 1946 Luvuvamu mu nzo ("Peace in the House"), 1st ed., Thysville (?), circa 1948, 4th ed., Léopo1dville, 1957, hymns, published in Kinkunga mia Kintwadi, Léopoldville, 1956; Donald E. Herdeck, African Authors, Vol. 1, Washington D.C., 1973; Andre Massaki, E. A. Disengomoka. Zingu kiandi: 1915-1965, Kinshasa, 1968; Mbololo ya Mpiku, "Introduction à la litérature Kikongo," ("Introduction to Kikongo Literature"), Research in African Literatures, Austin, Texas, Fall, 1972; A.E. Sewel, "Disengomoka, the first 'Régent Congolais'," in Congo Mission News, October, 1954, J. L. Vellut, "Sources écrites africaines pour l'histoire de l'Afrique Centrale (des débuts à 1950)," ("African Written Sources for the History of Central Africa (from the beginnings to 1950)"), Likundoli, archives et documents, 1-2, 1974.
---
This article was reprinted from The Encyclopaedia Africana Dictionary of African Biography (In 20 Volumes). Volume Two: Sierra Leone-Zaire. Ed. L. H. Ofosu-Appiah. New York: Reference Publications Inc., 1979. All rights reserved.