Classic DACB Collection
All articles created or submitted in the first twenty years of the project, from 1995 to 2015.
Malula, Joseph (D)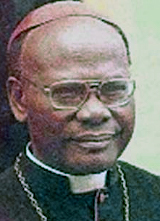 A Zaïrean Catholic clergyman and a renowned advocate of the Africanisation of Christianity, he lived through the turbulent years preceding and following his country's independence.
He was born on 12 December 1917 in Kinshasa, then Leopoldville, to a mother from the Equateur Region and a Baluba father. He was educated at the Petit Séminaire in Bolongo and the Grand Séminaire in Kabwe where he studied the classics and humanities for eight years.
Malula started his clerical career as a priest in the parish of Christ-roi. As the first black parish priest in Kinshasa, he became dissatisfied with the paternalistic attitudes with which both the church and the Belgian colonial authorities treated Africans. In 1959, just a year before the independence of what was then called the Belgian Congo (renamed Zaïre in October 1971), Malula became the auxiliary bishop of Kinshasa. He remained in that position until July 1964 when he was appointed archbishop of Kinshasa. He was made a cardinal in April 1969.
Cardinal Malula became especially renowned as a result of his efforts to indigenize the Catholic Church in Zaïre and to help achieve its autonomy. He called for the Africanisation of the liturgy and for the use of valid elements in traditional religion by the church. With changes of this kind, he hoped Africans would be able to make the Catholic religion their own. Malula also became an advocate of the dignity of women, denouncing whatever turned them into a "slave or instrument of lust." Moreover, he denounced tribalism as the curse of Africa. However, his pursuit of change and "authenticity"–as he described his call for Africanisation–did not include giving up Christian names and replacing them by African ones. So when President Mobutu launched his "Authenticity" campaign by changing the country's name to Zaïre and his own from Joseph-Désiré Mobutu to Mobutu Sese Seko, Malula led the church in criticizing the regime, for he saw this campaign as an extreme interpretation and its implementation as undemocratic. The Catholic Church was and still remains a very powerful force in Zaïre with over 40 percent of the population as members.
Malula refused to obey the order that Zaïrean citizens give up the use of Catholic Christian names. He also disagreed with proposals that the youth wing of the ruling Movement Populaire de la Révolution (MPR) should establish cells within all religious institutions throughout the country. The state took over all Catholic and other mission schools and banned religious instruction in schools, and although the schools were returned to church control later, religious instruction was not allowed and all Christian festivals ceased for years to be public holidays. Supporters of the regime reacted fiercely and there were threats to the churchman's life.
Malula's clashes with the Mobutu regime led to his exile to Rome for five months, from January to May 1972. The political bureau of the MPR accused the churchman of subversion, while the state press drummed up a campaign against "counter revolutionaries." Malula was allowed to return to Zaïre after he had virtually capitulated to the government on most of the policy measures in dispute. The papal visit to Zaïre in May 1980, during which Cardinal Malula and President Mobutu met jointly with Pope John Paul II, was seen by some as an indication of the reconciliation between the state and the church.
After that, Malula had to deal with more problems from the Vatican. He would have liked to see married men ordained as priests, and, as this was not allowed, he encouraged the elderly natural leaders of the communities to become catechists. His great project, however, in the last decade of his life on which he spent a great deal of his time was to establish a "Council of the African Church" which would formally work through the problems of combining Africa and Christianity. It was his hope that such a council would eventually lead to the synthesis of the valuable elements of African traditional ways of life with Christianity, which has been seen as desirable since the Second Vatican Council.
Malula was awarded his country's highest honour, the Order of the Grand Leopard. He died on 12 July 1989 in a clinic in Brussels.
---
Sources Consulted Include:
Africa Year Book and Who's Who (London: Africa Journal, 1977).

Africa Today, first edition, (Denver, CO : Africa Today Associates, 1981).

Africa Who's Who, first edition, 1981.

Africa Who's Who, second edition, 1991 (published by Africa Books Ltd., U.K).

Ralph Ewechue (ed.), Makers of Modern Africa, 2nd edition (London: Africa Books, 1991).

Daily Times of Nigeria (Lagos).

Nigeria Year Book, 1974, 1975, 1976-1978, 1979, 1980 (Lagos : Nigerian Printing & Publishing Co.).

S. Decalo, Historical Dictionary of Togo, 3rd ed., (London : Scarecrow Press, 1996).

Ralph Uweche, Africa Who's Who, 1991 (Lagos, Nigeria: Africa Book Ltd.).

J. C. Choate, The Voice of Truth International, 1991, Vol. 21 (U.S.A.)

E. EL Hadj-Omar, Who's Who In Africa Dictionary.

In the Land of the Pharaohs- An introduction to a 1968 case study by Khalil Mahmud, 2nd ed., (London : Cass, 1968).

L. H. Ofosu-Appiah, Dictionary of African Biography, volume on Ghana & Ethiopia, volume on Sierra Leone & Zaire, (New York : Reference Publications, 1977-).

Cyril P. Foray, Historical Dictionary of Sierra Leone (London : Scarecrow Press, 1977).

Gailey H. A., A History of Sierra Leone.

I. Geiss, The Pan-African Movement (London : Methuen, 1974).

L. C. Gwan, Great Nigerians.

E. Kay (ed.), Dictionary of African Biography (London : Melrose Press, 1971-1972).

Pan-Vegio Patriot Macdonald- H. Edward Wilmot

R. K. Rasmussen, Historical Dictionary of Rhodesia Zimbabwe (London : Scarecrow Press, 1979).

E. Rosenthal, Encyclopaedia of South Africa, 7th ed., (Cape Town : Juta, 1978).

S. Ramgoolam, Seychelles Government Annual Reports.

S. Taylor (ed.), The New Africans (London : Paul Hamlyn, 1967).

V. Thompson and R. Adlof, Historical Dictionary of Congo (London : Scarecrow Press, 1996).

Times Newspapers Ltd; Obituaries from the Times (Volume 1, 1961-1970; Vol.2, 1971- 1975)

P. J. Vatikiotis, The History of Egypt, 3rd ed., (London : Weidenfeld and Nicolson, 1985, c1969).

H. Zell and H. Silver (eds.), A Reader's Guide to African Literature (London : Heinemann, 1972).

H. Zell, C. H. Bundy and V. Coulon (eds.), A New Reader's Guide to African Literature, rev. ed., (London : Heinemann, 1983).
ARTICLES IN LEARNED JOURNALS
Journal of the Historical Society of Nigeria (Ibadan : Ibadan University Press): Vol. V Nos. 2 & 3, 1970, (Adeleye, R. A.).

Journal of the Historical Society of Nigeria (Ibadan : Ibadan University Press): Vol. VI Nos. 204, 1969, (Ekejiuba, F.).

Journal of the Historical Society of Nigeria, "A Biographical Sketch," (Omu Okwei), (Ibadan : Ibadan University Press): Vol. III No 4, 1967.

Journal of African History, (London : Cambridge University Press): Vol. V No 3, 194 (Hopkins A. G.).
PERIODICALS AND NEWSPAPERS CONSULTED
Africa (Tunis : Ministère des Affaires Culturelles et de l'Information, 1971 ff).

Africa Diary (Delhi : Africa Publications (India), 1961 ff).

Africa Research Bulletin (Africa Research Ltd), (Oxford : Blackwell, 1964 ff).

Ambassador International (Vol 211; 1985).

Commonwealth Currents (1978).

Guardian (London, s.n.).

Independent (London, s.n.).

The Times (London).

West Africa (London : West Africa Publishing, 1917).
---