Makanzu, Mavulimusa Jean-Perce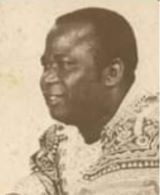 Makanzu Mavumilusa Jean-Perce was born on October 14, 1927 in Mpambala in the province of Kongo-Central, to Christian parents.
Makanzu is a circumstantial name given to twins as is customary in Central Congo. This name comes from the verb kanzuka which means "to jump or overcome obstacles." Mavumilusa means to respect, and the meaning is intended to encourage men to respect the word of God. Finally, Jean-Perce is a nickname that his colleagues gave him because of his ability to understand things. His class friends compared him to the insect that pierces hardwoods. He will be the one who will pierce the hearts of men with the word of God.
Conversion, vocation and ordination
Makanzu says he experienced two conversions, one when he was 13 and the other as an adult during his Bible studies. At age 13, at a Sunday school gathering of children, Makanzu first heard the story of Joseph being sold by his brothers. He was upset by the dishonesty of Joseph's brothers. But the Spirit of God told him that the condition of his heart was also like that of Joseph's brothers. Because of this, he decided to give his heart to God, and from that day on, everything changed in his life.
Makanzu underwent his primary education at the Kibunzi mission. He was married in Sakanda Luzibu on August 2, 1948. After his marriage, he went to Kimpese for Normal School from 1951 to 1955, and he attended Kimpese School of Theology from 1958 to 1960. From 1960 in 1962, he trained at the Emmaüs Biblical Institute in Switzerland.
Makanzu's second conversion took place during his Bible studies. While studying the course on the First Epistle of John, Makanzu realized that he was spiritually powerless to serve God, and a deep sadness came over his heart. He ended up on the floor crying, until he got the teacher and the other students to cry. It was God who wanted him for his work.
Makanzu was baptized in Kibunzi in the Evangelical Community of Congo (23rd community of the Church of Christ in Congo), and consecrated pastor on June 16, 1963 in Kinshasa, at the Lisala parish of the Baptist Community of the Congo River (CBFC) in the commune of Kasa-Vubu, a parish of 3,000 members. It was here that he exercised his first pastoral ministry from 1962 to 1967.
Makanzu played a leading role in the establishment of the ECC, for whose unity he fought ardently. From 1967 until his death in 1980, he was the first National Evangelist and General Secretary of the Evangelism and Church Life Department of the ECC. From 1970 until his death, he was Legal Representative of the ECC and Deputy Bishop-President Bokeleale. In 1979, he was elected International Evangelist by the ECC Synod.
He also served as national president of the League for the Reading of the Bible, and co-founder and member of the Council of Pastors of Kinshasa (COPAK).
Makanzu the Evangelist
During his life, Makanzu has been a teacher, parish pastor, religion teacher, writer, evangelist, and leader in the Church of Christ in Congo (ECC). But his activity and his main passion have always been evangelization, whether through his speech during campaigns and seminars in the DR Congo and in other countries, or through his numerous writings. In light of the service rendered to Christ in his evangelization, Makanzu has been nicknamed the Billy Graham of Congo by Congolese Christians.
During his ministry, Makanzu obeyed the great commission of the Master according to Matthew 28:19 to 20, which says: "Go and make disciples of all the nations, baptizing them in the name of the Father, and of the Son, and of the Holy Spirit, and teach instruct them to observe all that I have commanded you. And behold, I am with you always, even to the end of the world."
As an evangelist, he has also made evangelistic tours in several African and Western countries, including the Republic of Congo, Rwanda, Nigeria, Burundi, Kenya, Ivory Coast, the United States States of America, Canada, Germany, Sweden, Belgium, France and Switzerland.
Makanzu has participated in major evangelistic congresses in Nigeria, Kenya, Switzerland, Asia, Canada.
Evangelist Makanzu said, "I am jealous of Satan who devours the sheep of our Lord Jesus Christ. This jealousy drives me to ruin the work of the devil in people's hearts. To ruin his kingdom, I have nothing else to do but to walk all over our country, the Bible in my hand, to preach the Good News of salvation so that my people will be drawn to the Lord Jesus Christ."
Makanzu also evangelized through his many writings. Writing was his passion. He said he felt the letters circulating in his blood, and that he had to write to get them out. He wrote several books and pamphlets, and others were published posthumously. In his books, he tackles themes such as scientific atheism (Quand Dieu te gène…, published in 1986 in two volumes), the history of the ECC (The power of the cross in Zaire: 1878-1978: The centenary de L'E.C.Z., published in 1978) and the importance of ecumenical unity (Let's unite to divide us no longer!, published in 1969). Overall, all his writings deal with evangelization and the life of the Church according to the spiritual requirements of the Congolese people.
From 1967 to his death, the evangelist Makanzu preached the Gospel throughout the Democratic Republic of Congo, even in the equatorial forest among the pygmies. Almost every year, Evangelist Makanzu held major seminars at the level of CCC member communities, provinces, and the nation for pastors, evangelists, Sunday School teachers, and others.
Spiritual life
The Bible occupied a prominent place in Makanzu's life. He spent significant time reading and meditating on the word to nourish his spiritual life and also that of God's people. Here are two of his favorite Bible passages:
When I say: I will no longer mention it, I will no longer speak the word in its name, then it becomes within me like a devouring fire, prisoner of my body; I'm exhausting myself trying to contain it, but I can't. (Jeremiah 20.9, TOB) I know how to live in humility, I know how to live in abundance. I learned, in all circumstances and in all ways, to be satiated as well as to be hungry, to live in abundance as well as in need. I can do everything in whoever makes me strong. (Philippians 4.12 to 13, TOB).
In Makanzu's house, a family worship was held every evening. When it was time for worship, a bell was rung. Makanzu also liked to sing Christian hymns and composed several, such as:
EVERYTHING IS TRUE

It's all true (4x)

All is true for Jesus Christ,

It's all true my soul

It's all true, heaven's joy

All is true, the Word of Jesus,

Everything is true, the miracles of Jesus, etc.
NZOLELE MLEVUKILA

Nzolele mlevukila, (mpangiami)

Mlenvo Yesu, mlenvo

Nzolele mlevukila, (nketo yami, dibundu, pastor, etc.)

(Translation from the original in Kikongo: I want to forgive my neighbour)
Marriage and family life
Makanzu and Sakanda formed a model couple in which dialogue and peace were primary. Makanzu's ministry influenced his wife to the point that she became a great preacher of the word in mothers' meetings at their church. From their union were born seven children: four boys and three girls. Their children were educated according to the way of God. Between them, they maintained good family relations.
Contribution of Makanzu to the Christian Church of the DR Congo
Makanzu had a good relationship with everyone. Although he brought many people to the Lord, he did not start his own church. On the contrary, he contributed to the creation of the Church of Christ in the Congo, and it was there that he worked on behalf of the Kingdom of Heaven as a national evangelist. He fought hard for the unity and life of the Church.
The influence of Makanzu's ministry extends from his family to the nation and even to Africa and Europe. All his children know the Lord and some of them serve the Lord. Jonathan Mbakudi, the fifth child, followed in his father's footsteps by becoming a pastor and evangelist for the Evangelical Community in Congo.
Makanzu was a passionate evangelism, a follower of Jesus Christ, a very sharp writer, an effective communicator of the good news, an African and a genuine Christian. Makanzu was a true theologian of evangelization and the life of the Church. Before his death on June 2, 1980, he received the title of Doctor Honoris Causa in divinity for his activities as an evangelist and writer by Asbury College, Kentucky in the USA. He died on September 27, 1980 in Kinshasa of liver disease.
Ilunga Nkulu Mulume Auguy
---
Sources:
The photo of Makanzu comes from the cover of Makanzu Mavumilusa Jean-Perce's book, My heart is on fire for evangelization (Lausanne: Éditions du Soc, 1980.
Diafwila-dia-Mbwangi, Daniel. Professor of theology, pastor and acquaintance of Makanzu, based in Canada. Answer to the questionnaire on March 24, 2023, during his stay in Kinshasa in the DRC.
Various writings of Makanzu which are with members of his family.
Makanzu Mavumilusa, Jean-Perce. 1986. When God bothers you. 2 volumes. Wuppertal: Editions VEM (Vereinigte Evangelische Mission).
Makanzu Mbokudi, Jonathan. Fifth son of Makanzu. Several interviews by the author between 2021 and 2023. Address: avenue Mukoko 01, Quartier Musey, Commune of Ngaliema, Kinshasa, DRC.
Marini Bodho, Pierre. Professor of Theology and Honorary President of the Church of Christ in the Congo. Interview by the author on March 28, 2023 in Gombe (Kinshasa) in the DRC.
"Mavumilusa Makanzu." Speech on the occasion of the ceremony at Asbury College during which he was conferred the title of doctor honoris causa in divinity. Without place or date.
Publications by Makanzu Mavumilusa Jean-Perce:
1969 . Unissons-nous pour ne plus nous diviser par la suite! Kinshasa-Kalina: maison d'édition inconnue.
1971 ou 1972. Kundu Dia Bandoki: Mabanza Ma Bantu Ye Mambu Ma Nzambi. Kinshasa : CEDI.
1973 . L'histoire de l'Église du Christ au Zaïre : Nous n'avons pas trahi l'Évangile de Jésus-Christ. Kinshasa : CEDI.
1974 . The Twentieth Century Missionaries and the Murmurs of the Africans. Apophoreta of African Church History, 3. Aberdeen, Scotland: Dept. of Religious Studies, University of Aberdeen. 24 pages.
1977 . Quoi? Vive la polygamie dans l'Église?? Kinshasa : CEDI (traduction en anglais : Can the Church Accept Polygamy? Accra : Asempa, 1983).
1978 . La puissance de la croix au Zaïre : 1878-1978 : Le centenaire de L'E.C.Z. Kinshasa : Japemak.
1980 (avec Agence romande d'éducation chrétienne). Le Zaïre et autres pays d'Afrique. Lausanne : Agence romande d'éducation chrétienne (Manuel d'école du dimanche, 15 pages).
1980 . Lutina Yanga. Kinshasa : CEDI.
1980 . Mon cœur est enflammé pour l'évangélisation. Séries Voix d'Afrique. Lausanne : Éditions du Soc.
1981 . Prépare-toi à la rencontre de ton Dieu. Zaire : CEDI.
1983 . Can the Church Accept Polygamy? Accra : Asempa.
1986 . Quand Dieu te gêne. 2 volumes. Wuppertal : Éditions VEM (Vereinigte Evangelische Mission).
1988 (avec preface de Johannes Hansen). Die Mission und der Blumentopf. Wuppertal : Verlag der Vereinigten Evangelischen Mission.
---
This article, received in 2023, is the product of research by Ilunga Nkulu Mulume Auguy, L2 student at the Faculty of Evangelical Theology of the Christian University of Kinshasa, under the supervision of Dr. Anicka Fast. Translation by Luke B. Donner, the DACB Research Assistant and PhD student at Boston University at the Center for Global Christianity and Mission.