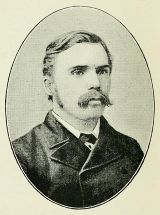 Henry Richards was a British and American Baptist missionary in the Congo. Born in Somersetshire, England, the son of farmers, Richards was raised in an Anglican home and worked for his father. He joined the Congregationalists and then the Baptists, among whom he preached for a time. Alfred Tilley, a Baptist pastor and secretary to the Livingstone Interior Mission, invited Richards to become a missionary with that society. After studies in medicine and at Harley College, London, Henry and his spouse Mary (d.1881), sailed for Africa in 1879. In 1884, when the work was transferred to the American Baptist Missionary Union, Richards remained under American appointment. Two years later he began a study of the missionary methods of the Apostles, and this led to a remarkable conversion experience for more than one thousand Bantus at Banza Manteke, in the Upper Congo, in August 1886. A. J. Gordon at Clarendon Street Baptist Church in Boston was so impressed with what came to be known as the Pentecost on the Congo that he persuaded his church to build a chapel and transport it to the Congo, where it was carried 60 miles up river under Richards's supervision. In addition to organizing the mission, Richards studied carefully the languages of the Congo river basin and, in a major linguistic breakthrough, categorized them into four distinct groups. Henry and his second wife, known only by the initial "E" (d.1884) spent much time engaged in translation work. He retired with his third wife, Mary Elizabeth, in 1919.
William H. Brackney
---
Bibliography
The Richardses both wrote extensively, as illustrated in his The Pentecost on the Congo (1906) and her Itinerating on the Congo (n.d.). Details on Richards's early life are lacking. The best biographical material is in Charles H. Stuart, The Lower Congo and the American Baptist Mission to 1910 (1969) and Martin S. Engwall, "The Pentecost on the Congo: An Appreciation of Rev. Henry Richards," The Baptist, July 13, 1929, pp. 917-918. A brief typescript autobiography exists at the American Baptist Historical Society, Rochester, New York.
---
This article is reproduced, with permission, from Biographical Dictionary of Christian Missions, copyright © 1998, by Gerald H. Anderson, W. B. Eerdmans Publishing Company, Grand Rapids, Michigan. All rights reserved.