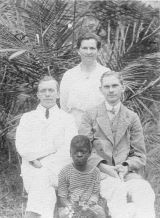 Gunnerius Tollefsen was a Norwegian missionary, evangelist, and church leader. Tollefsen was born in Bergen, Norway, and was converted at a Salvation Army meeting under the preaching of Samuel L. Brengle in 1905. Two years later, he joined the Pentecostal movement and became a close friend and coworker of Thomas Ball *Barratt. He received his theological training at the Universities of Glasgow and Edinburgh.
In 1915, Tollefsen traveled to the Belgian Congo and initially worked with Southern Baptist missionaries. Later, at the invitation of Lewi Pethrus, he surveyed potential mission fields for the Norwegian and Swedish Pentecostal churches. He returned from the Congo in 1930 and later (1945-1964) became the first mission secretary of the Norwegian Pentecostal movement, serving in that capacity until his retirement. With his adopted son, Emanuel Tollefsen-Minos, he continued in evangelistic work. In Tollefsen's later years, and because of his linguistic research in tribal languages and humanitarian contributions, he received knighthood from Belgian King Baudouin and medals from King Haakon VII and King Olaf V of Norway, Author of many books, he was also a fellow of the Royal Geographical Society.
Gary B. McGee
---
Bibliography
Tollefsen, Gunnerius, Ved Milepelen, Jesu gjenkomst, Blant ville og primitive folkeslag.
———, Men Gud gav Vekst.
n.a. "Death of G. E Tollefsen, Norway," Pentecost, no. 76 (June-August 1966): 9.
K. B. Westman et al., Nordisk Missionshistoria (1949).
---
This article is reproduced, with permission, from Biographical Dictionary of Christian Missions, copyright © 1998, by Gerald H. Anderson, W. B. Eerdmans Publishing Company, Grand Rapids, Michigan. All rights reserved.
Photo from Owen, Debbie. "The Edhegard Missionaries," Roots Web (May 2020). https://sites.rootsweb.com/~alcsilve/sixten-edhegard.html. Accessed 7 July 2023.