Classic DACB Collection
All articles created or submitted in the first twenty years of the project, from 1995 to 2015.
Dlamini, Dan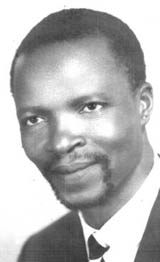 Dan Dlamini came from a poor home. It was reported that his father had five wives of which Dan's mother was the last. The wives had to care for themselves and their children and often Dan was with his mother's relatives. His health was poor as a boy and as he often had to work at home, he did not get much schooling. Finally in 1937 he went to a mine to find work but was so small they paid no attention to him. He prayed but did not know the power of God. He waited persistently, and after a month the compound manager gave him a job and he was able to buy some clothes.[1]
In 1971, Dan Dlamini testified that the most wonderful thing in his whole life happened in 1934. Rev. John D. Dlamini, Miss Lilian Bhembe, and a missionary came to hold evangelistic meetings in the Nazarene Church near his home at Emvembili, Hhohho, in the northeastern corner of eswatini. They preached powerfully. He said, "I thank God for such workers as that in the church. As they preached the Word pierced me. I repented and surrendered along with some other small boys." He did not receive any continued encouragement so he soon stopped attending services.
He continued, "But how God loved me! By His grace he awakened me even though I was in a nonChristian home." In 1939 the way opened for him to attend school at Manzini. The first day he found himself in a prayer meeting along with the other boys. The next morning he went to the office of the missionary doctor, David Hynd. After being asked many questions he was accepted into school. There were many services and he soon realized that he was empty and had great need. His testimony continued:
When revival meeting time came I determined to return to God. My sins were forgiven and I began to testify and pray. After a while I discovered that there was something that was not right in my heart. God sent another revival to perfect me. The preaching was about the Holy Spirit and I went forward and asked for that great Gift. God saw fit to give me this blessing of His Holy Spirit. May the Lord be praised! After that things changed in my life. My speaking changed. My! It was wonderful to realize how my ways also changed. God has been gracious to me. Although I did not have much to offer, He gave me work to do and has helped me to witness for Him continually as I work. May the gospel advance! I desire to serve Him till I die.[2]
While Dan was attending Bible School at Siteki, missionary Ora Lovelace (West) Lonkenyane once had the students do a drama depicting Job. Dan was chosen to play the part of Job and he did it so well that after that he was called Job.[3]
Dan Dlamini completed standard nine (grade eleven) by correspondence. From 1940 to 1947 he worked with the missionary, Lydia Wilke Howard, in the pharmacy and then he continued to be in charge of it until his death. Dlamini served faithfully at the Raleigh Fitkin Memorial Hospital and was a valuable liaison between the church and the royal residence. He, his wife, and Mr. Medford Fraser received special recognition on March 19, 1970, for twenty-five years of service. Dlamini served on the hospital board of administration. He was one of the first town councilors of Manzini. On the Queen's birthday in 1967 he was given the Badge of Honor and a certificate for long and worthy service to the people of eswatini. In 1971 Dan Dlamini was elected mayor of Manzini.
His wife, Mrs. Mildred (Kunene) Dlamini (1925-2000), started training as a nurse in 1941 and received her government certificate. She gave faithful service in the hospital and in the church and was a spiritual leader. She became a nursing sister in 1965. In June 1977 their eldest daughter, Bertha, received the degree of B.S. in nursing at Olivet Nazarene College in the USA.[4]
The church at Nhlambeni, located in a malaria-ridden area, had struggled since its beginning in 1928, sometimes without a pastor, and with no proper parsonage. Dan Dlamini was asked to be the supply pastor. He was greatly concerned about the need for a larger church building and asked the people and the district advisory board to pray about this. The Lord answered these prayers and a large church was erected. Then he asked for prayer for a parsonage and a pastor. These came soon after his death.[5]
Dlamini was very active and faithful in working in the church. He served on the local church board and on the district advisory board. Every Sunday morning he preached in the town prison.
Mildred passed away suddenly while attending a revival service at Sharpe Memorial. She walked to the church and walked to the front to give her offering. On returning to her seat she felt a little breathless and on being taken outside she collapsed at the door and died on the spot. It was a wonderful passing for she had prayed she would go this way! God granted her wish. She was a wonderful Christian and mother. The church was packed for the funeral service.[6]
Paul S. Dayhoff
---
Notes:
Helen Temple, Thy Light is Come: Missionary Stories from Below the Zambezi, (Kansas City, MO: Beacon Hill Press of Kansas City, 1952), 57.

Dan Dlamini, "I Met with My Saviour," Umphaphamisi (The Herald), Swazi-Zulu magazine of the Church of the Nazarene for eswatini and South Africa, (Florida, Transvaal, South Africa: Nazarene Publishing House, October-December 1971), 5.

Told by Dr. William Esselstyn, Beloit, Wisconsin on October 8, 1999.

"eswatini Girls Receive Degrees from ONC," World Mission, (Kansas City, MO: Nazarene Publishing House, January 1978). David Hynd, "Introducing His Honor, Mayor of Manzini," The Other Sheep, Mission magazine of the Church of the Nazarene, (Kansas City, MO: Nazarene Publishing House, July 1972), 19.

Dorothy Davis Cook, notes. "Nhlambeni Church," Trans African (Florida, Transvaal, South Africa: Africa Nazarene Publications, March-April 1981), 3. "The Editorial Committee," Umphaphamisi, (November-December 1955), 4.

Dr Samuel Hynd, Report in letter, September 26, 2000.
---
This article is reproduced, with permission, from Africa Nazarene Mosaic: Inspiring Accounts of Living Faith, first edition, (Florida, Gauteng, South Africa: Africa Nazarene Publications, 2002), copyright © 2001, by Paul S. Dayhoff. All rights reserved.