Classic DACB Collection
All articles created or submitted in the first twenty years of the project, from 1995 to 2015.
Dlamini, John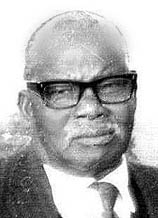 John D. Mantfwantfwa Dlamini was a pioneer Nazarene pastor and teacher, a brother of the pioneer preacher, Rev. Samuel Dlamini. In 1928, John Dlamini was a teacher at Hhelehhele where he helped Patricia Sibandze find the Lord as a little girl in school there. Missionary Dr. W. C. Esselstyn Masithulele ("Let us be quiet," One who speaks with discretion.) called John Dlamini a "born teacher."[1]
In 1930, John married Miss Elizabeth Tondzekile Sibande (1908-2002) while he was teaching at Hhelehhele At the age of four, she had heard a voice whispering to her to believe. After visiting a Christian family, she was so impressed by the clean home that she decided to also become a Christian. She was converted at Hhelehhele under the ministry of Rev. Solomon Malangabe Ndzimandze. She began witnessing to her siblings about the Christian life. Their father denied them permission to go to church and they were severely beaten because of their faith. However, they persevered.
She had been engaged as a girl to a nonChristian man, but she wanted to be a Christian. Her father was very strict with his daughters, but she was the first one in the homestead that was allowed to become a Christian and attend church services. She was also the only girl in the family who was not given to a man to marry. When she was fourteen or fifteen years old, Elizabeth ran away from home and went to the Nazarene Girls' School at Endzingeni because she had heard that the mission was a good place for Christians.
She was under the care of Miss Alice Khumalo, who was a relative of hers. There she chose Jesus, became a strong Christian, and took the name Elizabeth. However, she felt that she was powerless and undependable in her Christian life. She began to seek a clean heart and did so for months. One night, during family prayer she was sanctified. Elizabeth then became an entirely different girl. From her family came Rev. Leonard Sibandze who became the second superintendent of the Church of the Nazarene in eswatini.
In 1932, John Dlamini wrote from Hhelehhele School,
I thank God very, very much for the blood of Jesus that has washed away all of my sins. I also thank Him for the Holy Spirit who has sanctified my heart. From that time until now I am happy every day because of Jesus my Saviour. I love Him more than anything. Also, I am thankful that He shared with me to be one of His workers. With all my heart I love to preach the truth of Jesus. Above all I desire that those I teach come to know God for themselves.
He went on to tell how in the early evening of March 26, 1932, the congregation was praying for the Easter Sunday service. Teacher Mdluli spoke on Galatians 6:4-7, "Each one should test his own actions. (…) Do not be deceived: God cannot be mocked. A man reaps what he sows." They sang, "Where will you be on that day of sorrow?" Suddenly mothers, young people, boys and girls rushed to the altar and began praying fervently. As some testified, others went to pray. Dlamini said, "It was evident that God was walking amongst us." Everyone found what they were seeking. On into the night they told of their troubles. They forgot about their hunger for food and continued on their knees praying about the hunger in their hearts. They exclaimed, "I have found Him!"
A great spirit of praise and awe at God's presence continued the following day as they met together. They did not feel the soreness of their knees but continued to say, "I have found Him!" Truly God Himself came among them. Dlamini was still troubled afterwards, however, because some still had spiritual need in spite of that wonderful spontaneous Easter revival. He prayed, "If God does not unlock this school, we teachers are concerned for it in vain. God, don't let my concern all be for nothing." His prayer was answered. On Friday, April 8, God visited them in the school. God came down upon them all. Some found forgiveness and others the infilling of the Holy Spirit. Everyone found God's blessing according to his faith and the depth of his prayer. Dlamini said, "I thank God because He did a great work in my heart too. I am walking in the way of the Lord."[2]
Elizabeth and John Dlamini were sent to Evusweni, about fifteen miles from Endzingeni, to pastor and teach in the school. The members were discouraged and many had fallen away. The church building was leaning badly to one side and was ready to fall down. The pastor's huts were old and leaky. It was a tough assignment for the Dlaminis and their little family. Elizabeth was in poor health and the children had colds. They began rebuilding the church and the parsonage. Missionary Louise Robinson (Chapman) rode out many times on muleback to help and encourage them. The congregation came together and grew. Within a year, the school had more pupils than it had ever had. The Dlaminis remained there for eight years.
Later, Elizabeth told about the dark early days at Evusweni. She remembered how the Lord had saved and sanctified her at Endzingeni, how He had helped them build and gave them revivals. She reasoned, "God helped me there. Can't He help me here?" She said that mighty faith leaped into her heart. She grabbed her coat like Elisha of old, folded it up and beat the difficulties before her shouting, "Where is the God of Endzingeni?" She said that the waters parted, and she found that God would hear her prayer out there alone just as He had when she was in school with many to help.[3]
During the early 1950s, the Dlaminis pastored at Eduduse on the Pigg's Peak zone and he taught in the school. After twelve years there, they transferred to Ndzingeni where they served for six years. While there, Elizabeth was active in the formation of the first women's retreat committee. The Dlaminis retired in 1969. The report on her death in The Swazi Observer stated, "She was a down to earth person but had a good testimony about living a life of being led by the Holy Spirit. She lived an exemplary life to her children, at the church branches where she served and amongst the community."[4]
Their daughter, Mrs. Amy Joyce Manthata, S.R.N., S.C.M., was the first Swazi matron at Raleigh Fitkin Memorial Hospital, Manzini, and, in 1998, still held that position. The son of Rev. John and Mrs. Elizabeth Dlamini, Senator Sibusiso Barnabas Dlamini, was minister of finance in the cabinet in 1989. He was a member of the Church of the Nazarene and was educated in Nazarene schools. On the birthday of King Mswati III, April 19 of that year, he was honoured with the medal of chief councillor of the Royal Order. He joined the headquarters of the World Bank in Washington D.C., U.S.A., as a deputy director. In 1996, Dr. Sibusiso Dlamini was appointed prime minister of the kingdom of eswatini.[5]
In their retirement, John and Samuel Dlamini were often seen together. John could not hear well and his brother, Samuel, was blind. John provided the eyes and Samuel the ears for them both.[6]
Paul S. Dayhoff
---
Notes:
World Mission, (Kansas City, MO: Nazarene Publishing House, September 1980), 11.

John D. Dhlamini, letter to the editor, Umphaphamisi, (The Herald), Swazi-Zulu magazine of the Church of the Nazarene for eswatini and South Africa (Florida, Transvaal, South Africa: Nazarene Publishing House, May-June 1932), 11.

L. Robinson Chapman, Africa, O Africa (Kansas City, MO: Beacon Hill Press of Kansas City, 1945), 25-28; Matron Amy Manthata, notes, RFM Hospital, July 1998.

"PM bereaved," The Swazi Observer, Tuesday, October 1, 2002, p. 3; "PM's Mom is Dead," Times of eswatini, Oct. 1, 2002, p. 3; Sent by Dr. Samuel Hynd.

Trans African, (Florida, Transvaal, South Africa: Africa Nazarene Publications, September-October 1989), 13; (July-September 1996), 18. World Mission, (December 1989), 10. Phyillis Hynd, letter, August 17, 1996.

P. Dayhoff, 1996, Living Stones in Africa: Pioneers of the Church of the Nazarene (Florida, Gauteng, South Africa: Africa Nazarene Publications, 1999), 12.
---
This article is reproduced, with permission, from Africa Nazarene Mosaic: Inspiring Accounts of Living Faith, first edition, copyright © 2001 by Paul S. Dayhoff. All rights reserved.