Classic DACB Collection
All articles created or submitted in the first twenty years of the project, from 1995 to 2015.
Dlamini, Phineas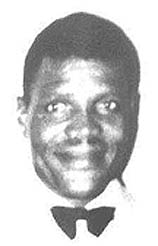 Phineas Telangani Dlamini was born into a nonChristian Swazi home. At the time of his birth, the time for paying the annual tax was drawing near and money was scarce. Over and over, his father exclaimed "Ngizotelangani?" (How can I pay my tax?). As a result, Telangani (How to pay tax) became the name for the newborn baby. Telangani had the usual traditional Swazi upbringing, and as he entered his teens he had no desire for the religion of the nearby Nazarene Mission. His name reminded him, though, that the time was approaching when he would need money to pay taxes. So he found work at the Endzingeni Mission.
Telangani was a faithful worker, but he developed a resentment against everything and everybody who called the claims of Christ to his attention. He openly derided his fellow Swazis who testified that they had found forgiveness and deliverance from sin through faith in Christ, the Son of God. In time, however, God was able to speak to Telangani, and during a series of special services in 1917 or 1918, this stubborn and resistant lad fell on his knees at the altar and found the Lord. Some doubted his sincerity because of the strong opposition he had shown previously. Telangani, after proving the sincerity of his repentance and faith, was baptized and took the name Phineas.
He heard the call of God to the ministry. After his preparation in Bible School at Pigg's Peak he began to pastor at Tsheboya, Kaapchehoop in Mpumalanga. In 1927, Leonard Sibandze, as a boy of twelve, found the Lord under his ministry there.[1] Dlamini married Lillian and she was a worthy and faithful helpmate to him. She had found the Lord in 1917 as a girl in the Girls' Home at Schmelzenbach Memorial Station, Endzingeni. She worked in the homes of many missionaries while she was growing up and maturing spiritually.
The Dlaminis went to Nomahasha where Phineas pastored for twenty years and taught in the local mission school. When they first arrived, there were only two pupils in the school and less than ten in the congregation. Both the school and the congregation grew greatly. While he was pastor, this was probably the greatest singing congregation in the country because Dlamini was a great singer and he loved to sing. He particularly liked to sing about commitment to Christ, faithfulness in following and serving Him, keeping ready for His return, faithful perseverance until the end, and Heaven.[2] Lillian also loved to sing and her voice usually soared above the rest because she sang with her whole heart. Gareth Mabila, who became principal of the Nazarene primary school at Manzini, repented under Dlamini's ministry at Nomahasha. Phineas Dlamini was one of the seven ordained by Dr. Hardy C. Powers in 1947.
In 1946, Lillian Dlamini reported from Nomahasha that three girls engaged to nonchristion men had found the Lord. Their repentance and consequent refusal to enter into such marriages caused a great uproar. It was like the days when Missionary Sibhaha (Schmelzenbach) sought to defend Christian girls and was such bitter medicine to their traditionalist families. These three girls went to Siteki Mission to live. The magistrate vindicated these girls in their trouble and told their parents not to trouble them any further. [3]
The Dlaminis went to Siteki in 1950 where Dlamini was the zone leader. The Dlaminis had seven children. Their youngest son was named Phineas Bresee, after the founder of the Church of the Nazarene in America. Lillian died in 1954 just two months after their eldest child, a daughter, passed away. In spite of two great losses within such a short time, Dlamini's life was a great inspiration and a blessing to all who knew him, including his own children. His living testimony to God's presence and comfort accomplished more than hundreds of verbal testimonies. After five years at Siteki he went to Bremersdorp (Manzini) and pastored the congregation there for several years. Phineas Dlamini was a strong preacher and he had a great concern to win people who were lost.[4]
On May 12, 1956 Rev. Dlamini married Miss Katherine J. Vilakazi who had been a nurse for many years at the hospital in Manzini. In 1959 she was in charge of the dispensary at Bhekinkosi.[5]
On January 10, 1960, Phineas Dlamini was travelling with a group of workers from Pigg's Peak to Nsingweni where he was to be introduced as pastor. Mr. C. E. Dlamini, son of Pastor Elijah Dlamini, was driving missionary D. H. Spencer's car. As they were crossing the Black Umbuluzi river the car fell into deep water and turned upside down. In spite of the danger, all seven occupants emerged safely, though several of them were injured. Truly God kept the car from being swept away and saved them all from drowning.[6]
While pastoring at Ensingweni Dlamini became sick and suffered great pain due to inoperable cancer and God saw fit to take him to eternal retirement. Gareth M. Mabila testified that "Phineas Dlamini was a man of God. We saw throughout his whole life that he loved God greatly. He was always an exemplary Christian. He never changed. Whenever you were with him he was always the same fine person as when you first knew him. He was a great preacher and carried a great concern for lost souls. He preached with love and with trust in God that his work would bear fruit."[7] When a delegation of missionaries went to visit him in hospital Rev. Dlamini asked them, in a whisper, to sing a stanza of the hymn, "Oh, This Is Like Heaven to Me!" One of his sons was a teacher at the mission school in Manzini and a daughter was a nurse at the Raleigh Fitkin Memorial Hospital there.[8]
At a moving celebration at Dlamini's graveside, near his home at Bhekinkosi on February 11, 1962, all hearts were touched with great humility and respect by the memory of his good life. The pastor of the local church, Edward Kunene, said, "Throughout his illness it did not seem that he was sick at all. He continually laughed, sang, and showed great joy. This was an encouragement to many. His last words were, 'I am leaving now. God will be with you. Tell them that God has given me life.'" The message of Rev. Samuel Dlamini was, "Let his arm be followed because he has left orphans in the family." Pastor Joel Sigudla, who knew him from their days at Bible School together, said, "His heart was very hard, but when he was transformed and found the Holy Spirit, he became a heroic warrior in the work of God. He was a great singer and always walked with Jesus."
One of the missionaries, Dr. David Hynd, speaking for all of them, talked about all the important landmarks in Dlamini's life, the important functions he held in the Swazi church, and his fortitude in suffering. He said that all of the missionaries saw in his life a wonderful vindication of the message they had been called to preach in Africa: that a person can be transformed into a new creation through the power of the Holy Spirit.
Paul S. Dayhoff
---
Notes:
P. Dayhoff, Living Stones in Africa: Pioneers of the Church of the Nazarene,(Florida, Gauteng, South Africa: Africa Nazarene Publications, 1999), 18.

Leonard C. Sibandze, "Rev Phineas Thelangani Dlamini Has Completed His Course on Earth," Umphaphamisi (The Herald), Swazi-Zulu magazine of the Church of the Nazarene for eswatini and South Africa, (Florida, Transvaal, South Africa: Nazarene Publishing House, May-June 1962), 5.

Lillian Dlamini, letter to the editor, Umphaphamisi, (November-December,1946), 7.

"The Editorial Committee," Umphaphamisi, (November-December 1955), 4.

D.M.D., "Wedding at Bremersdorp," Umphaphamisi, (May-June 1956), 8; (November-December 1955), 4.

Richard Gininda, letter to the editor, Umphaphamisi, (March-April 1960), 12.

G. M. Mabila, "Rev. P. T. Dlamini Is No Longer with Us," Umphaphamisi, (March-April, 1962), 5; (November-December 1955), 4.

D. David Hynd, C.B.E., "Can a Swazi Find God?", The Other Sheep, Mission magazine of the Church of the Nazarene, (Kansas City, MO: Nazarene Publishing House. August 1962), 3-4. J. Russell Saoli, "The Service of Celebration for Rev. Phineas Tshelangani Dlamini," Mutwalisi (The Herald), Shangaan/Tsonga magazine of the Church of the Nazarene in Mozambique and South Africa, (Florida, Transvaal, South Africa: Nazarene Publishing House, May-June 1962), 1 and 3.
---
This article is reproduced, with permission, from Africa Nazarene Mosaic: Inspiring Accounts of Living Faith, first edition, (Florida, Gauteng, South Africa: Africa Nazarene Publications, 2002), copyright © 2001, by Paul S. Dayhoff. All rights reserved.