Classic DACB Collection
All articles created or submitted in the first twenty years of the project, from 1995 to 2015.
Dlamini, Salome Sifile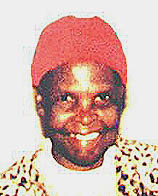 Rev. Salome Sifile Dlamini went as a missionary from eswatini to Central Africa. Missionaries James and Agnes Graham went to Malawi in 1957 and Salome arrived in 1960. She taught the first class of students in the Bible College at Limbe. She stayed for eight years. Because her mother needed her help she had to return to eswatini in 1967. In 1973 she returned to Malawi for one more year.
She was born at Egundvwini (Manzini area) into a non-Christian Swazi home. Her father died before she knew him and her mother eventually became a Christian. When she was a young child, a Scandinavian Alliance missionary, Miss Malla Moe, and some workers came to her home area in a donkey cart and visited for several days. In their last service Sifile stood and said she wished to be a Christian.[1]
She began attending school at Manzini. In a service one night in 1935, God spoke to her and she found Christ at the altar. Three years later she received the Holy Spirit and found it possible to be ruled by God's will.[2]
In 1939 missionary Mrs. Agnes Hynd spoke in camp meeting. She told of the need for the gospel in Tete (northwestern Mozambique) in Central Africa. As Salome was praying afterwards for those people, she felt God was asking her to go to help them. She told no one, thinking that it would just fade away. In any case no one would believe her. She went to Maphumulo in Natal in 1941 and took teacher's training. She still felt however that God wanted something more.
While teaching at Manzini she felt God wanted her to be a minister and in 1948 Salome went to Bible College for two years. However, the urge to go to Central Africa and promise of its fulfillment never left her, but rather kept growing. She ministered at Idalia in southern Mpumalanga, South Africa, for a while and then pastored at her home. When she heard that the church was going to Nyasaland (Malawi), she saw clearly that she had been waiting for this very opening.
It was difficult learning the Chewa language but the Bangwe Bible College students helped her. There were only men preachers in Malawi and some would not come to hear her preach. After preaching once at a Keswick Convention an old man said to her, "This is the first time I have heard a black woman preaching. I see that God has not abandoned us in Africa."[3] A missionary, Rev. Maurice Hall, said of her, "There is none finer than Salome Dlamini - a real saint of God. She has added immeasurably to the success of the Bible College here in Central Africa. Needless to say she is a favorite among the students."[4]
Back from Malawi she was ordained in 1967 by General Superintendent Hugh C. Benner and ministered in eswatini, teaching and pastoring. From 1974 to 1978 she taught at Nazarene Bible College, Siteki. Then she joined the literature program in Manzini, translating and producing Swazi literature for the church. Rev. Salome Dlamini continued with this until retirement in 1990.[5]
Paul S. Dayhoff
---
Notes:
"Salome Dlamini," World Mission, (Kansas City, MO: Nazarene Publishing House, July 1974), 29.

Salome Dlamini, "Testimony," Umphaphamisi (The Herald), Swazi-Zulu magazine of the Church of the Nazarene for eswatini and South Africa, (Florida, Transvaal, South Africa: Nazarene Publishing House, July-August 1961), 6.

Salome Dlamini, interview by Cariot Shongwe.

B. Maurice Hall, I Sought for a Man: The Story of Nazarene Missions in Central Africa, (Kansas City, MO: Nazarene Publishing House, 1966), 62-64.

Salome Dlamini, interview by Beth Merki, tape recording (Manzini, 1992).
---
This article is reproduced, with permission, from Living Stones In Africa: Pioneers of the Church of the Nazarene, revised edition, copyright © 1999, by Paul S. Dayhoff. All rights reserved.