Classic DACB Collection
All articles created or submitted in the first twenty years of the project, from 1995 to 2015.
Dlamini, Samuel Edward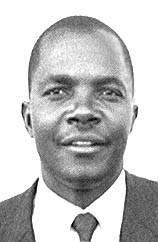 Rev Samuel Edward Dlamini was born on June 6, 1933 into a traditional non-Christian family at Enyakeni near Manzini (Central eswatini). His mother, Emmelina Lombalo Dlamini La Vilane was a twelfth wife. As a boy Samuel was not able to attend school because he had to work to support his mother and help the family. He could not begin school until he was eighteen. At Manzini Central School everyone loved him and he was in charge of sports.
During his final year at school in 1958 he contracted tuberculosis and was in the mission hospital at Manzini for six months. He was not expected to live and he prayed earnestly, "Lord, cleanse me before I die and take me to heaven." At 4:00pm, M. F. Dlamini prayed with him and assured him that his sins were forgiven and that he would recover and continue to preach. The next morning Dr. Stark was amazed to find that the X-rays showed he was indeed healed. Samuel then heard God calling him to the ministry. [1]
Samuel received financial help to enter high school at the Nazarene mission and many times joined others in testifying on the streets of Manzini. He was sanctified wholly and his call became more pressing. Later he explained, "When God called me, he showed me the mountains of Hlatikulu in Southern eswatini." At the time he told no one of this except some of his young co-workers. Without completing high school he enrolled at Siteki Nazarene Bible College in 1962 and began pastoring at Sidvokodvo. In 1967 he married Miss Pauline Ndlovu (1942-), a beautiful, short lady and a teacher at Mliba Nazarene School. She was the daughter of Rev. Thomas Ndlovu, pastor at Manzini Church.
In 1967 they were asked to pastor Hhelehhele, an old church that had practically died. They struggled with little support, but as they prayed and fasted a great Revival came to the youth and surrounding community. The community attacked the church when some of the young people dropped certain unchristian Swazi traditions.
Pastor Dlamini was taken to the chief for trial. After three times the case became confused and finally was sent to a higher chief. There a parent stated, "He is not guilty as these young people are not his children. When we ask them they do not say anything about the pastor. They give Scripture references. I am illiterate but they can read." Dlamini was freely exonerated.
The young people, however, were severely whipped at the chief's court and their parents were required to discipline them. One parent punished his children so cruelly that they ran away. Pastor Dlamini found them and kept them for a week then sent them for a week in turn to each of two other churches in the area. Three weeks later they returned home to find that their father had severely swollen arms and had not slept for the whole night. He thought he would die but Pastor Dlamini came and prayed for him and he recovered.
Immediately after that the Revival intensified and fifteen adults were converted during the following weekend. Demon-possessed people were delivered. One of the trainees from the College of Traditional Doctors was converted. Great efforts were made to regenerate the ancestral spirits in him but they were gone. In 1971 Dlamini wrote: "I remember that for three Sundays in succession there was no preaching. As a hymn was sung we all felt the presence of God. It filled the sanctuary. Those touched by that Revival have continued to be faithful to God."
Samuel Dlamini was ordained in 1969 by General Superintendent V. H. Lewis. [2] He was elected to be the district NYPS (NYI) leader and was appointed leader of the Hhohho Zone.
Pauline was leader of the women's ministries and was president of the NWMS (NMI). Dlamini said, "I enjoy working with her and she encourages me a lot."
In 1975 the District Advisory Board asked the Dlaminis to pioneer work in the south of eswatini. They responded with alacrity as God had already spoken to them. The missionaries, Rev. Arthur and Mrs Dorothy Evans, were sent to help them. God immediately opened up opportunities and began to bless their ministry.
In Nhlangano Dlamini visited the Free Gospel Church and was asked to tell of his ministry. A Nazarene, Mr Enoch Dlamini, was in the congregation. He spread the word and other Nazarenes, Mr. Ngubani and Mrs. Kunene with their families, joined in services held in Dlaminis' parsonage. While visiting in the community at Ngwabi they came to a widow's home. She ran to hide and locked herself in a hut. Eventually she agreed to pray and was converted. It was the beginning of a church.
While visiting wards in the Hlatikulu Government Hospital they found a child breathing hard with lung cancer. His grandfather and mother were sitting hopelessly beside the dying child. Samuel Dlamini and Arthur Evans prayed and the child began immediately to recover. The doctors could not explain it. He was soon dismissed from the hospital and the child's grandfather requested Dlamini to start services in his home. They borrowed a tent from Joy Mission of the Pilgrim Holiness Church and began a campaign there. They were helped by Evangelists Juliet Ndzimandze, Michael Zeula, Esther Dlamini and Ellen Mnisi (Sibandze). The first convert became the pastor and thus began the "miracle church" at Makhosini.
Mrs. Motsa was raised in the Church of the Nazarene, and when she heard the Church had arrived in the south, she gathered young people into her home and began teaching them. She sent her husband to invite Dlamini to come. There were sixty enrolled in her Sunday School and the church at Sibovu was organized in 1978. At Lavundlamanti the people were totally against the church starting in their community. Rev. Dlamini met Mr Lucas Mamba of the Royal Family and he helped to start the church there in 1984.
Pastor Edward Kunene (1919-), pastoring near Manzini, began visiting regularly in his old home area in the south of eswatini. Missionaries from Manzini Mission helped to transport nurses from the hospital to help, and a church was started at Endlinilembi. A man from Ntondozi in the south was converted at Manzini hospital. He passed away and the pastor, Rev. Jotham Magagula, went to his home to hold the funeral service. He saw the need and a Sunday School was started. Student nurses were dropped off there to carry it on until a pastor was appointed. [3]
It was the certainly the Lord's timing and opportunities continued to open to plant churches. Young pastors graduating from Siteki Bible College arrived to pastor them and the new district has thrived. By 1989 there were twenty two churches and six preaching points with sixteen pastors and six lay pastors on the district and it was a regular district of the International Church.
Rev. Samuel Dlamini retired in July 1999 and Rev. Simeon Mahlalela, pastor of Sharpe Memorial Church at Manzini, was appointed D.S. in his place on the eswatini South District.
Rev. Samuel Dlamini passed away on August 8, 2010. He had been in poor health for some time. [4]
Paul S. Dayhoff
---
Notes:
Interview with Arthur Evans by Carol Zurcher, May 1976. Lauralee Nothstine, E-mail report, December 30, 2005.

Isaiah Mlangeni, student at Siteki Bible College, research paper "Nazarene Missions in Africa" (from interview with Samuel Dlamini}, 1990, sent by Hugh Friberg.

David S. Mamba, student at Siteki Bible College, research paper, "eswatini South District" (from interview with Samuel Dlamini), 1990, sent by Hugh Friberg.

Obituary (in Swazi) sent by Revs. Cariot Shongwe and Enoch Litswele.
---
This article is reproduced, with permission, from Living Stones In Africa: Pioneers of the Church of the Nazarene, revised edition, copyright © 1999, by Paul S. Dayhoff. All rights reserved.