Classic DACB Collection
All articles created or submitted in the first twenty years of the project, from 1995 to 2015.
Magagula, Hobart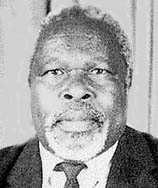 Hobart Majozi Magagula was an outstanding pioneer Nazarene educator. He was born near Endzingeni, Pigg's Peak, in eswatini. When he was badly gored by an ox as a herdboy, missionary Louise Robinson (Chapman) treated him and saved his life. He continued to wear a scar where she sewed up his lip that had been severely lacerated. Because of this episode, he began attending the mission school and found the Lord.[1]
While he was there a terrible hailstorm was reported at Endzingeni in December of 1935. The reporter had never seen anything like it before. Houses, chickens, maize fields, and orchards were destroyed. The fields looked like winter had returned; there were prospects of famine. The girls' residence was badly damaged and everywhere windows were broken. Like Job's comforters, the non-Christians of the surrounding community said that the pastor's people had sinned against God.[2]
While still in school Hobart was asked to conduct evening classes for workers, and he began teaching in the school the following year. He finished his schooling at Endzingeni in 1938. With help from the mission, Magagula took a teachers' training course at Adams College in Natal and studied for one year at Fort Hare University College in the Eastern Cape.
Magagula's mother, one of the first converts of the Church of the Nazarene in eswatini, died in 1945. His father gave his heart to the Lord as an old man in 1949.
In 1952, while teaching at Endzingeni, Hobart Magagula became the first Nazarene in eswatini to be awarded a university degree. He received a BA degree through extension studies from the University of South Africa in Pretoria. Thereafter he was given the nickname "BA."
Magagula later taught at Manzini Nazarene High School where he was in charge of seventy boys who were boarders. He became principal in 1955. In 1956 he was vice principal of Arthurseat Bantu Community School (Northern Province of South Africa). This was a Nazarene high school that had just been taken over by the government. Some of Magagula's students went on to become top government officials in eswatini, among them some permanent secretaries, a couple of cabinet ministers and even a prime minister, Prince Mabandla.[3]
Magagula took a great interest in the church in eswatini and served on a number of boards and committees. In the local church at Manzini he led the boys' probation class and taught a boys' Sunday School class. He was a member of the local church board. In 1955 he was a member of the district advisory board of the Church in eswatini. He was an active member of the revision committee for the Zulu hymnal and was also a Zulu translator for the Nazarene Shirley Memorial Press.
His wife, Mrs. LaNkhosi Magagula, also attended mission schools and was a wonderful Christian. She became involved in all the activities of the Bremersdorp (Manzini) Church of the Nazarene.
Hobart Magagula served three terms as president of the eswatini National Union of Teachers from 1954 to 1958. He was also president of the Nazarene African Teachers' Association. His book Tisho tesiSwati (Swazi Proverbs) is used in schools both eswatini and South Africa. At the time of his death he was working on a SiSwati (Swazi) dictionary. He was a member of the SiSwati Literature Board.
Magagula set an example for his children by achieving academic distinction. Five of his nine children have a total of seven university degrees among them, and most of them work in distinguished public offices. His educational and literary contributions and his contributions as a churchman will live on in the family and in the lives of those he influenced.[4]
Paul S. Dayhoff
---
Notes:
Told by Dr. William Esselstyn at Beloit, Wisconsin, on October 8, 1999.

M. N. Magagula, letter to the editor, Umphaphamisi(The Herald), Swazi-Zulu magazine of the Church of the Nazarene for eswatini and South Africa, (Florida, Transvaal, South Africa: Nazarene Publishing House, January 1936), 8.

"Our First B.A. Graduate in eswatini," The Other Sheep, Mission magazine of the Church of the Nazarene,(Kansas City, MO: Nazarene Publishing House, October 1956); (September 1949), 8. D. Whitelaw, A History of the Church of the Nazarene in South Africa, (Florida, Transvaal, South Africa: Nazarene Publishing House, 1978), 50. Umphaphamisi, (July-August 1956), 10.

"Long Time Swazi Leader Dies," Trans African, (Florida, Transvaal, South Africa: Africa Nazarene Publications, March-April 1993), 13. The Editorial Committee, Umphaphamisi, (November-December 1955), 4.
---
This article is reproduced, with permission, from Africa Nazarene Mosaic: Inspiring Accounts of Living Faith, first edition, (Florida, Gauteng, South Africa: Africa Nazarene Publications, 2002), copyright © 2001, by Paul S. Dayhoff. All rights reserved.