Classic DACB Collection
All articles created or submitted in the first twenty years of the project, from 1995 to 2015.
Malambe, John and Alice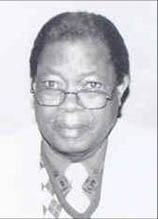 John Sithamu Malambe was born on October 16, 1940 at Ka Dvokolwako in the Hhohho Region in eswatini. While he was still a baby the family moved to Nkambeni. His parents were not Christians and his mother was the fifth of his father's eight wives. John was the youngest of six in the family. Only he and his eldest sibling were still living in 2005.
He began school at Mangama Nazarene School and continued at Tjaneni and Nambeni. He went on to do his secondary education at Sikhunyane High School. In his report he wrote:
I became sick in 1960 and was admitted to Raleigh Fitkin Memorial Hospital in Manzini. While there I was saved through the ministry of Rev. Thomas Ndlovu who was pastoring the Sharpe Memorial Church of the Nazarene. I thank God for healing me both physically and spiritually. After my discharge from the hospital I applied for work there and was hired to work with missionay Mary McKinley in the hospital accounting office. I felt God's call to the ministry while working there at the Manzini Nazarene Mission Hospital.
He was given charge of the Maliyaduma preaching point. In 1966 Malambe enrolled in the Siteki Nazarene Theological College and graduated in 1968 with a diploma in theology. He went back to work at the RFM Hospital and served as pastor at the Matsapa Industrial Site until it was organized as a church. He then pastored the Matsapa Industrial Church of the Nazarene until 1971. That year he married a nurse, Miss Alice Masilela.
For the next year they served the Sigcaweni Church and, from 1972 to 1978, the Mshingishingini Church on the Northern District. He was ordained in 1978.
Malambe taught at Siteki Nazarene Bible College from 1978 until 1988. While there he continued his studies and completed Form III. While teaching at the Bible College he began the church at Simunye and also the preaching point at Ngomane which was later organized into a church. On Sundays he started his day at Ngomane with Bible College students and went to Simunye at 12:00 noon to hold the service there.
In 1988 Malambe was elected superintendent of the eswatini East District and served in this capacity until he retired in 2005. [1] From 1993 he pastored the Nokwane and Tikhube churches along with his duties as district superintendent. In 2000 Malambe served the Luvulane Church in addition to the others. The Ngomane members began the church at Hlane.
The Malambes had five children: Thembekile Precious, a nurse, married with three daughters; Mandlenkosi Lucky, a teacher; Linda Nokuthula; Wiseman Nkosinathi, a nurse; and Sibusisile Lengetile. In 2005 the Malambes had five grandchildren.
Alice Malambe (1948 -) was born at Lomahasha. She was the fifth in a family of six, three girls and three boys. Their parents were not Christians. Alice's mother was the first wife of her father's three wives. In 2005 her parents were no longer living. She attended primary school at the Lomahasha Central School from 1955 until 1961. While in primary school she attended Sunday school classes and the Nazarene Youth International meetings at the Church. Then she went to Siteki Nazarene High School from 1962 to 1964 for her secondary education. In her report she wrote:
I was not satisfied until during a revival meeting, while Rev. Leonard Sibandze was pastoring the Fitch Memorial Church at Siteki, I came to the point where the Holy Spirit convicted me of my sins. I fully committed myself to him and was saved and also fully sanctified holy. In 1965 I enrolled in the Siteki Nazarene Bible College and completed the one year lay pastors' course. After that I did four years of general nursing at the Nazarene College of Nursing in Manzini from 1966 until 1969 and then the post-graduate course in midwifery in 1970.
Alice served at rural clinics–Sigcane for two years and Mshingishingini for five years. After that she served at Siteki Mission Clinic for seventeen years, from 1978 to 1995. In 1995 she was given the responsibility of supervising the Nazarene rural clinics.
She continued: "I thank the Lord who has been so good and faithful to me. I have seen Him to be the source of life, the source of power and the great Healer." She had a great battle with cancer and had one operation in 1998 and a second one in South Africa in 2004. The cancer cells were found to be spread all over the abdominal cavity and she had another operation in February 2005. Alice is currently (July 2005) still undergoing chemotherapy. Continuing to praise God she wrote:
Brothers and sisters in Christ were praying for me urgently during those difficult times and today I proclaim God's goodness and praise Him that I am the answer to the prayers of the church members who prayed for me. I am a living testimony that God is the Great Healer. Today I am living in a cycle of victorious living: commitment, trust, delight and resting in Him.
Since 1993 she has been the Nazarene Missions International president for the eswatini East District and is also lay pastor for the Vuvulane Church. Both John and Alice Malambe were delegates to the Indianapolis General Assembly in 2005. Alice concludes: "In my heart I have a passion for lost souls to be won for his Kingdom." [2]
Concluding his report Malambe wrote: "I am planning to retire at the end of 2005. I give sincere thanks to God who has been so faithful to me throughout my ministry and to the Church of the Nazarene and its holiness message." [3] He retired as planned and Rev. Timothy Dlamini, pastor of the Siteki Church, was elected the new superintendent of the eswatini East District.
When Malambe became district superintendent there were seventeen churches on the district. By the time he retired there were thirty-three churches. He was a dedicated, committed, loving, holy man of God who loved God, his church, holiness, and family. He lived as an example to his family, church and the nation at large. He wrote a book entitled, Sibane seMkristu, in which he discussed witchcraft and demons.
John Malambe passed away on November 23, 2009, at the RFM Hospital in Manzini apparently as the result of the diabetes from which he had been suffering. "Rev J. S. Malambe is survived by his wife, two sons, two daughters, and nine grandchildren. He will be greatly missed by his family and the church at large." [4]
Paul S. Dayhoff
---
Notes:
Dorothy (Davis) Cook, notes.

Alice Malambe, biographical report, June 2005.

John Malambe, biographical report, June 2005.

Obituary of John S Malambe sent by Rev. Cariot Shongwe, December 2, 2009.
---
This article is reproduced, with permission, from Standing Stones of Africa: Pillars of the Faith in the Church of the Nazarene, unpublished, copyright © 2006, by Paul S. Dayhoff. All rights reserved.