Classic DACB Collection
All articles created or submitted in the first twenty years of the project, from 1995 to 2015.
Mkhonta, Elias Bateni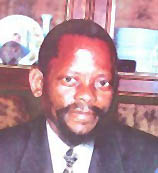 Elias Bateni Mkhonta grew up in a traditional homestead. His father had four wives. Bateni (his childhood name) herded his father's cattle until he was ten years old.
His schooling began at Magodvonga Primary School, eight kilometres from his home. Such was their poverty that they had no soap and, at first, he had no proper clothes for school which he enjoyed nevertheless. As his mother was badly treated, they went to live with his uncle one hundred kilometres away at Mliba where he went to the Lalela Nazarene School. They were good to him and he learned more about God at the school assemblies. He was at the top of his class. He learned many Scripture verses and earned a Bible in 1967 by learning the Ten Commandments.
That same year he attended the camp meeting at Manzini where Rev. Simon Dlamini preached. Bateni could literally feel the power of the Holy Spirit moving in his heart. Kipitane, his half sister, was a traditional doctor and Bateni had a horrifying dream in which two strange persons in white gowns pulled him in one direction while Kipitane pulled him the opposite way. Bateni was discouraged when Kipitane won the tug of war for him against the angels.
His mother became a drunkard and the children often lacked food. Returning home by themselves, he and his brother suffered greatly with no mother to care for them. Many times they had no food. In 1968 he attended St. Peregrines Roman Catholic School walking thirty-six kilometres, round trip, each day. There was no church to attend and he was surrounded by ancestral worship, but he would pray by himself secretly.
Not having money for school fees he joined others in walking the long distance to South Africa and crossing the fence illegally. Working for white farmers he became addicted to tobacco, marijuana and alcohol and began carrying a knife for self defense. Often there were deadly fights during the dances at night. On three occasions he was attacked and escaped with his life–for which he thanked God. He returned home in 1970 and worked in vegetable garden for money for his school fees. In 1971 he became extremely sick and six traditional doctors could not help him. The pastor's wife Mrs. Magagula was the nurse at the local clinic. She brought him food and an injection from the clinic. He recovered speedily as he was simply undernourished.
Joe Vilakati, a son of his cousin, took an interest in him. Joe lived near the Ndzingeni Nazarene Mission and Elias enrolled there for secondary school, staying at Joe's home. In February 1972 a week of revival services was held with pastors Caiphas Mnisi and Samuel Dlamini. Bateni tells about it:
I was singing with them and acting as if I were a Christian and my Bible was still with me but something kept reminding me that I was a liar, a hypocrite, and a dirty child of the devil. I got frightened, panicked, and feared that the wrath of God was on my head. I could literally feel sweat drops forming up my forehead and my heart beat faster and faster. I knelt and prayed for myself. My whole body was shaking and sweating. I literally feared that maybe I was losing my last chance before God's wrath descended to finish me off.

The following evening Rev. Mnisi was on the stage preaching like a dying man. I broke down and wept. It was no use hiding my real wretched nature. At last and decisively, when the invitation to the altar was made I was among the first to respond. As I stood up to leave my place face down with the sinful humiliation, I could hear my friends giggling. On that evening in February of 1972, I prayed and the Lord heard my cry and bestowed eternal life upon me.
He ran home in the dark of night, took the bag full of dagga (marijuana) and the remaining cigarettes and ran down to the maize fields. With a hoe he dug a deep hole and buried it all. He continues his story:
As I walked back to the house, I could tell that I was forgiven all my sins. I was full of unspeakable joy. In fact all the burdens that had for years rested on my shoulders were lifted. I felt free. It was like I had an ability to jump up high and start flying. My heart had a new song. Joe was already in the house when I arrived and I started witnessing about all that I had done. He looked at me and knew that I was serious.

Trials were coming the following day. People's reactions were varied. Some congratulated me, some told me I would soon fall back to my old ways. Some pleaded with me to pray for them to follow my example. Some got angry when I refused to drink when they offered me their beer. However I would not listen. Greater was He that was in me than the devil.[1]
At the weekend he dashed home and dug up and buried all the dagga plants in the maize fields. He said, "I once again knelt down and prayed that God would give me strength to conquer the devil even in my own home." He was amazed when he told his father, "He congratulated me and wished me to continue sincerely on my journey of faith."
His troubles did not end. He stopped gambling with dice which used to generate a few coins to buy food. He and his brother lived by begging food from neighbours and slept with fleas at night for lack of soap. Elias was baptized at the end of 1972. The headmaster, Mr. Anderson Nxumalo helped him at various times with food, shoes, and books, and work in the school garden. He was given work by missionary Arthur Evans. Later he worked for missionaries Robert and Donna Hebets. They sponsored his studies at the high school at Manzini. Mr. Nxumalo also helped him to obtain a government bursary to go on to high school.
At Manzini the hostel initiation was not only humiliating but damaging to the newcomers physically and to their personal belongings. It included a mock sacreligious communion service. One day some boys tied Elias at the back of his trousers to the chair just before break. The whole class was waiting in great expectation to break out laughing when he stood up hooked to the chair. But God helped him. Instead of getting frantic with anger he smiled, patiently untied himself without saying a word and peacefully walked out of the classroom. The whole classroom was silent. A week later a girl called Sindie asked him how he became that strong in Christ. She said that in the evening in the girls hostel after that episode many girls, touched by his Christian example, committed their lives to the Lord and prayed to be equally strong in Christ. Elias reported, "All I could do was to give the glory to Jesus because man alone can not shine for Christ under such trying circumstances."
On the morning after the initiation ended many of the angry initiates turned on their tormentors and some were seriously injured. Most of the tormentors were disciplined. At an evening service at the hostel a number of those involved in the initiation repented and asked for forgiveness.
Elias joined an outreach programme and was with a group that began opening a church some forty kilometres away. Leading the group were Rev. Edward Kunene and missionary Wayne Bauder. Elias was appointed teacher of the adult Sunday school class and interpreter for the missionary. They met under a mulberry tree at the home of an old man who was demon possessed. They prayed constantly for him and he repented and was delivered. One Sunday morning his huge kit of demon property was burned. Many people in the area got frightened and thought the demons would retaliate and take the man's life. Nothing happened and the old man joined them in earnestly praising God for his deliverance. Before he died the following year he donated a piece of ground for a church building and parsonage and this was ratified by the local chief.
Toward the end of 1975 Elias reported:
I constantly felt like something special was still missing in my Christian life. I did not seem to enjoy the life as much as others did. After discussing my problem with Rev. Gordon Thomas (our Religious Knowledge teacher and lecturer at the Nazarene Theological College, Manchester, England), he felt that I needed to be filled with the Holy Spirit. I was confused; mainly because many times before I had dedicated my time asking God in prayer to fill me with His Holy Spirit but nothing had happened. One day when I felt so desperate, I resorted to fasting and locked myself in the prayer room and earnestly asked for God's Holy Spirit. Even though the Bible teaches us to depend on faith and not on feelings, the Lord greatly honoured me that day. I could literally feel the Spirit of God pouring into me–it was amazingly glorious. I shouted "Amen" and "Hallelujah!" over and over again as I walked out of the prayer room. From that day I knew the pleasure of being a Christian.
After his father died, his mother and brothers found the Lord. Completing high school in 1976 he obtained a teaching post at Ndzingeni and there he started a religious activities program. The headmaster Hobart Magagula encouraged him. They engaged in home visitation and many found the Lord and came into the church.
In 1978 he spent the year at the Siteki Nazarene Bible College but through a misunderstanding was prevented from continuing in the degree program the following year. Missionary Ken Walker was the school grantee and gave him a temporary post at the high school in Manzini. He enjoyed the teaching there and was director of the Christian Fellowship through which a number found the Lord.
Obtaining a scholarship he was able to enroll at William Pitcher College to train as a teacher. There in 1980 he met a beautiful young lady, Miss Simiso Nxumalo. She had lost her father when she was young and her mother and stepfather lived in Soweto, Johannesburg. During the first week of her arrival at college, revival services were held. There she got to know about the saving power of Jesus Christ and accepted the Lord as her personal Saviour.. As their friendship began Elias helped her to develop as a Christian. They became engaged in April. Simiso had problems as a new Christian. Elias explains:
She would for instance, get sulky and refused to talk to me for what I considered to be very minor differences. At times she would even walk away and leave me alone whenever we happened to be together. One day when we were alone Simiso broke down and wept. She told me that she had always meant to make our relationship a happy experience but completely failed because each time we were together she would, for no good reason, grow sulky and displease me. She appealed to me to help teach her how she could become happy as a Christian. I remembered my experience back in high school when Gordon Thomas counselled me. The verse of Luke 11:13 flashed across my mind, "If you then, though you are evil, know how to give good gifts to your children, how much more will your Father in heaven give the Holy Spirit to those who ask him!" She became convinced that her problem was to do with a lack of the Holy Spirit in her life. We both prayed and pleaded with the Lord to give Simiso such an important pillar of a Christian life. Even though there was no immediate dramatic effect we both believed and thanked God. Indeed the loving God had done it.
Simiso grew from strength to strength in her Christian life. She laughed and talked with her friends, became a bold Christian and gave her testimony at Christian gatherings. Their time together continued to be spent in Bible reading, praying and sharing their latest Christian experiences. Elias became aware that Simiso was also becoming a counsellor to him.
Upon graduation he could not immediately get a permanent teaching post and applied for a post as senior interpreter in parliament. While teaching at the Ndzingeni Nazarene High School his application was accepted and he was called for an interview. He had found his assignment at the high school had become discouragingly heavy so he considered this alternative. Simiso supported him. There were many candidates at the interview and he found it difficult. He was surprised when two weeks later he received the letter of his appointment. He said, "I quickly made a phone call to Simiso and we both praised God over the phone." He started work in parliament in August 1981.
He said that the Lord was busy magnifying his talent in interpreting and before long he was very popular with the parliamentarians. He started lunch hour services. This developed into the Parliament Christian Society which both ministers and members of Parliament attended from time to time.
He and Simiso were married in September 1982 at the Manzini Nazarene Church with Dr. David Hynd officiating. They had two children, an older girl and a boy. While in Botswana in 1983 Mkhonta had opportunities to preach and teach at the university, at hospitals and in churches. His work also involved much travel to other countries. In July 1984 he was promoted to Prime Minister Prince Bhekimpi's private secretary. He then moved up to fill the vacant post of clerk of the Senate.
He had begun writing in 1979. His short story entry in the United Nations Organization writing contest was one of the best two in Southern Africa. In 1981 a Christian short story of his was published in The Standard, an American Christian magazine. He wrote radio dramas. His first novel in Swazi, Boleswa, was studied in secondary schools. In 1986 he completed a diploma in writing with the Writing School of London in the United Kingdom.
Mkhonta was appointed private secretary to the Prime Minister and accompanied His Excellency the Right Honourable Prime Minister Mr. Sotsha Dlamini to the 43rd Session of the United Nations General Assembly in New York.
Dr. Samuel Hynd paid Mkhonta the following tribute:
Mr. Elias Mkhonta, one of the strongest Christian laymen in recent times has just passed away. He has supported the Church and witnessed for Christ in the community, government, Parliament, as private secretary to His Majesty King Mswati and as a principal secretary in the Ministry of Home Affairs and Immigration up to the end.

He stood for that which was honest and right in every sphere of living in which he served. In literature he wrote several books in the SiSwati language which have been published and are still used in schools throughout the country. He served for years on Sharpe Memorial Church Board in Manzini, where he contributed greatly in the life and ministry of the local Church. He trained as a teacher, but also spent a year in Nazarene Bible College at Siteki. He was a Sunday School teacher and was the member who founded the very fine and nationally accepted Church Choir of Sharpe Memorial.[2]
Paul S. Dayhoff
---
Notes:
Elias A. B. Mkhonta, (2004) manuscript of "A Hard Life," Parliament Houses, P. O. Box 37, Lobamba, eswatini, Southern Africa, 2004.

Submitted by Dr. Samuel Hynd.
---
This article is reproduced, with permission, from Standing Stones of Africa: Pillars of the Faith in the Church of the Nazarene, unpublished, copyright pending, 2004, by Paul S. Dayhoff. All rights reserved.