Classic DACB Collection
All articles created or submitted in the first twenty years of the project, from 1995 to 2015.
Badma Yalew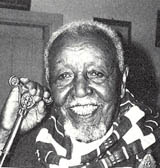 Kes (Priest) Badma Yalew was one of the Orthodox Christian fathers who made an important contribution to the establishment and development of the Ethiopian Evangelical Church Mekane Yesus (EECMY).
Badma was born in 1883 in Burrie Damot district of the former Gojjam province. His father's name was Blatta Yalew Wolde Amlak and his mother's Mazengia Aderaye. Badma was well educated, became a deacon of the Orthodox Church in his birth place, and, while still young, moved to Wollega where he began his service in the Bojo Mariam Orthodox Church as a deacon and an administrator. While there, he lived with Gebre Egziabher Moredda as a house servant. When he was about twenty-one years old, in 1904, he married Yeshimebet Tegegn.
When the first evangelicals came from Eritrea to Wollega, he was still serving in the same church. Kes Eyostatios, one of the evangelicals from Eritrea, presented the gospel truth to Badma and others in that church. After this, the evangelicals were severely persecuted. As Badma now had knowledge of the gospel he was able to teach more effectively. As he continued to teach the gospel, he encountered more severe suffering and persecution against the evangelicals increased. The spiritual leaders in the Boji Church were summoned to appear in court because they were preaching in Amharic and Oromifa instead of Ge'ez and their teaching was considered erroneous. The intervention of the political administrators did not help much, and all those who received the summons were handcuffed and forced to march from Wollega to Addis Ababa. When they arrived, the verdict was for them to be flogged and die. But Fitawrari Habte Giorgis intervened to have the verdict cancelled. However Kes Badma was prohibited from teaching and preaching the gospel and was sent into exile in Gojjam, leaving his wife and children behind.
He worked for a living but did not totally abandon teaching and preaching. On holidays and festivals, he would always teach and preach the gospel in the nearest local church wherever he lived, although he was publicly prohibited from doing so.
When the suffering and persecution subsided, Kes Badma went back to Wollega.
In 1913, Kes Badma was invited to go to Addis Ababa and teach in the Evangelical Swedish Mission School where he was also helped Ole Erickson to edit the Bible translation work.
During World War II, Kes Badma fled to Mogadishu, Somalia. During those years, his son Paulos Badma was killed. During the invasion and this time of loneliness he helped others by gathering them and preaching the Word of God and counseling and comforting them.
Kes Badma Yalew served as a secretary to the Ministry of Internal Affairs. He made important contributions to the growth and development of the EECMY for over thirty-five years and actually came up with the name "Evangelical Church Mekane Yesus." Kes Badma is also remembered for naming the two radio programs Yemisrach Dimts (meaning "the voice of good news") and Besrate Wongel (meaning "Gospel testimony"). He was also a leader of his church until 1966. In 1972 he went to be with the Lord.
Dirshaye Menberu
---
Sources:
Fikreyesus Hundesa, ed., "Yalarememu Kewakibt," Berhan # 45, Amharic publication of the Evangelical Churches Fellowship of Ethiopia (ECFE) (1994 EC, 2001 Gregorian), Addis Ababa, pp.11-14.
---
This biography was researched and written in 2004 by Dr. Dirshaye Menberu, retired assistant professor from Addis Ababa University and graduate of the Ethiopian Graduate School of Theology. The liaison coordinators are Dr. Paul and Mrs. Lila Balisky, serving with SIM and at Ethiopian Graduate School of Theology.