Classic DACB Collection
All articles created or submitted in the first twenty years of the project, from 1995 to 2015.
Abraham, Emmanuel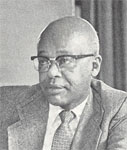 Emmanuel was born on March 17, 1913 at Benti Adere, in the Babbo area of Ghimbi District of Wellega in the house of his grandfather Malimo Gama. His father was Ato Abraham Tato and his mother Woizero Qanatu Malimo. His parents were both Christians and he was their fourth child, the first three (two girls and a baby boy) having died in infancy.
His father Abraham was converted through the ministry of the Swedish Evangelical Mission which sent evangelists to Wellega after they first established themselves in Eritrea. After his conversion, Abraham–whose name was Soresso before he became a Christian–prayed diligently with his wife so as to avoid the grief of losing another child. God answered their prayer by giving Abraham a dream in which he was told he would have a son who was to be named Emmanuel and that a man by the name of Boru Simma should be his godfather.
When Emmanuel was born, Abraham had to travel ten hours on foot to take his son to Boru Simma where he had him baptized according to the Orthodox tradition. The priest who baptized the child refused to give him the name Emmanuel as that name was too sacred to be given to a human being. But Abraham believed that his son was an answer to prayer and insisted on the name. The priest called him Welde Emmanuel, which means "the son of Emmanuel." But the father did not change his mind about calling him Emmanuel. His grandfather called him Abdissa, meaning "his hope."
At age five, Emmanuel attended a school run by an Ethiopian evangelist from the Swedish Evangelical Mission in Boji. Here he learned both Amharic and English, which were the mediums of instruction. He thus learned Bible stories at an early age and became a competent student. As a result his father wanted his son to attend the Swedish Evangelical School in Addis Ababa and asked a friend to take him there. But the man dropped Emmanuel off in Nekemt and went on to Addis Ababa. Although Abraham was disappointed, he did not lose heart.
The government decided to provide education for certain specially chosen young people all over Ethiopia. At that time, although the government did not choose Emmanuel, he was able to go in place of another student whose mother would not permit him to go. This way, Emmanuel had the opportunity of receiving a better education that would change his future. So he enrolled in the Teferi Mekonnen School in Addis Ababa where he became an outstanding student. He received several awards for excellence and in 1939 he finished his six-year educational program after only five years. His teachers recommended him to the minister of education a couple of times to be sent abroad for higher studies. But since the Italians occupied Ethiopia at that time, the minister could not do anything about it because of the Italians' interference. In addition, Emmanuel received a letter from his father who instructed him to return to Wellega to get a job and take over the responsibility for his family. His education was thus abruptly interrupted at grade six when he had to get a job.
Emmanuel's first job was in Asbe Teferi School (1931-1935), Chercher County, Harer Province, where he worked as headmaster and teacher. His administration was so successful that enrollment grew year after year and he opened evening classes which government employees attended to further their education in view of getting promoted. When their country needed them most, the youth that had survived the Italian fascist regime took over the country's positions of responsibility, becoming ambassadors, generals, colonels, secretaries, section leaders, and teachers after this training.
At a crucial time when the Italians wanted to invade Ethiopia, Emperor Haile Sellassie I saw the need to send trustworthy messengers to Europe to tell the world how Italy was violating international law. He selected Azazj Workneh, governor of Chercher, as his Envoy Extraordinary and Minister Plenipotentiary to London. Workneh was allowed to choose anyone he wanted to accompany him on his mission to London and he decided to take along Emmanuel as his secretary. Workneh asked Emmanuel if he would work without pay in exchange for food and clothing. Emmanuel agreed and went with him as secretary of legislation and secretary for government affairs in London (1935 to 1943).
However, soon after Emmanuel started his functions as secretary, the Italians invaded Ethiopia in October 1935, and Emperor Haile Sellassie was exiled to London. Workneh wanted to leave for India and the emperor granted his request in 1939. As a result, the full burden of the position fell on Emmanuel's shoulders as he began to work under the direct orders of the emperor. At this point, a family had promised to sponsor further education for him when he finished his assignment with Workneh. But as he felt he could not refuse this assignment and leave his emperor at this time of great need for selfish reasons, he accepted the job of secretary for government affairs.
After the work began, an organization in London called the "United Society for Christian Literature" invited both the emperor and Emmanuel to their annual meeting and Emmanuel was invited to speak. The emperor gave his consent and Emmanuel made a wonderful speech about which the emperor commented: "You have made Us proud today." That day Emmanuel's integrity and competency were tested and confirmed by the emperor.
During his stay in London up to April 1943, Emmanuel matured in his spiritual life because of the fellowship he had with Christian friends.
When the emperor was restored to the throne five years after the Italian invasion, Emmanuel continued sending reports to the emperor about the United Society for Christian Literature including the annual meetings of the society because the emperor had an ongoing interest in the work of this society. The emperor reminded Emmanuel by letter that he still remembered his speech when they had attended that meeting together and that he benefitted from Emmanuel's reports because they encouraged him spiritually. He also encouraged Emmanuel to continue to develop in character and not be satisfied with his present achievements. Thus Emmanuel had to trust his emperor and give his dedicated service until 1974, when the Dergue Regime brought down the imperial rule in Ethiopia.
In April 1943, the emperor allowed Emmanuel to return home. When he arrived, he immediately became a member of the Addis Ababa Mekane Yesus Church. Very soon he was elected elder and began serving in different positions. On January 25, 1963, he was elected president of Ethiopian Evangelical Church Mekane Yesus (EECMY) and he served in that position for twenty-two years until January 25, 1985. On several occasions he attended the All-Africa Lutheran Conference as Ethiopia's delegate from his church. He also served on the executive committee of the Lutheran World Federation (LWF) for twenty-seven years (1957 to 1984) as the EECMY delegate.
At the same time, he was appointed director general of the Ministry of Education in Addis Ababa (1950 to 1955). Thanks to his diligent service and his friendship with the emperor his ministry grew fast although some of his contemporaries became jealous of him. After several failed attempts to have the emperor remove him from office, his enemies began to propose that initiatives to develop education quickly in the country would be dangerous to the state and the Orthodox Church. The emperor finally responded to their pressure by replacing Emmanuel by another official on June 6, 1947. At that time Emmanuel showed his loyalty to the emperor by waiting patiently for two years until the emperor gave him another position.
On January 12, 1947, a few months before leaving office, Emmanuel married Elleni Alemayehu. The couple was blessed with twin daughters Ruth and Sara, born on October 9, 1948.
Being without a government appointment, he used the time to translate an English book entitled Diplomacy into Amharic. He had translated other books during other such intervals between appointments. But soon after he left office, the emperor sent Emmanuel to New York as one of the delegates for the second General Assembly meeting of the United Nations held in September 1947.
Upon his return, the emperor appointed him Envoy Extraordinary and Minister Plenipotentiary to New Delhi, India from 1949 to 1951 when he was forced to return home because of his wife's ill health. Three months after returning from India, he was appointed Ambassador Plenipotentiary to Rome (1952 to 1955) then to London (1955 to 1959). He contributed to the establishment of the Organization of African Unity at that time and came back to Ethiopia for good, his diplomatic career finished.
He then became chief of political affairs in His Majesty's private cabinet with a ministerial position (1959 to 1961), then minister of posts, telegraphs, and telephones (1961 to 1966), minister of communications (1966 to 1969), and minister of mines (1969 to 1974). In 1974 he was placed in military detention by the Dergue Regime for one year while they investigated government corruption. He was finally released on January 7, 1975 with all the other government employees who were proven innocent of corruption during their years of service.
He was served his church until 1985 as president of the EECMY when someone else took over that position. He spent his later years working on his autobiography,* Reminiscences of My Life* (Oslo, 1995).
Dirshaye Menberu
---
Sources:
Fasil Arega, "The Biography of His Honor Ato Emmanuel Abraham," student paper written at the Ethiopian Graduate School of Theology (EGST), Addis Ababa, Ethiopia (2004).
Gustav Aren, Envoys of The Gospel in Ethiopia (Stockholm/Addis Ababa: EECMY, 1999), p. 459.
---
This article, received in 2005, was researched and written by Dr. Dirshaye Menberu, retired professor from Addis Ababa University and 2005-2006 Project Luke Fellow. She is a graduate of the Ethiopian Graduate School of Theology (EGST), a DACB Participating Institution.