Classic DACB Collection
All articles created or submitted in the first twenty years of the project, from 1995 to 2015.
Ezana ('Ezana) (A)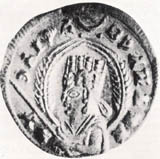 First Christian king of Aksum. In the fourth century Aksum (later Ethiopia) was a prosperous kingdom on the Red Sea coast, trading with Egypt and other areas. From inscriptions and coins Ezana appears to have been the most important of the Aksumite rulers. Early inscriptions show him as polytheist, worshipping a wide range of deities, but another of later date refers only to the "Lord of Heaven." Still another proclaims his faith in the Trinity. Evangelized by Frumentius, who was ordained a bishop for Ezana's kingdom by Athanasius of Alexander, Aksum appears to have been converted from the king down, the Christianization of the people in general only beginning in Ezana's time. Ezana stands with Constantine and Tiridates of Armenia as one group of fourth-century royals who established a new political Christendom.
Adrian Hastings
---
Bibliography
Steven Kaplan, "Ezana's Conversion Reconsidered," JRA 13 (1982): 101 - 109.
---
This article is reproduced, with permission, from Biographical Dictionary of Christian Missions, copyright © 1998, by Gerald H. Anderson, W. B. Eerdmans Publishing Company, Grand Rapids, Michigan. All rights reserved.