Classic DACB Collection
All articles created or submitted in the first twenty years of the project, from 1995 to 2015.
Flad, Johann Martin (A)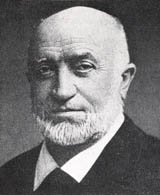 Johann Martin Flad (1831-1915), a German-born missionary, spent about 60 years in Ethiopia. Among his other activities, he worked to convert the Falasha (Ethiopians of Jewish faith), and produced an Amharic translation of the Old Testament that was widely read throughout the country.
Born at Udingen in southern Germany, he was trained as a missionary at St. Chrischona, Switzerland. Originally a member of the Basel Mission, he entered Ethiopia in 1855, accompanying the missionary Lugwig Krapf, who had been sent by the Anglican bishop of Jerusalem, Samuel Gobat, to Emperor Téwodros (q.v.) [reigned 1855-68] to try to resume the Protestant missionary activities which Gobat had originally started in 1826, but which had ceased in 1838 with the expulsion of the missionaries.
From 1861 to 1915, Flad worked in the service of the London Society for the Promotion of Christianity Amongst the Jews. He spent four years working among the Falasha. With other missionaries he founded a school at Avora, near Gondar, in 1856, and in 1861 founded a missionary station at Kohula near Jénda, just north of Lake Tana.
Apart from his four years with the Falasha, among whom he met with limited success, Flad was also held for four years as a prisoner of Emperor Téwodros. The remainder of his time in Ethiopia was spent directing the affairs of the mission, and managing its finances. He translated the Old Testament into Amharic, translated and wrote several religious tracts and school books in Amharic, and also saw them through the press. His diary and that of his wife, together with the records of the other captive missionaries and British emissaries, give some insight into Ethiopian cultural and political history at that time, and especially into events leading up to the British military expedition of 1867-68. Occasionally Flad acted as a messenger for the Khedive of Egypt and for Emperor Téwodros. He also acted as the emperor's emissary to Queen Victoria, and was the intermediary between Robert Napier (q.v.) [later Baron Napier], commander of the British expedition, and Téwodros, at the time of their confrontation at Maqdala in 1868.
In the course of his nine journeys from Europe to Ethiopia, Flad brought in about 100 camel-loads of literature for distribution in Ethiopia. Most of it was in Amharic, but some was in Ge'ez and other national languages. The literature included his own works, and those of earlier missionary writers.
Hans W. Lockout
---
Bibliography
H. Blanc, A Narrative of Captivity in Abyssinia, London, 1868.
J. M. Flad, The Falasha of Abyssinia, London, 1869, 60 Jahre in der Mission unter den Falaschas ("Sixty Years as a Missionary Among the Falasha"), Giessen and Basel, 1922.
S. Rubenson,King of Kings Tewodros of Ethiopia, Addis Ababa, 1966.
---
This article was reprinted from The Encyclopaedia Africana Dictionary of African Biography (in 20 Volumes). Volume One Ethiopia-Ghana, ©1997 by L. H. Ofosu-Appiah, editor-in-chief, Reference Publications Inc., New York, NY. All rights reserved.