Classic DACB Collection
All articles created or submitted in the first twenty years of the project, from 1995 to 2015.
Haile Selassie I (A)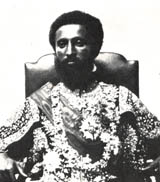 Haile Selassie was Emperor of Ethiopia. Born Tafari Makonnen into a noble family near Harar, Ethiopia's only walled city, he was educated there by teachers of the French mission. At age fourteen he succeeded his father as governor of Harar; at twenty-four he became regent and heir to the throne; at thirty-eight he was crowned emperor and took the name Haile Selassie ("Mighty of the Trinity"). His rule over an empire that traces its dynasty from Solomon and that accepted Christianity in the fourth century was interrupted when Mussolini's Italian troops invaded the country, forcing the emperor into exile (1936-1941). The appearance of this small, dignified figure pleading vainly for help before the League of Nations in 1936 is one of the twentieth century's most poignant and discomforting scenes.
Only slowly in the postwar years did he open his country to foreign missionaries, but under great restrictions–his Coptic Church regarded change as interference with divine order. Haile Selassie belatedly espoused reform, especially in education, but in 1973 the government-suppressed news of a terrible famine was publicized worldwide by students. Haile Selassie ("The Lion of Judah," regarded as the one true God by Rastafarians) was deposed and ignominiously treated by the army in 1974.
Addressing the World Congress on Evangelism in Berlin in 1966, he declared that "this age above all ages is a period in history when it should be our prime duty to preach the Gospel of Grace to mankind." He was host to the 1971 central committee meeting of the World Council of Churches in Addis Ababa.
J.D. Douglas
---
This article was reprinted, with permission from Twentieth-Century Dictionary of Christian Biography, edited by J. D. Douglas (Carlisle, Cumbria, England : Paternoster Press ; Grand Rapids, Mich. : Baker Books, c1995). All rights reserved.
---
Photo Gallery