Classic DACB Collection
All articles created or submitted in the first twenty years of the project, from 1995 to 2015.
Iyasus-Moa ('Iyäsus-Mo'a) (B)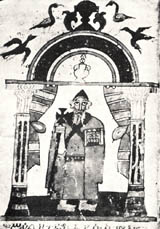 Iyasus-Moa (circa 1212-1292) founded a monastic community at Dabra Estifanos (St.Stephen's) on Lake Hayq that became the spiritual and cultural center for the Amhara dynasty founded by Yekuno Amlak (q.v.) in about 1270.
Iyasus-Moa was born at Dahna in the Amara district of Bagemder, where he was educated. He later travelled to Tegré to join the famous monastery of Dabra Damo near Aksum. There he studied the Holy Scriptures under Abba Yohani
After about seven years he left for the island church of Dabra Estifanos, and opened a school which soon became the most important and the earliest known monastic community in the area. Earlier, at Dabra Damo, he had become a good calligraphist, and apparently copied some manuscripts for his own collection for which the island monastery of Hayq is still reputed. He was joined by young Christians from many areas, and most of the founders of the other monasteries in Amhara and Shawa are believed to have been his students.
Iyasus-Moa lived during the crucial period of the emergence of a new Christian dynasty in Amhara in about 1270, when Yekuno Amlak came to power. His monastery was well-established by that time, and the first two kings of the dynasty were closely associated with him. It appears that the monastery he founded - known as Hayq Dabra-Estifanos - became the spiritual and cultural centre of the new dynasty, and that its abbots held the most influential ecclesiastical title ('Aqaba-Saat') in the royal court until the middle of the 16th century.
Tadesse Tamrat
---
Bibliography
Tadesse Tamrat, Church and State in Ethiopia, 1270-1527, Oxford, 1972.
---
This article was reprinted from The Encyclopaedia Africana Dictionary of African Biography (in 20 Volumes). Volume One Ethiopia-Ghana, ©1997 by L. H. Ofosu-Appiah, editor-in-chief, Reference Publications Inc., New York, NY. All rights reserved.