Classic DACB Collection
All articles created or submitted in the first twenty years of the project, from 1995 to 2015.
Kea, Kariso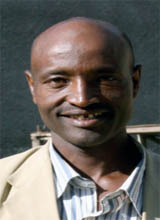 Rev. Kariso Kea, District Superintendent for the Bansa Bona District of the Church of the Nazarene in Ethiopia, passed away due to kidney failure in the early hours of August 3, 2010 at the Addis Ababa Bethel Hospital. Rev. Kea had suffered for the previous three years.
Prior to becoming a Christian, Kea was an influential commander in the army fighting for the liberation of the Sidama people. He fought for many long years as a top leader in the rebel movement known as the Derg organized by the Sidama tribe against Ethiopia's communist regime. This part of his life was marked by a number of very dark characteristics, such as using drugs and alcohol and the dehumanizing influences of such a long and protracted struggle against a vicious enemy. Kea lived and conducted training for his troops in various nations in the Horn of Africa, going wherever was most conducive to his efforts. The main feature of his testimony during this part of his life is darkness; the words from Ephesians 2:12 are an apt description for all of us, but how much more so for one whose entire existence was focused on hate and killing: "You were at that time separated from Christ…having no hope and without God in the world."
When the Derg fell in 1992, Kea returned to Ethiopia. Newly bereft of what had long been his ruling passion, to help his tribe overcome the scourge of dictatorship and oppression, he found himself without significant direction. It was at this time in his life that he came to a personal relationship with Jesus through the witness of some local believers. He joined the church of these brothers known locally as "Light of the Gospel," and threw all of the energy into whatever ministry he could get involved in. He owned a restaurant and a hotel and he became involved in a ministry of hospitality to guests that came to his area.
It was not possible to confine him to a single group, however–he was so full of faith and the joy of the Lord that he naturally looked for other outlets, and he became involved in similar works for a number of different denominations.
This state of affairs lasted for a while, but eventually he found himself at a loss. The ministries he was involved with had a kind of shallowness about them and a marked lack of passion for a truly transformed life. He came to the Church of the Nazarene around 2002 through Dengisso Dafursa, the leader who was currently serving as District Superintendent of the Aleta Selam District in southern Ethiopia. Dengisso testifies that Kea took the Manual of the Church and immediately went to his home area and began telling his friends and relatives about the new church he had found, one whose preaching and message of heart and life holiness intersected so powerfully with his newly felt longings.
Kea started with a similar kind of ministry after joining the Church of the Nazarene, welcoming guests and serving God though the amazing brand of hospitality he had always practiced. It was not long, however, before he began to feel the call of God toward positions of greater responsibility. He progressed from being a zone leader's assistant, to a zone leader, to a district superintendent assistant and finally to the position of District Superintendent (DS) of the newly created Bansa Bona District. As a DS, he showed the same love of people, expansive hospitality and keen desire to serve the Lord that had characterized his ministry at the earlier stages of his life. He added to these a capacity for strong leadership and strategic ministry planning that made him a truly great leader in the Horn of Africa Field.
Although his heart was utterly changed by his encounter with Jesus, he kept the strategic mindset that served him so well during his army days, and put it to use as one of the foremost leaders in the church planting movement which swept across the southern part of Ethiopia. A planning meeting with Kea and other area leaders discussing their course of action for the district was like a meeting of generals planning out a campaign. Pins representing preaching points and churches being planted were arranged and rearranged for the greatest strategic advantage of the district. Personal ambition was not a factor - the leaders gave no thought to what might benefit or detract from them as individuals; only to what would build up the church.
This spirit of giving and sacrifice characterized Kea's entire life and ministry. zone leaders and pastors received encouragement from him. Instead of focusing on his own needs, such as buying a vehicle, he gave sacrificially to the leaders he served in order to lift them up and help them succeed.
A restaurant owner at the time when the church planting movement started to take off, Kea began to spend more and more time working for the church and away from home. His wife told him that the restaurant they owned was struggling with his absence. Together they sought the Lord, and felt that he needed to continue focusing on ministry while his wife ran the business. Not long after that, business at the restaurant started to explode with people waiting in line to get in. Customers preferred to wait in line at his restaurant rather than go to another restaurant because of his kindness to them when he came to their villages. The Keas opened a second restaurant and it was not long before there was a regular line in front of this one as well.
Kea was profoundly affected by the message of holiness; the belief that we can live pure and holy lives spoke to him deeply. In the early days of his association with the Church of the Nazarene, there was no church in his immediate vicinity. As a layman, he started a church in his home. Within eight months the church had grown to more than eighty people, and there were five more churches stemming directly from its ministry. One of the five had planted another church by the time it was three months old.
This kind of incredible growth increased during his service as a DS. Large numbers of churches were multiplying themselves in this way and growing in a way that directly challenged the powers of darkness at work in the area. Under Kea's leadership at least four mosques became Nazarene churches and approximately thirty witch doctors came to faith in Jesus. His ministry was a striking example of Jesus' prediction about the church: "…on this rock I will build my church, and the gates of Hell will not overcome it" (Matthew 16:18). He is dearly missed. [1]
Kea's brother, Daniso, is carrying on the legacy of this wonderful servant of God as the new leader of his district. Daniso is also a wonderful leader and we are seeing the leadership and growth of the district making great strides. It is with a sense of sadness mingled with pride that we witness this because we know that all of it is built on the foundation that Rev. Kea laid so beautifully with his sacrificial life and ministry. [2]
Tribute by Mr Steve Sharp, Specialized Assignment Missionary to Horn of Africa Field.
Paul S. Dayhoff
---
Notes:
Out of Africa, E-mail News Bulletin, (Florida, 1710, South Africa: Africa Nazarene Publications, volume 32, August 16, 2010), 3.

Stephen Sharp, E-mail of November 22, 2010.
---
This article is reproduced, with permission, from Living Stones In Africa: Pioneers of the Church of the Nazarene, revised edition, copyright © 1999, by Paul S. Dayhoff. All rights reserved.