Classic DACB Collection
All articles created or submitted in the first twenty years of the project, from 1995 to 2015.
Kefle, Kidana-Wald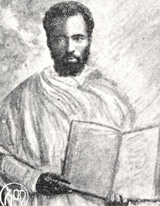 Kidana-Wald Kefle (circa 1862-July 6, 1944) was an Ethiopian scholar who devoted his life to learning.
Born in Wagda, Shawa, and educated first at home, and then in a church school, he went to the Holy Land at the age of twenty to study Hebrew, Arabic, and Syriac. After many years in Jerusalem, he was summoned in 1919 by Ras Tafari Makonnen, later to become Emperor Haile Selassie, to undertake a commentary on the Book of Ezekiel.
During the Italian occupation of Ethiopia (1936-41), Kidana-Wald was imprisoned for denouncing the Italian regime. He lost his sight in prison, but, in spite of this, he determined to write an Ethiopian onomastic and topological dictionary. After his Commentary on the Book of Ezekiel was published in 1924, he compiled a Ge'ez-Amharic dictionary, Mazgaba Qalat Wages, which was published after his death by his student, Dasta Takla-Wald. Among his unpublished works are a Hebrew-Ge'ez dictionary in Ethiopian transcriptions, and a versified Amharic translation of the Liber Patrum. He died on July 6, 1944, and was buried at Dabra Libanos.
Amsalu Akilu
---
Bibliography
Heruy Walda Selasse, Yaheywat Tarik ("Information for the Generations to Come "), Addis Ababa, 1922/23; Kidana Wald Kifle, Meshaf Sawasaw Wags Wamazgab Qalat Hadis ("New Lexicon of the Amharic Language"), Addis Ababa, 1956.
---
This article was reprinted from The Encyclopaedia Africana Dictionary of African Biography (in 20 Volumes). Volume One Ethiopia-Ghana, Ed. L. H. Ofosu-Appiah. New York: Reference Publications Inc., 1977. All rights reserved.