Classic DACB Collection
All articles created or submitted in the first twenty years of the project, from 1995 to 2015.
Krapf, Johann Ludwig (C)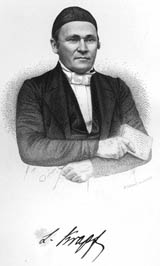 A German Lutheran, he joined the Anglican Church Missionary Society (CMS) to participate in a new Protestant mission drive into Ethiopia. He reached Ethiopia in 1837 and, unable to work in the Tigré province, went instead to the Shoa kingdom, where he and other CMS agents were warmly received by the king, Sahle Selassie (1839). All the Protestant missionaries were expelled from Shoa in 1842 for political reasons. Determined to work among the Galla of southwest Ethiopia, Krapf then went to Zanzibar (now Tanzania) with the idea of reaching the Galla from the south.
After meeting the Zanzibari sultan, Seyyid Said, Krapf decided to remain in East Africa, opening a CMS station near Mombassa in 1844. There, two years later, he was joined by Johannes Rebmann (1820-1876). Their mission work at Mombassa was only modestly successful, so Krapf and Rebmann began to look for new opportunities inland. Between 1847 and 1849 they became the first Europeans to penetrate the east African interior. In 1848 they visited Kimweri Ye Nyumba I in Usambara and then became the first Europeans to see Mount Kilimanjaro. Krapf parted from Rebmann to enter present Kenya. There he was befriended by the Kamba trader KIVOI, who showed him Mount Kenya. Krapf and Rebmann's reports of snow-capped peaks on the Equator created a sceptical stir in Europe; nevertheless, their findings helped to stimulate further European interest in east Africa. Krapf returned to Europe in 1853 because of poor health, and later published a full account of his Ethiopian and east African experiences.
Krapf was an accomplished linguist. His writings on Ge'ez, Amharic, and Swahili are among the earliest scientific works on those languages. In 1867 he returned to Ethiopia to serve as an interpreter in R. C. Napier's expedition.
Mark R. Lipschutz and R. Kent Rasmussen.
---
*Editor's Note: African sources cite 1881 as the year of his death. Also see this [alternate biography.
](/stories/ethiopia/krapf_johannlu3.html)
Bibliography
Pankhurst, Sylvia. Ethiopia: A Cultural History. London: Lalibela Press, 1955.
Coupland, Reginald. East Africa and Its Invaders, From Earliest Times to…1856. Oxford: Clarendon Press, 1938.
Oliver, Roland. The Missionary Factor in East Africa. 2nd ed. London: Longman, 1965.
Oliver, R. and G. Mathew, eds. History of East Africa, vol. 2. Oxford: Clarendon Press, 1963.
Photo source: Krapf, Rev. Dr. J. Lewis. Krapf's Travels, Researches, and Missionary Labours. London: Trubner and Co., Paternoster Row, 1860.
---
This article is reproduced, with permission, from Dictionary of African Historical Biography, 2nd edition, copyright © 1986, by Mark R. Lipschutz and R. Kent Rasmussen, University of California Press, Berkeley and Los Angeles, California. All rights reserved.