Classic DACB Collection
All articles created or submitted in the first twenty years of the project, from 1995 to 2015.
Lambie, Thomas Alexander (A)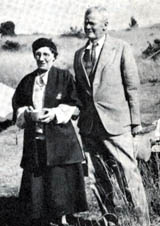 The most famous loose cannon on the deck of the American Mission ship in Africa [around the turn of the century] was Thomas A. Lambie, M.D. Born in 1885, Lambie earned his medical degree from the University of Pittsburgh in 1907. Later that year, he was at Doleib Hill among the Shullas, and then he and the Reverend Elbert McCreery opened the mission at Nasir among the Nuers. The first Nuer Christian was named Pok Jok. In 1918, on the wave of a devastating influenza epidemic, the governor of Wollego province asked Dr. Lambie to come over to Ethiopia.
Accompanied by Dr. and Mrs. Giffen, Lambie, with his wife, Charlotte, and their children, Betty (age eight) and Wallace (age nine), traveled seventeen days from Nasir to Gambela on an empty Nile steamer that would be loaded with Ethiopian coffee for the return journey. From Gambela to Dembi Dollo, Lambie traveled by horse. Because of the tsetse fly, a horse never survived more than one trip, although a mule or a donkey might make that journey nine or ten times before it died. When Lambie entered Ethiopia, there was only one foreign Christian missionary–the Rev. Dr. Karl Cedarquist, a Swede, who operated a school in Addis Ababa. At Dembi Dollo, Lambie worked with Gidada Solon. On one of his trips to America, Lambie spoke to a Junior Missionary League meeting attended by a young Lyda Boyd [Don McClure's future wife].
While in the Dembi Dollo area, Dr. Lambie removed a small beetle that had crawled into Governor Ras Nado's ear and was causing great pain. Ras Nado's followers identified this insect as a wood-boring beetle and were convinced, in spite of Lambie's assurances to the contrary, that it would have drilled right through the governor's head and killed him. Ras Nado's gratitude for saving his life resulted in a letter of commendation for Dr. Lambie and an introduction to the prince regent, Ras Tafari Makonnen (later Haile Selassie I).
After meeting Ras Tafari Makonnen and with the money he had raised in America, Lambie built George Memorial Hospital in Addis Ababa (see Lambie, A Doctor's Great Commission, pp. 150-61), receiving Ethiopian citizenship in 1934 so that he could hold title to the property. Early in the Italian war Lambie became the executive secretary of the Ethiopian Red Cross. During this time he met a young aviator, Count Carl Gustav von Rosen, who, like Don McClure, was killed at Gode (13 July 1977) by Somali raiders.
Born near Stockholm (19 August 1909), von Rosen received his pilot's license in 1929. In 1939 he attended a lecture by Gunnar Agge, a missionary doctor in Ethiopia, who attempted to mobilize Swedish public opinion against the Italian invasion of that African nation. In response, von Rosen placed himself and his plane, a Heinkel, at the disposal of the Red Cross in Ethiopia. After World War II von Rosen was asked to build the Ethiopian air force and served as principal instructor with the rank of colonel from 1945 to 1956. In 1974 he returned to Ethiopia to aid in airlifting relief supplies to famine and drought victims in villages inaccessible to surface transport. Survived by his wife and six children, two of whom were born in Ethiopia, Count Carl Gustav von Rosen asked in his will that his body be buried in Ethiopia–request that was honored by that grateful nation. For more information, see Ralph Herrmann's Carl Gustave von Rosen (Stockholm, 1975).
According to John H. Spencer in Ethiopia at Bay: A Personal Account of the Haile Selassie Years (Algonac, Michigan, 1984), p. 85, in order to continue his missionary work, Lambie willingly submitted to the Italian conquest of Ethiopia and made widely publicized retractions of his earlier reports of Italian attacks on Red Cross ambulances and the Italian use of poison gas. Yet, see Lambie's account of the Italian bombing of the defenseless Doro Mission station in A Doctor Carries On, pp. 58-72. In any case, Lambie, who had transferred from the American Mission to the Sudan Interior Mission, lost the confidence of Haile Selassie and consequently his Ethiopian citizenship. He became stateless until a special act of the 76th Congress (11 July 1940) restored his American citzenship.
In Khartoum, April 1941, the McClures were with the Ried Shieldses, but visited the Lambies alone, since the Lambies and the Shieldses (Shield's book is mentioned in note 7) were not on speaking terms. Of that situation Lyda wrote,
Imagine two missionary families in the heart of Africa acting like that! Anyway, we had a wonderful time. When we left, the Lambies asked us to take their small puppy, a delightful fox terrier about two months old. Our youngsters are crazy about him. For a while we called him "Typhoon" (as the Lambies did), but that was too difficult for the kids to say, so Marghi suggested "Calico Pup." The name stuck for a few days until Donnie began calling him "Tim."
After the death of his first wife (buried in the British cemetery in Port Said), Lambie founded and served as director of the Berachah Tuberculosis Sanatorium in Bethlehem (Hashemite Kingdom of Jordan). While there, Dr. Lambie was invited to bring the message at the sunrise service under the brow of Calvary's hill. A few days before Easter he went with friends to make preparations for this service, and as he was stating the substance of the address he planned to give, his voice faltered and he died. Thomas A. Lambie, M.D., died on 14 April 1954 and is buried in Allegheny Cemetery, Pittsburgh.[1] Lambie tells his own story in A Doctor Without a Country (New York, 1939); A Doctor Carries On (New York, 1942); Boot and Saddle in Africa (New York, 1943); and A Doctor's Great Commission (Wheaton, Illinois, 1954).
Charles Partee
---
Editor's note:
According to Rev. Keith H. Coleman, Lambie was not buried in Pittsburgh but in Bethlehem on the Baraka Bible Presbyterian Church property. Rev. Coleman is the Executive director of the IBPFM (1000 Germantown Pike B6 / Plymouth Meeting, PA 19462 USA / Phone: 610.279.0952). Email messages to M. Sigg dated 5/2/2012 and 7/31/2012. In a message dated 7/31/2012, Rev. Coleman wrote: "I have visited the grave site of Dr. Lambie myself and have a photograph of it. Also, here is the email of Pastor George Awad ([email protected]), who ministers at the Baraka Bible Presbyterian Church in Bethlehem. He can confirm that Dr. Lambie is buried at the end of their property. Last of all, our own missions publication, Biblical Missions, states in the July-August 1954 issue, in an article entitled 'Dr. Lambie Called Home' (p.6), 'After a brief service in our chapel at Bethlehem, Dr. Lambie was laid to rest in the churchyard on the hillside facing west, under the shade of two olive trees.'"
Bibliography
Thomas A. Lambie, A Doctor Without a Country (New York, 1939).
——–, A Doctor Carries On (New York, 1942).
——–, Boot and Saddle in Africa (New York, 1943).
——–, A Doctor's Great Commission (Wheaton, Illinois, 1954).
---
This article is reproduced, with permission, from The Story of Don McClure: Adventure in Africa, copyright © 2000 by Charles Partee, Lanham, Maryland. All rights reserved.